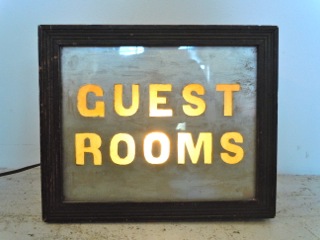 Getting to popular vintage furniture and accessories mecca, RePOP, formerly at the edge of Clinton Hill, used to be a trek. But two months ago, Russell Boyle made it easier to stumble upon the whimsical and affordable vintage furniture and accessories he curates when he relocated to a well-trafficked corner in Williamsburg, 143 Roebling Street at Metropolitan. As part of our June Home School contest with theSweeten.com, he handpicked seven cool pieces from his offbeat collection that would spruce up any bookshelf–be it custom-built of Ikea-bought. Enter your email here and you could win a $200 gift certificate on any one item in his store. We'll pick the winner at 5pm on June 21.
Folk Art Fish Decoys made of wood and metal are charming decorative items for shelving as they are hand painted in pop and rustic colors which add a little colorful flair to any interior. Usually hand crafted (with some nearly one hundred years old), these beauties range from $65-$150 each.

Wood hat forms are lovely for use as unconventional bookends, sculptures, or paper weights. Made of walnut, maple or oak, sizes vary and because of the warm wood grains and rounded curves they blend well with any interior and are great for breaking up those squares! $65 each.
Metal duck curio sculptures have removable tops for storing small trinkets, coinage, or keys. With copper detailing on wings and eyes, the mother and child were made to be conversational shelf sitters to catch light and mix up the bookage. $75 for set.

Depending on the size of the shelf, who cannot resist an artisan wax bust on a mid-century walnut base. And who better than Dylan Thomas himself to represent your collection? $200.
Oversized cast iron paperweight jacks are ideal for a home office shelving system. Smart and great for use as miniature bookends as well, the jacks are near-perfect replicas of the original childhood toy and are $30 each.
We alway have an assortment of cast-iron mermaid bottle openers on hand for around $40 each and they are functional attention-getters. Entertaining at home and don't want to run into the kitchen to open that beer? Just grab the lady conveniently located on the shelf behind you and she'll do all the work!
Last but not least, why not illuminate your shelving with a striking vintage deco hotel "Guest Room" Sign. Truly the ideal conversational item for the library. $200.