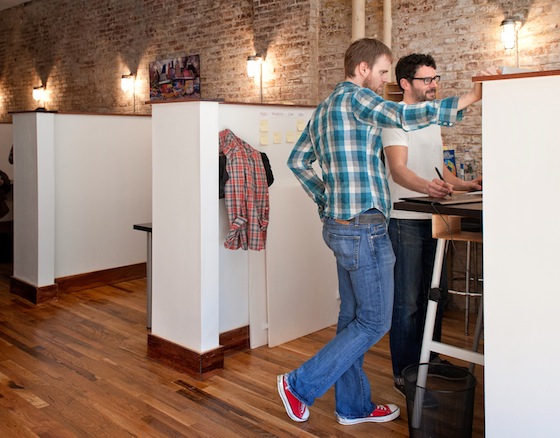 There are coworking spaces for every type of business and freelancer in Brooklyn now, but for designers, architects, developers, and filmmakers, Bitmap Creative Labs offers a comfortable workspace filled with technological bells and whistles for creative professionals.
Custom built in 2010 by Nick Robalik, the Principal/CCO of New York creative firm HERO, the name is a play on the original file format for images–a reference that Robalik knew would attract the very tech-savvy designers, developers and architects that populate his bright, modern space on Graham Avenue in Williamsburg. Well lit and aesthetically pleasing, with exposed brick and hardwood floors, Bitmap features a communal work area for drop-ins, private offices, a conference room with an HD projector, wi-fi, and a kitchen with free Brewklyn Grind Coffee–all of which make it easy to transition to freelancing after working in a large firm, or to trade up to a more professional setting.
Bitmap's creative tools and community-building vibe are what set it apart from other New York coworking spots. There are large-format printers on site for gallery-quality art, design, photography, and architectural prints, plus a 48CPU Render Farm set up for motion graphics artists and 3D animators. All of these services are low-cost and open to non-members, though members receive special pricing.
Bitmap membership also means discounts on excellent workshops–like a recent primer on Intellectual Property Law–and a collaborative spirit that encourages networking (after work) and bringing together freelancers with complimentary skillsets. As BB contributor Jon Reiss wrote in his guide to local coworking spots, the vibe is one of the best things about Bitmap. "There's a conversational, laid-back vibe if you're hanging out on break outside or in the kitchen and there's a get-down-to-business vibe on the inside." Which pretty much mirrors what's written on Bitmap's front door: "A comfortable, creative and (most of all) co-operative workspace for you to get your stuff done."
If Bitmap sounds like your kind of workspace, get in touch or drop in.