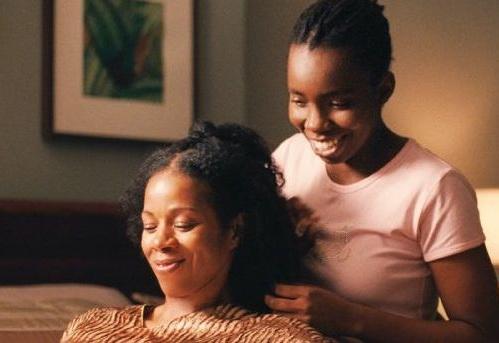 When we first meet Alike (Adepero Oduye), she's leaving a lesbian bar and looks wildly uncomfortable with her eyes downcast and a baseball cap pulled firmly down on her head. The camera shots feel almost tabloid-like as they capture Alike's uneasy strip tease as she removes all the remnants of her boyish attire replacing them with pink t-shirts and girly earrings. But it's hard to tell whether Alike's discomfort stems from the clothes she's wearing or the skin she's in. Her transformation unfolds in Pariah, a skillful and patient film that follows Alike, a scared yet sure-footed 17-year old, as she comes of age and comes out.
Based in Brooklyn's Fort Greene, we follow Alike's story from the gay community in the clubs to school to home. It's at home is where the real conflict in the story emerges. Alike (pronounced ah-lee-ka) lives with her father who still calls her "daddy's little girl" and a mother who insistently buys her pink clothes, quotes bible verses, and eagerly awaits her daughter's return to "normal." Alike perseveres despite her mother's forced friendships and unexpected heartbreak and ends up with an unlikely ally, her father Arthur (Charles Parnell), a decorated police detective who struggles with his own deferred dreams and doesn't seem quite certain how to handle his wife or his daughter. Together they help Alike's stern, staid, and upwardly driven mother (Kim Wayans) come to understand their new normal.
The conflicts that arise are not wholly unexpected in a coming-out tale, which is a semi-autobiographical take on writer-director Dee Rees's own experiences coming out. However she adds enough twists and turns to keep viewers involved and invested throughout the film. The subject matter may make her a more motivated and honest storyteller, but Rees has a very distinctive style and strong voice, even more notable when you consider that this is the director's first feature-length film.
We're not biased when we add that the other star of the film is Brooklyn. Director of Photography Bradford Young won an award at Sundance for his brilliant illumination of Fort Greene. His camera work brings the viewer into the neighborhood, going down onto the streets of the borough to give viewers a very immersive and unexpected look into the heart of Brooklyn.
Pariah, a Focus Feature, is now out on DVD, iTunes, Amazon and On Demand.