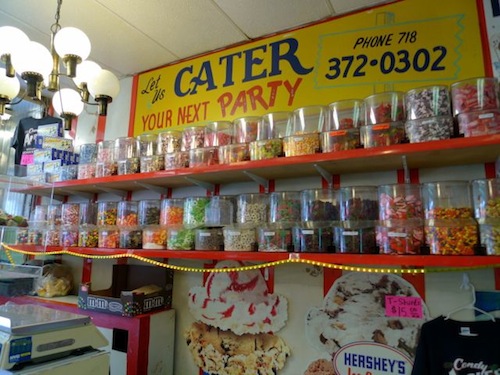 In the age of all organic everything and farm-to-table dining, it almost feels like a crime to indulge in the extreme excess of a bonafide candy shop. But if Nerds or a strip of candy buttons make you nostalgic for your favorite childhood treats, imagine what these sugar havens will do to your kids. So channel your youth, and relish the cloying sweetness of a glossy red candy apple or gummy worm at one of these neighborhood candy shops. It will be worth the meltdown.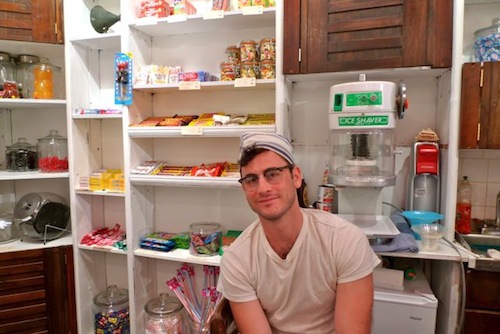 Handsome Dan's Snocone & Candy Stand, 218 Bedford Ave. (inside the mini-mall), Williamsburg, 410.241.3472
Handsome Dan's is the real deal, a neighborhood candy shop with good vibes and a great selection to satisfy just about any sweet tooth. Dan himself is indeed handsome, and plays the part of Candyman impeccably. When a group of teenages walks in to refill their candy supply, and one young buck picks up a pack of candy cigarettes–the stand's most popular item–Dan asks "Do you need ID to buy these?" He banters with the teens and checks in to see how they're doing at school. He'll also advise you on the appropriate age to start a kid on jawbreakers and explain the origins of Flying Saucers, a wafer disk candy with sour beads inside. (They're from England and have an acquired taste if you were wondering.)
Handsome Dan's also features snow cones, a popular treat in Maryland, where Dan is from. "We make and shave our own blocks of ice. The ice is super fine and all our flavors are homemade. I was up at eight this morning making today's syrups," says Dan. The flavors change daily and a typical menu consists of mango, earl grey cream, cherry, thyme and passion fruit. A mixed bag of bulk candy is $5.99 per half pound. Other fun items to get the party started include wax teeth, chocolate covered gummy bears,  Pop Rocks, rope licorice and an assortment of fine chocolates.

Slodycze Wedel, 772 Manhattan Avenue, Greenpoint, 718.394.3933

We're pretty sure Slodycze Wedel is Polish for "I just gained 5 lbs from eating too much candy, thanks." But to our dismay we're told "Slodycze" means candy and "Wedel" is the name of a popular Polish candy. This shop, which opened 15 years ago in the heart of Greenpoint, stocks exotic bulk Polish chocolates, huge candy gift boxes and a vibrant array of hard candies. Everything in the shop is imported from Poland and features popular Polish brands like Terravita, Zurawinka and Wedel. It caters to a largely Polish clientele, but "more americans are discovering the shop and enjoying what we offer," says Paulina, a Slodycze Wedel shop girl.
The flavors at Slodycze Wedel are unique. Chocolates are filled with tiramisu, strawberry cream, grape seed and candied plums—the latter being one of the shop's most popular candies. "You've never had anything like the plums and chocolate," says Paulina. "Polish chocolates are different, they taste forign, the milk and the butter is different. Don't expect it to taste like Hershey's or Reese's." So, if you're a chocolate lover looking for a new romance check out Slodycze Wedel.

Williams Candy Shop, 1318 Surf Avenue, Coney Island 718.372.0302 
Williams is the quintessential old time boardwalk candy shop. Approaching the shop from the outside you first see a window full of freshly made candy apples, clearly the stars of the shop. There's the classic glassy red ones and carmel. Both flavors are available with variations by adding nuts, sprinkles or coconut. William's also spins fresh cotton candy and dishes out soft serve cones for those whose teeth can't handle the sugar-shellacked apples (wussies!). The shop is small but packs a punch with its authentic vintage signage and bags of cotton candy that line the walls. On your next tour de fun through Coney Island be sure to stop at Williams for a taste of old school Brooklyn.

Sugar Shop, 254 Baltic Street, Cobble Hill, 718.576.3591 
Cobble Hill got a whole lot sweeter when Jen Bischoff and Sarah Houchins joined forces and opened up Sugar Shop in April. What a fine job these ladies did, because when you cross the threshold into Sugar Shop it truly feels like you're in Candy Land. "Our first rule is that our inventory shouldn't be available at local delis and groceries. We want our product to be special," says Jen of the extensive stock. And naturally we were super excited to find the shop's Made in Brooklyn table where local chocolatiers and candy makers such as Mast Brothers, Brooklyn Hard Candy, Betsy's Buns and Cacao Prieto, hold court.
The bulk candy in Sugar Shop will blow your mind. They stock over 150 bulk candy items that line the walls and can be mixed and matched to your liking. Candy can be purchased by the bag- or tube-full. (In our opinion a tube of candy makes a great gift for almost any occasion.) And the cherry on top of Sugar Shop's mixed bag is they've got a delightful and proper party room. "We have all inclusive party packages that come with everything including invitations, decorations, balloons, cupcakes, refreshments, and goodie bags. We have a blast with our parties and it's great for the parents…all you have to do is show up!" says Jen. Warning: Sugar Shop may induce extreme nostalgia in adults and abnormally elevated excitement in children.

Dewey's Candy Shop, 141 Front Street, Dumbo, 718.422.1333
Allison Oblonsky (affectionately nicknamed "Dewey" by her dad) has taken all of her experience in fashion and channeled it into the super stylish Dewey's Candy Shop, which stocks about 500 different candies, many of which go "deep into the nostalgia," says Dewey.
"Nostalgia is where I get the biggest reaction and emotion from [older] customers," she says. "Whether it's wax lips, Razzles, candy cigarettes, nickel nip, or Goldmine Gum. Those were a favorite of mine when I was a kid."
And for the kids, Dewey's scores on the gummies and sours front–like angry bird gummies, gummy octopus, gummy centipedes–and what she likes to call her "toy candy" section, stocked with burping gator pops and lightening bug gummies that light up (thanks to plastic tweezers packaged with the candy, that glow when you pinch the tips together). "I tell the kids to save them and use them to make their broccoli light up"–which is not a bad way to make them eat their vegetables after all that sugar.