I just spent two weeks on the road, traveling down the West Coast and eating my way through places like  Portland, San Francisco and Oakland–you know, cities that are just like Brooklyn, only with nature. Sometimes we like to think we have every food option possible here in NYC, but traveling reminds us that it's not always the case. Here are four West Coast food finds I'd like to see in Brooklyn ASAP.
1. Food Pods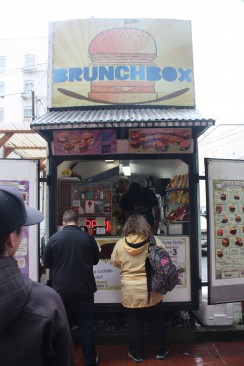 Of course we have no shortage of food trucks here on the East Coast, but it's nothing compared to Portland's collection of 700+ food carts. The best thing about them is that they're clustered into what they call "pods"–collections of 2 to 30 food carts, all in one place. So you can head to one corner and jump between options like Big Ass Sandwiches' french fry-covered subs and The Dump Truck's bacon cheeseburger dumplings, or discover something new every day. Honestly, the whole track-down-the-food-trucks-on-twitter thing is getting old–how about we make it easier and set up some food pods? I'm looking at you, underused new public plazas like Putnum Triangle in Clinton Hill.
2. Dim Sum Everything
We all know that Spanish tapas have gone from unique ethnic serving style to cheesy way for any restaurant to overcharge you for small plates. Dim sum, however, is still my favorite way to eat. But why does it have to be relegated to only Chinese food? At State Bird Provisions, San Francisco's hottest new eatery of the moment, the New American menu is served dim sum-style, from carts that roll across the restaurant, so you can see every dish before you commit. How do we not have this yet? How fun would it be if some of these off-the-wall Brooklyn kitchens like Isa or No. 7 served food dim sum-style so we could scope out every dish before ordering?
3. California BBQ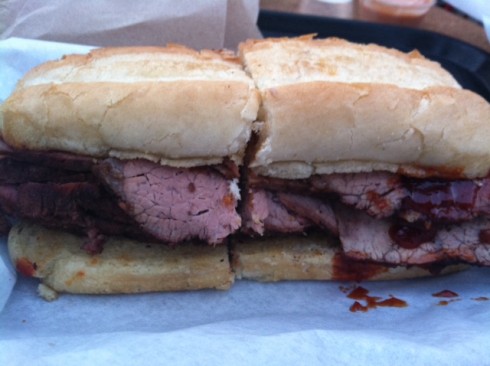 New York has certainly had a barbecue renaissance in recent years, with new spots like Fette Sau and Fatty Crab among those bringing BBQ to the city. We have Carolina BBQ, Texas BBQ and even Malaysian BBQ, but how come no California BBQ? In almost every town along California's central coast, you'll find restaurants serving tri-tip–the bottom sirloin steak cut of a cow, always grilled low and slow over wood oak, until it become as tender and tasty as any meat dishes dreamed up  down South. Considering our love affair with all things Cali (see: Pacific Standard, Cochinita) I'm surprised no Brooklynite foodies have opened up a California BBQ spot yet.
4. Pacos
In San Diego, everything is served in taco form. Doesn't matter what kind of meat or veggie you've got, it's probably gonna be better served inside a tortilla. My favorite find came from R Gang Eatery, which serves up brunchtime pacos: pancake tacos. Scrambled eggs, bacon, sausage, and cheese are stuffed inside folded buttermilk pancakes and topped with sour cream and pico de gallo. There is no better hangover food in the world. Game over.
(Dim Sum Photo: Statebird)