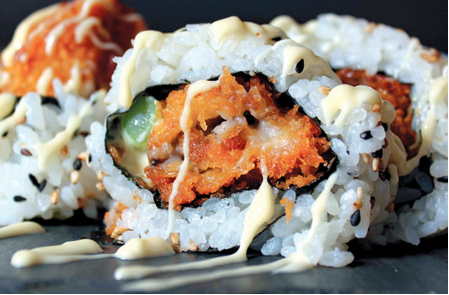 We all know Queens wins the prize for best ethnic food in NYC. And in Astoria, Alia Akkam is the expert in local eats. When she's not wearing her Managing Editor hat at Hospitality Design, she's the deputy editor of Edible Queens and founder of the soon-to-be relaunched email about Queens food, events and arts, the Q Note. We asked her to name five of her favorite places to eat in Astoria, besides the restaurants on our day-long crawl June 23. Here are her personal recs for when you need to refuel between brunch, Brooklyn beers, and our photo safari. If you're intrigued by the neighborhood, check out our day-long itinerary Out of Borough Experience: Astoria. Summer is a great time to stroll around the area and see the sites.
Ovelia, 31-04 30th Avenue, 718-721-7217
The vibe at Ovelia is decidedly clubby, but one of the reasons I love this modern Greek restaurant, perpetually packed with a boisterous European crowd, is its sprawling outdoor patio. Come Sunday brunch, there's nowhere I'd rather be than here with an icy frappe and a mammoth, magenta-hued beet omelet oozing with goat cheese while watching pedestrians stroll up and down 30th Avenue. In the evenings, I gravitate towards the tapas offerings. All I need to do is dunk wedges of pita into spicykafteri (sautéed peppers and crumbled feta), tuck into tomato sauce-drenched lima beans, wash it all down with boozy sangria, and dinner is served.
Seva, 30-7 34th Street, 718-626-4440
It is rare if a week passes by and I do not call Seva to deliver me a hot, lovingly made dinner. A quality samosa is the hallmark of any serious Indian restaurant, and not only do Seva's traditional veggie-potato-filled pastries pass muster but its chicken version is among the best things I've ever eaten in the borough. Sometimes a duet of these generously spiced protein –packed bombs are enough for a meal but then that would mean missing out on fiery garam masala-laced green chili chicken and onion nan. The folks at Seva use fresh ingredients and take great care with their food, a feeling that is only compounded in the tranquil dining room when the uber-friendly staff presents your impeccable mango lassi.
Basil Brick Oven Pizza, 28-17 Astoria Boulevard, 718-204-1205
From the outside, Basil looks like your typical pizza joint. The first time I stepped inside I was skeptical, thinking "Shouldn't I be getting this delivered instead?" Then I saw the brick oven, from which gloriously charred crusts were emerging. There is no better place to savor a broccoli rabe and hot Italian sausage-strewn pie in Astoria (another favorite is layered with herbed pumpkin walnut sauce, fresh mozzarella, pancetta and, of course Parmigiano Reggiano, EVOO and basil), and it has quickly become one of my favorite pizza destinations in all of NYC. Tables are few and locals constantly stream in, but it is such a comfortable, convivial setting it's hard not to start talking to your neighbors as if they were long-time friends.
LINN, 29-13 Broadway, 718-204-0060
After being seduced by the film Jiro Dreams of Sushi, I started to frequent Linn even more, considering it my own Astoria version of the movie's magical Tokyo restaurant. A seat at the sushi bar, where you can see the precise and passionate chef Tanaka Shigenori, an alum of Masa, at work, crafting spicy tuna and scallion Red Dragon rolls and elegantly plating flying fish roe, is ideal. Sashimi couldn't be fresher, and even if you don't eat fish, the vegetarian sushi—pickled yellow radish, Japanese cucumber—is no less artful. Cubes of jiggling, custardy tofu, topped with sweet sesame miso paste, begin each of my meals. [Check out the Edible Queens story on Linn here.]
Queens Kickshaw, 40-17 Broadway, 718-777-0913
The mac and cheese at Queens Kickshaw is a homey three-cheese slab of deliciousness, studded with caramelized onions and French beans. It is reason enough to pay a visit to this eatery, which affable husband and wife team Ben Sandler and Jennifer Lim opened last year. That it is a hit with the burgeoning hipster set is no surprise. Nowhere else in Astoria can you relish a Guatemalan pour-over coffee chased by a grilled manchego and ricotta sandwich married with minted eggplant and capers. I could sit at one of the high-topped tables for hours (and often do) working on my laptop, fueled by a steady supply of curried pumpkin seeds, and when the day calls for it, a flight of craft brews. [Queens Kickshaw is offering $3 off its grilled cheese sandwiches to immersion cardholders. RSVP if you plan to come for updates!]