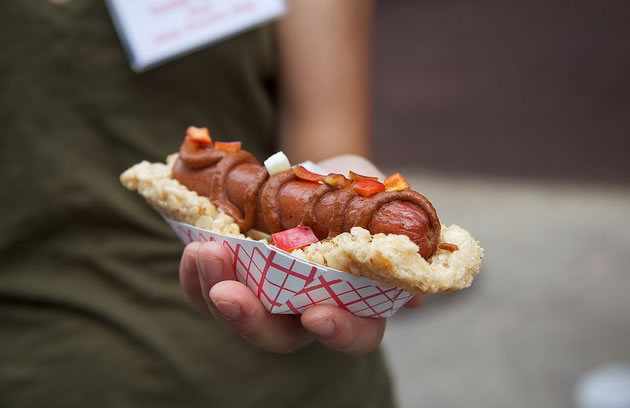 Kara Masi, founder of the Great Hot Dog Cookoff (Saturday July 21, 630 Flushing Ave.–Pfizer Building), has a love for hot dogs that runs deep.  She considers the food to be a most quintessential Big Apple experience, so she organized hot dog tours for visiting friends back when she first moved to New York.  Unable to conquer the New York hot dog scene in one sitting, a couple of months later they did part two.
Soon Masi had exhausted the known weenies of the metropolis, so she moved the party into new territory: her own backyard.  She brought people together and had a friendly competition, asked for donations and passed around a can.  Half the money was for the winner; the other half went to charity.  But that first year the winner declined to take her share, so everything after expenses was donated to a worthy cause.  This approach set the tone for an event that was to grow from a crowd of 50 to over 175 in the span of two short years.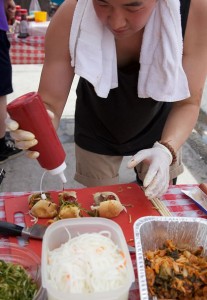 This summer, the Great Hot Dog Cookoff is gearing up for its most impressive summer yet.  Now in its seventh year of operation, the culinary competition and fundraising event is to be the first large-scale outdoor happening at the former Pfizer building in Williamsburg, now known as an incubator for a number of mom-and-pop food startups.  The volunteer-run event is a friendly competition among mostly amateur chefs, who grill on site and compete for donated prizes and the much coveted hot dog trophy.
The creativity of the participants is a big draw, Masi says, and has been strong since year one.  The first year, someone did a buffalo wing dog.  The second, the winning wiener was hollowed out, filled with blue cheese, breaded and pan fried.  It was then doused it in hot wing sauce and served on a celery stalk.
This year the bar may rise even higher, as a mini-professionals competition–"Pro Row"–is being added to the event.  Curated by The Brooklyn Kitchen, competing professional chefs must make their own hot dogs, whereas amateurs may go that route or use the organic hot dogs donated by Applegate Farms.  All participating chefs are volunteers.
Masi says that the event has always focused on donating to food-based, local charities.  This year all proceeds will go to Food Bank NYC.   "Food Bank is really great because they operate on a city level as well as a neighborhood level," she said.  "And they do emergency assistance for food as well as pantries, cooking classes and a lot of advocacy work, all of which I think is really important."
Be sure to snag your tickets when they go on sale today, Friday, June 22!
Video by KelsoBeer, photos by Wendy Ploger.