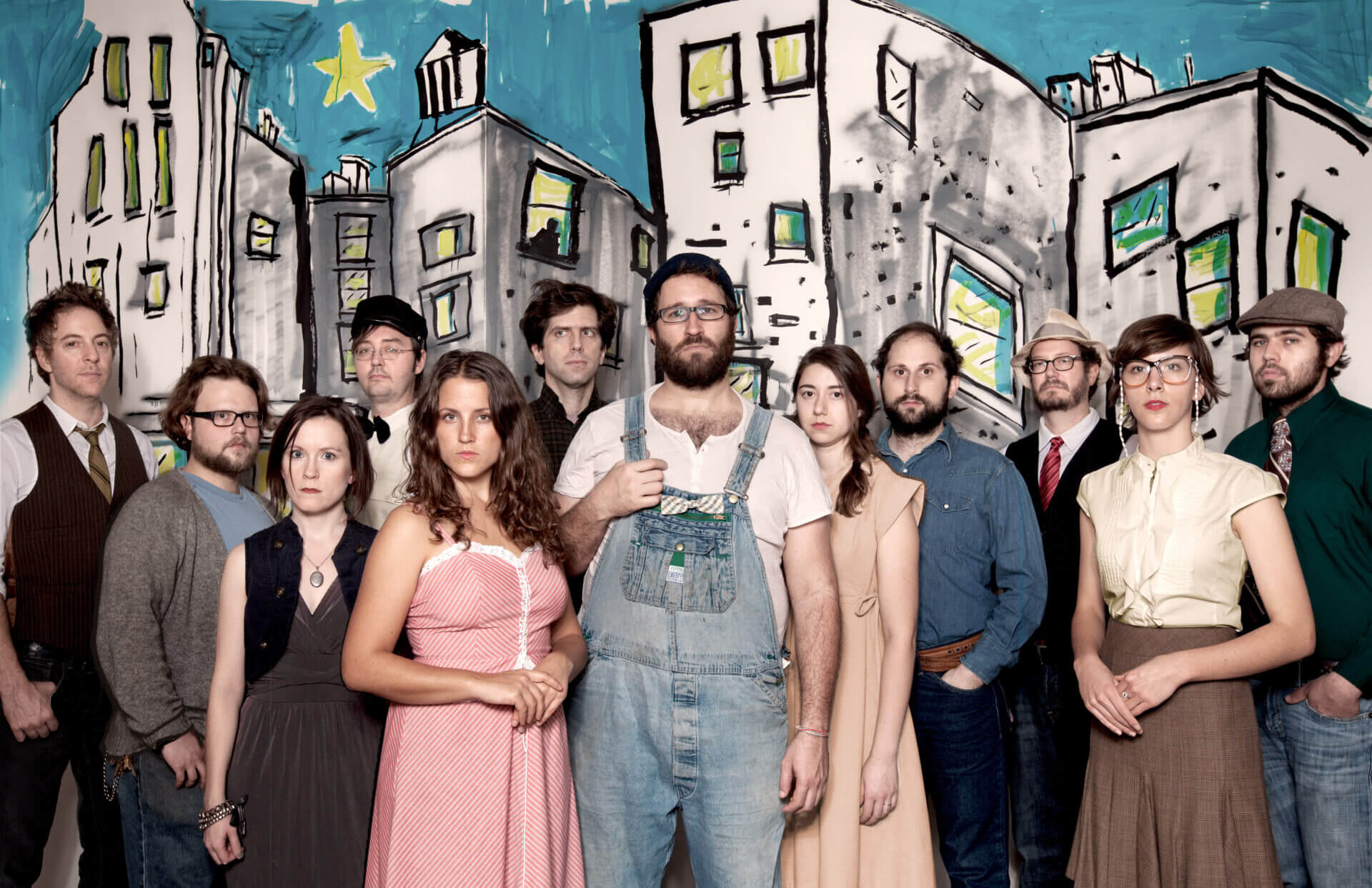 Balthrop, Alabama isn't so much a band as a fictional community with a richly rendered conceptual history shore up by introspective and whimsical stories. Each of Balthrop, Alabama's 13 members have distinct-sounding pseudonyms;  singer Lauren Balthrop (who goes by "Georgina Starlington"), who formed the band with her brother Pascal ("Jemison Thorsby"), explains:
"There's this stretch of I-65 in Alabama that my brother was driving up and down a lot when he was living in Birmingham. He noticed the exit signs sounded like people's names. There was an exit for 'Jemison Thorsby' and an exit for 'Georgiana Starlington' where if you got off and went one way, you'd reach 'Georgiana,' and if you went the other way, you'd hit 'Starlington.' He'd written the song "Georgiana Starlington." We thought it would be cool if everyone in the town had a name and character so it just spawned out of that. We even give town names to our dogs."

With their sprawling cast of musicians and eclectic music–a mixture of roots and indie–Balthrop, Alabama it's fair to call the band the Southern (by way of New York) equivalent of Arcade Fire, and in fact the Canadian band was a source inspiration. "Pascal says that he knew he had to have this big band after going to an Arcade Fire concert," says Lauren, "and being blown away by how many people were on stage and how much fun they were having. As for our sound, we aren't really striving for a certain sound as much as the sound is just a product of our influences and abilities."
The group, which originated in Carroll Gardens, recently released their latest record, We Have Electricity, the follow-up to their full-length 2007 debut, Your Big Plans and Our Little Town.
"Pascal had the idea that the town was just getting electricity and it grew from there," says Lauren. "There's some thematic stuff in the album, but the songs were all written at different times and some of the songs are old, written long before the idea of electricity and oil came to us. Most of the songwriting is split between my brother and me, but a couple of the songs were written by other members of the band.
"For example, "Punctual Winslowe," the tale of a timely frog, was originally a poem by our friend and resident draw-er, Michael Arthur, a.k.a. 'Toxey Goodwater.' He gave the words to our accordionist, Therese Cox, a.k.a. 'Luverne Dozier,' to write the music for. And the song 'Brother to Brother' was written in a day for this web series called Dubway Days with the help of Michael Arthur and his brother Ben."
One of the songs from the record, "You've Gotta Be Gay," evokes New Orleans. "Pascal and I were goofing around in the subway pretending we were writing our own Broadway show," says Lauren about that song. "There was some line about being out with the fellas and twirling your umbrellas around. He took it home and really made a song out of it. We made a video for it as well that just premiered on NPR's All Songs Considered."
The lovely ballad "Pretty Little Bird" is a song that could have been written for Norah Jones, and its accompanying video is visually striking as well. "I wrote the chorus for that song a while ago when I was going through a break-up," Lauren says. "The verses are pretty literal. The video, however, is just more than I could've ever envisioned. We met the artist, Dustin Timbrook, who made the video down in Huntsville, Alabama where we have a pretty good following, so we always play there on tour. Dustin had done sound for us there and we liked his art. So we asked him if he would be interested in doing a video. He picked up the song and we did all the green-screen shots while were there on tour last fall."
For Lauren, who is also one-third of the vocal trio the Bandana Splits, singing began at an early age. She was a fan of the film, The Little Mermaid, and would perform its songs in the house. "My whole family is musical and my mom and her sisters would always sing songs in three-part harmony at family gatherings," she says, "so I was always around music, and loved it. And Pascal and his friends were always at the house making up songs and recording them. Once when I was 6 or so, I made up a song with them about going to the circus. That song is called 'Tightrope' and is on our first record!"
Balthrop, Alabama are planning to tour starting in October, says Lauren. "Pascal is getting married this summer, so he's busy planning that. We haven't played overseas, but would love to if the opportunity came about. As far as local shows, we'll probably play sometime this summer."
Balthrop, Alabama's latest album, We Have Electricity, is out now on End Up Records; visit their website for more.