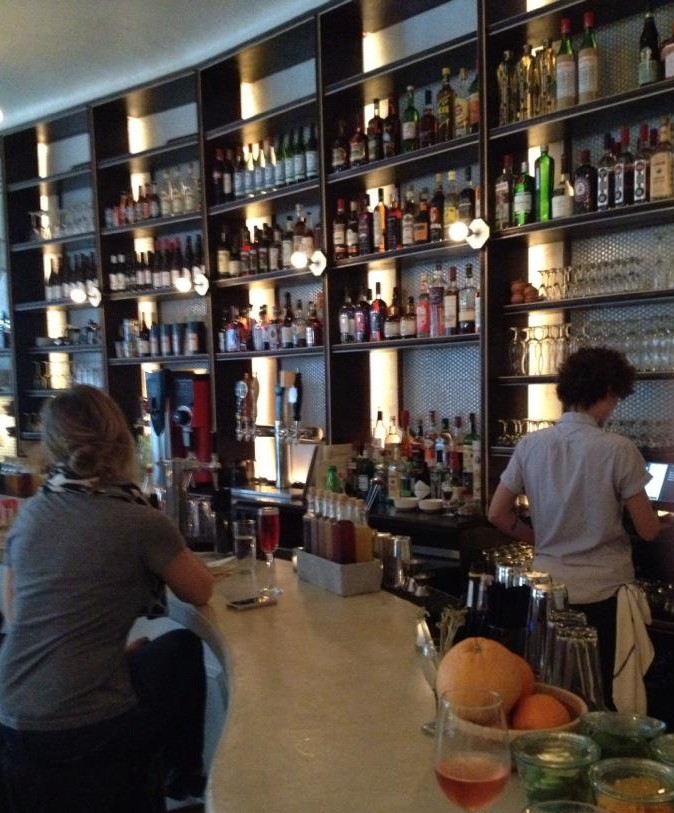 I once heard that people eat with their eyes, meaning the presentation of the food is of as much importance as that first bite you take. Open for less than two months, Donna in South Williamsburg not only has the food presentation element down, but has succeeded in creating a space so gorgeous that it's hard to take your eyes off the place while munching on the Central-American fare.
Owner Leif Huckman sought to create an approachable, yet refined hangout for "dirty kids", and he delivers. Described as "dilapidated elegance" Huckman chose well in working with the ubiquitous Haselgrave Brothers of the Brooklyn design company, hOmE. The designers behind, Paulie Gee's, Manhattan Inn, and Goat Town, Evan and Oliver Haselgrave have created something stunning among a sea of charming, but sometimes unoriginal bars and restaurants.
Post bike ride on a recent warm Saturday, I stopped in to meet some friends and ended up sampling a good portion of the menu. When I first visited Donna on the opening weekend in late April, I knew it would be a new go-to for drinks, but the cocktail menu is only the half of it. Chef Jessica Wilson (Prune, Goat Town, contestant on Food Network's Chopped) plays well into the Central-American theme and although the menu is pared down, it ranges from chips and salsa, to pig face terrine, so you can be as adventurous or modest as you like.
From the "By Sea" section of the menu, the puree on the salt cod toast is near perfection and a great starter to share. Ceviche, sardines and shrimp cocktail round out the section.
Other little plates to pass around and gush over include pickled vegetables, fried plantains and the bitter greens. On a hot day the lightness and vegetable-intensiveness of the meal was oh-so satisfying and the colors made it one that I ate, in-part, with my eyes.
Oh, and don't forget to order a round of the avocados a la plancha with oxtail jam.
We didn't dive so heavily into the "By Land" section of the menu, but when I come back in cooler weather I've got my eye on the chorizo empanada and cassolo guisado.
To me, Donna feels like a place where the late-20s, early 30-something "kids" can still be kids, but now with better jobs and fewer roommates. The white pillars, vaulted ceilings, intricate lighting fixtures create a feeling of warmth rather than pretension. It's somewhere you could take your mom for an early snack, or have a debaucherous late-night dance party with friends.
As for the alcohol, if you're not sure what to choose right away and need a drink while you peruse the extensive cocktail menu, start with the Watership Down. The combination of Dorothy Parker Gin, ginger syrup, lime and celery bitters will prepare your palate for all of the fun it's about to have.
Go, go now.