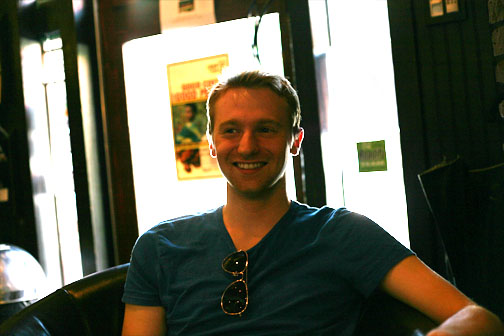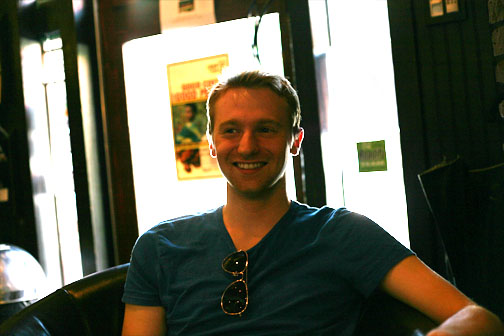 Name: Ryan Lile
Age: 27
Occupation: Retail manager
Neighborhood: Park Slope
Relationship status: "I have a few crushes on OKCupid. I tend to fall in love with yoga teachers, but I'm officially single."
Ryan Lile decided to take a hiatus from his post as retail manager of a hot yoga studio and fly south for the summer to Costa Rica where he'll train to be a yoga teacher himself. This was his last weekend in the city for awhile, and I was curious to see how he spent it. He shared what's he's been up to over coffee at Red Horse Cafe in Park Slope Sunday.

FRIDAY: I grabbed a bottle of wine on my way home. It was red, absolutely red–merlot. I drank all but about an inch of it, which is what I tend to do. On a Friday night, actually, that's kind of dangerous because I work at 5:30 in the morning on Saturdays, but I did it. I took the risk, and it was worth it. I watched the Food Network with my roommate. That's all we did. Her boyfriend is actually a really good cook. He's in Prague right now, but they usually watch the Food Network together. I was a stand in. I don't know the titles of the shows that they watch. I just know that they're all the same thing, though, Sweet Genius is an amazing show.
SATURDAY: I have five alarms on my phone and two on my alarm clock because I can't get up on Saturday mornings. It's really terrible. I always hallucinate for the first one or two alarms. On the third alarm I'm usually pretty coherent. It helps that the sun comes up so early right now. I stumbled out of bed and threw some clothes on. It's laundry week, so that was a huge problem. Laundry week–that tells you how much of a problem I have. I headed to the train. Thankfully there weren't any fuck ups with the 4-5-6 this weekend. Then, I started my 11-hour work day. I work at a hot yoga studio, so work was slow because not a lot of people come on hot days like that. I tried to get there for 7 o'clock, so I could read my book for a half hour before people showed up.
I just went back to Seattle about a month ago. I always steal four or five books from my stepmother's bookshelf. I always judge them by their cover, so I don't know what they're about. I finished one called Treasure Forest. It was all about this family getting in touch with nature. Then the kid gets lost. The ending sucked, which I was disappointed about. The cover was very beautiful, like a Thomas Kinkade painting.
I'm trying to get everything done before I go to Costa Rica. I bought mini shampoo bottles. That's as prepared as I've got so far. I still have to clean my room for my subletter, and it's Grey Gardens in there right now.
After work I came home with another bottle of wine. A few friends came over for a bit because one of them had just moved two blocks away. We ordered Bareburger. When I went there the first time two years ago, there was only one, and it was in Astoria. There's now one on 7th Avenue. It's kind of expensive, but it's all organic and grass-fed. I'm a vegetarian. Their veggie burgers are delicious–so is their natural soda. We watched this whale movie, [Big Miracle]. It's got John Krasinski in it–basically the man of everyone's dreams including mine. It was based on a true story about whales that got stuck under six inches of ice in Alaska and couldn't get out to the ocean. It was a good movie to watch with a bottle of wine and some Bareburgers, just a quiet night.
SUNDAY: This morning I woke up to the sound of my air conditioner dying, which is never a good sign in June in New York City. After coffee at Red Horse, the next couple of hours were spent doing laundry and cleaning my room for my subletter who's arriving a few days after I fly off to Costa Rica for the month. From there I went shopping at Target for my trip. Buying colorful, revealing beachwear counts as celebrating gay pride, right? I also bought a new red comforter that turned out to be a little too red. (I'm taking it back tomorrow.) I came home to Kelly cooking spinach pasta for me–our farewell dinner. We played a few intense games of Banangrams–I lost three times–and turned on the Lion King. It was a very emotional end to the evening. I cry at the end every time Simba walks up Pride Rock in the rain. It kills me.
RATING: 4.5–some pre-Costa Rica stress but overall I can't really justify any complaints.