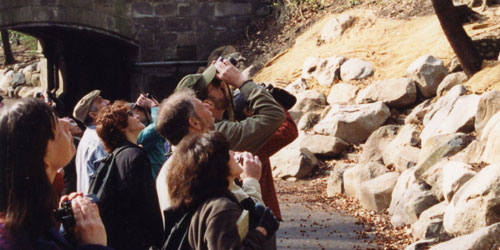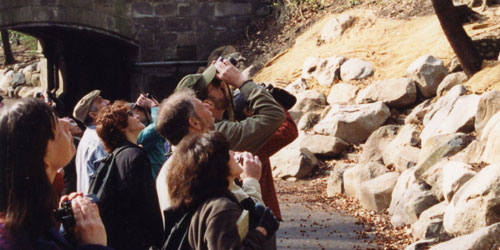 If you can get your well behaved tween out of bed at 8am this Sunday you might enjoy a traditional bird watching walk through Prospect Park led by the Brooklyn Bird Club. The monthly walks are themed by season and right now "Taking Wing" will focus tour-goers' binoculars on young birds living in the wilds of Prospect Park. Like life, bird watching can be an unpredictable affair. But hopes are to see young "backyard birds" like Cardinals, Blue Jays and Woodpeckers. Ducks and Swans are also likely to be observed on the waters of the park. This walk is for quiet observers of nature. The free tour lasts for 1 to 2 hours and departs from the Audubon Center at 8am.
If your child is younger and a bit um, louder and more hands-on (our words not theirs), the Audubon Center suggests the "Discover Tour," a weekly Sunday tour which departs 3pm and is one hour long. It's led by a park naturalist who introduces explorers young and old to the flora and fauna of Prospect Park. Each week a new path is taken, based upon the most exciting nature Prospect Park has to offer in any particular week. Don't fret, you can put those pricey binocs to good use, because the tour also partakes in a little bird watching. Tour goers will also learn about other park curiosities like the history of the Boathouse.
Both tours are free and depart from the Audubon Center located inside the Lincoln Road/Ocean Avenue entrance. For more information visit prospectpark.org or call (718) 287-3400.