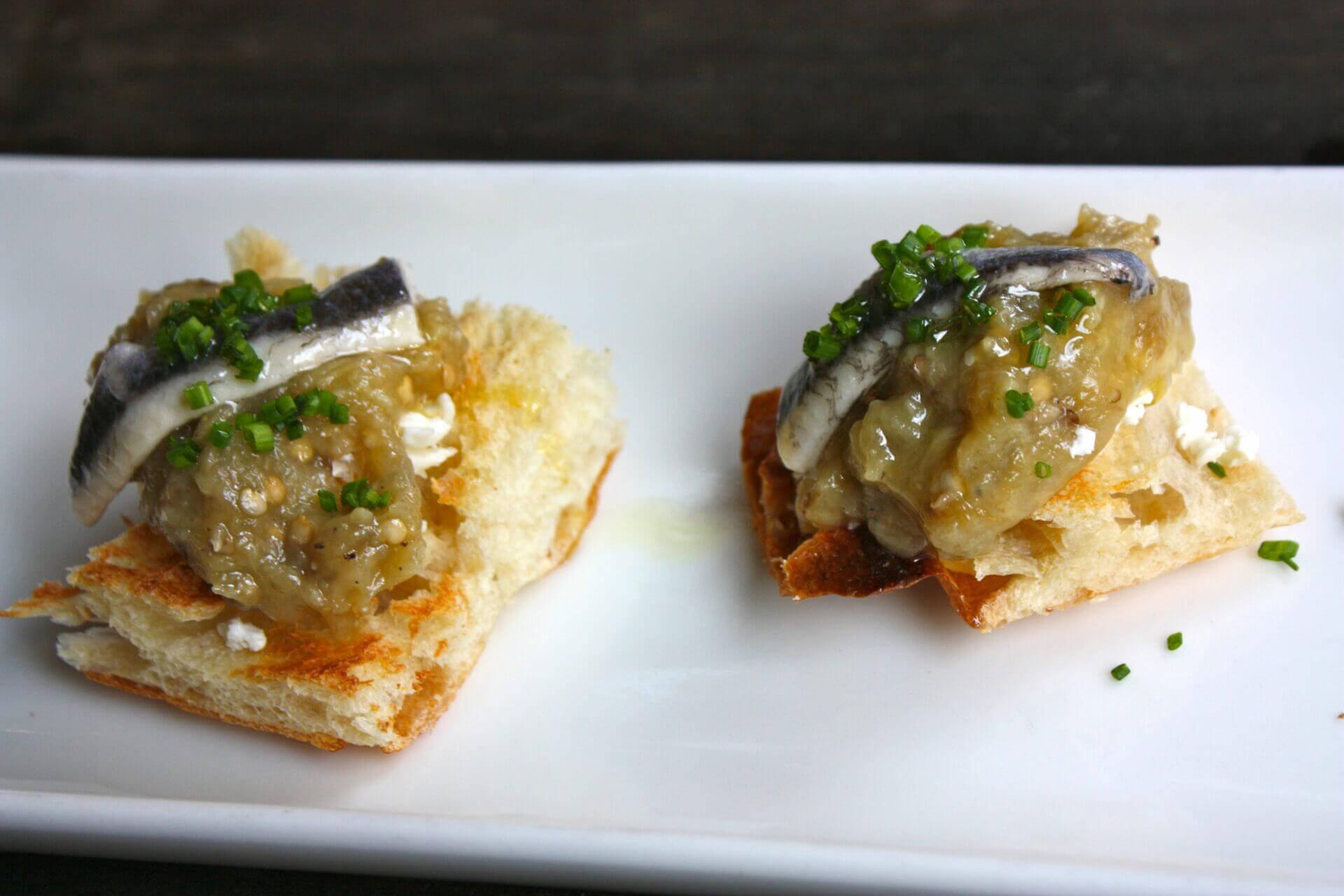 Open on Northside Williamsburg since 2005, MyMoon has long held the rather dubious distinction of having a setting that is more magnificent than the food (at least in this food-crazed borough, that's a dubious distinction). The restaurant is unquestionably one of the most attractive in Brooklyn–a former boiler room for an adjacent leather factory, segments of the original boilers are incorporated into soaring metal sculptures that line the red-brick indoor space, while the outdoor area is lined with flowing, canopy-covered booths. Unfortunately, the Turkish menu has never attracted as much attention as the interiors.
So I was excited to learn that MyMoon has recently revamped their food program, bringing in Spanish chef Ivan Vilches, who has worked under Ferran Adria at El Bulli, and trading in the Turkish theme for an inventive Mediterranean menu with Spanish accents.
The most exciting part of the new menu is the 3-and-3 tapas-and-beer happy hour special. From 5 to 7 on weekdays, you get your choice of three tapas plus three 5-oz beers (they have Pilsner Urquell, Blue Moon, Six Point Sweet Action and Peak Organic Summer Session on tap; you can also just opt for one full-size beer.)
The best bite I tasted was their anchovy toast with goat cheese and grilled, pureed eggplant (above).
Charred shishito peppers, topped with Maldon sea salt, come out just right: blistered and crispy on the outside, with a bit of juiciness inside, just a little heat, plus a pinch of saltiness.
There are also less edgy "tapas" like guacamole and honey-mustard chicken wings on the happy hour menu. Three of them really are enough for a decent-sized meal, making this a pretty sweet deal. Throw in a couple $1 oysters and you've got a legit $30 dinner for two.
The full tapas menu also goes higher-end with some fancier items not on the happy hour deal, like foie gras served with raspberries, macadamia nuts, passion fruit sauce and, keeping things a little bit Spanish, a sweet reduction of Pedro Jiminez sherry.
On the dinner menu: switching up the every Brooklyn restaurant must serve a beet salad thing  just a bit, a standout is the summer-y bowl of beet gazpacho. Plum tomatoes are blended with red beets, sherry vinegar, olive oil and lime for one seriously refreshing soup. Vilches' signature seems to be fruit popping up in unexpected places, as in the slices of blood orange floating among the crumbled pistachios and shrimp here.
Prettiest arrangement award: carpaccio of black sea bass dressed with black trumpet mushrooms, sundried tomatoes, pine nuts, chives and, again with the creative use of fruit, granny smith apple.
The best dish I tasted was a special that the chef says has been popular and may join the regular menu soon: crispy lamb cooked confit-style, so that the edges are dark and crackling but the inside barbecue-tender, served with fresh apricot and frisee.
On the dessert menu, the "mojito cake" sounds gimmicky but somehow works. A rum-soaked cake is topped with mint granita that actually tastes exactly like the drink, plus a tasty, tiny little macaroon.
If you prefer your cocktails in liquid form, the drink list has also been summer-fied, with a fresh strawberry gimlet; Le Printemps (cucumber vodka, St. Germaine, fresh cucumbers and sparkling wine); and Hecho en Brooklyn (milagro tequila, mezcal, ginger, cucumber, agave and pineapple).
Bottom line: The new MyMoon deserves to be known for more than just its looks.