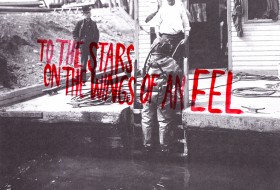 Gowanus might once have been best known for its toxicity levels, but the neighborhood is cleaning up its act. In recent years, it's evolved into one of Brooklyn's brightest artist enclaves, and a new exhibition at Gowanus Ballroom is ready to showcase something other than the canal's Superfund status.
To the Stars on the Wings of an Eel opened June 29 and runs through tomorrow night. The showcase is curated by Serban Ionescu, Ethan Spigland, George Sferra and Josh Young. It consists or work by over 40 local artists as well as nightly musical performances by bands including The Big Ship, Hungry March Band, Pendulum Swings and La Big Vic, who are all performing tonight. The exhibition opens at 7 pm.
Rather than shy away from Gowanus' polluted past, the exhibition embraces it by offering artistic interpretations of the areas past, present and future–a creative take on A Christmas Carol if you will.
"Some of our process was to look for artists who were engaging this historical exploration, but we soon came to consider the current activities in the Gowanus area as a sort of modern day history in process," says Sferra. "This opened the theme slightly while allowing us to include neighbors pursuing exciting work right now. Some of the art work was already connected directly to our theme, other artists we worked with to help them create new work that would have a clear relationship."
Choosing to host the exhibition in the Gowanus Ballroom initially posed some impediments, but ulitmately Sferra says the site, which was once a steel mill, inspired the way in which the show took shape.
"It may not work for every exhibition, but for our theme, it really was a great fit," he says. "We have attempted to create an installation that immerses the visitor in a strange world, mixing past and present. We really wanted to get away from the sterile feeling of a more traditional gallery, allowing visitors to explore the area and our exhibition on their own terms. In can be a little difficult to find us, tucked away near the canal, but we hope that visitors are filled with wonder and amazement when they enter this massive space."
With a show of this size, seeing everything is ideal but if you can't get to it all, highlights include Duke Riley's Acorn submarine and Dustin Yellin's glass sculpture.
"Riley's Acorn submarine is such a wonderful object, it really commands the room, and it incorporates these aspects of craft and construction that you find echoing throughout the exhibition (and neighborhood)," Sferra says. "Yellin's glass sculpture offers a strong counterpoint to Duke's. It is captivating and mysterious, but also has a very finished look. This juxtaposition exemplifies the collisions embodied throughout the space. It is these conversations between extremes that we feel really make the show a success. Upstairs, I love Swoon's large print on the back wall, the woman featured watches over the whole space and adds warmth. I really can't imagine the installation without that key work."