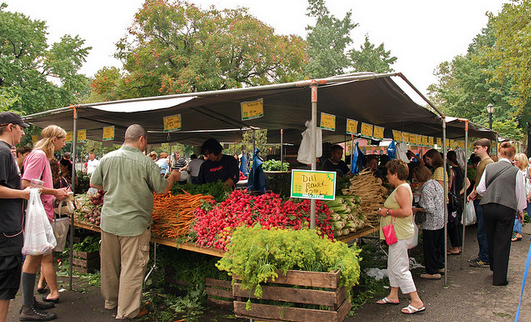 I began visiting my local farmers market regularly about three years ago. My first visit was prompted by my new career move—stay-at-home mom. I was pregnant with my second child and had just quit working full-time. My new job required that I cook delicious and healthy meals that, for the most part, did not come from boxes. With my newfound love of cooking came curiosity about where to buy fresh ingredients; enter the Greenpoint/McCarren Park Greenmarket. What a beautiful thing, an open air market bursting with possibilities. If you're a dedicated chef you could shop for most of the week's ingredients right there.
In addition to the market's farm-fresh bounty I quickly found that the Greenpoint/McCarren market was a great community meeting spot, located in a perfect place for hanging out. Directly behind the Ronnybrook Dairy table sits a pavillion with plenty of tables and benches nestled right in between a blooming garden and two dog runs. It's here where families get together to socialize and watch each other's children while we take turns shopping. The kids are happy to run around with their friends and munch on freshly baked rugelach from Bakers Bounty and sip on Ronnybrook's chocolate milk.
Ultimately, a visit to the farmers market is a family activity that kills two birds with one stone (three if you take your dog to the dog run). In praise of all the farmers and bakers and candlestick makers out there, I compiled a guide to all things greenmarket: three markets worth visiting, tools to remind you what's in season and recipe inspiration from a pair of Brooklyn food bloggers about their favorite summer dishes. Break out the canvas totes and your copy of How To Cook Everything, because we're going shopping!
Three Farmers Markets to Visit This Summer
While farmers markets are typically a local thing, try moving out of your comfort zone and check out a market in another neighborhood. Each market is unique and frequented by different farms and vendors, so If you're dying to make a cherry pie on a Thursday, make a pilgrimage to a weekday market instead of your grocery store for a change. You'll be rewarded with supporting local farmers and bake a pie with superior taste. For more information on these and all the NYC Greenmarkets go to grownyc.org.


Fort Greene Park
The Fort Greene Park Farmers Market at Washington Park between DeKalb and Willoughby is open Saturdays from 8am-5pm. This large market offers everything from vibrant fresh green herbs grown by Lucky Dog Farms to assorted fruit jams, cider and fresh organic apples from Wilklow Orchards. Stop by the Hudson Valley Duck Farm stand for a sampling of their organically raised Moulard and Lola breeds of duck and duck prosciutto. On the first Saturday of every month at 11am caterer Jess Mattheus of Hearth & Table offers a free seasonal cooking demonstration.

Grand Army Plaza
The Grand Army Plaza Greenmarket is New York City's second largest greenmarket, second to Union Square. Open Saturdays from 8am-4pm this market is overflowing with spectacular farm fare from poultry to flowers. Pick up a bottle of wine from Anthony Road Winery, grab some pickled vegetables for your charcuterie from Rick's Picks and Jamaican specialty fare like callaloo and Scotch Bonnet peppers from Jamerican Produce out of Suffolk County. Located smack dab in the middle of it all, this market makes a great stop on a day trip to the neighborhood. In addition to shopping for a super Saturday evening dinner, make a day of it and check out a family favorite such as the Brooklyn Museum, the Botanical Garden or the Brooklyn Public Library.
Sunset Park Greenmarket
If you're looking for exotic fruits and vegetables to create authentic Mexican or Latin fare, then the Sunset Park Greenmarket is where it's at. This market's stalls boast items like corn, fresh tortillas, peppers and hard-to-find herbs. MimoMex, a farm specializing in Mexican and Central American vegetables and herbs, provide shoppers with Mexican staples such as pipiche, papalo, epazote, and alache. This is the type of market that fearless chefs love. The Sunset Park Greenmarket is located on 4th Avenue between 59th & 60th Streets and is open on Saturdays from 8am-3pm.
What's In Season
Keeping up with what is in season at the greenmarkets will make checking items off your shopping list a lot easier if you're trying to plan ahead. But sometimes, the fun of shopping at the farmers market is buying what looks freshest and leaving the recipe for later. There are several websites that have seasonal fruits and vegetable charts, but The Center for Urban Education about Sustainable Agriculture has a both seasonal vegetable and fruit chart that suits all your needs. They also provide a PDF to print out and stick on the fridge. If you want something a little more exciting, Radish stocks the New York Metro Area Local Foods Wheel put out by the eco-publisher Chelsea Green–a very cool device for $13. If you're more of an app fanatic, there are plenty to help you source farm fresh fruits and vegetables. The Locavore app available for $3 uses GPS to locate where you are and give you the lowdown on what's in-season in your area. Locavore also pinpoints farmers markets and farms to source all your fresh fruit and veggie needs.
Fresh Inspiration
I reached out to two Brooklyn food bloggers to get the inside scoop on where they're shopping and what they're making with summer produce. Here's what they had to say…

Cathy Erway, Not Eating Out In New York
BB Kids: What part of Brooklyn are you from?
NEOINY: I currently live in Prospect Lefferts Gardens
What's your favorite Brooklyn Farmers Market?

Grand Army Plaza—it's the second-largest Greenmarket there is and open year-round.
What are your favorite summer seasonal fruits and veggies?
Right now I'd have to say heirloom summer squashes (so versatile), peaches and nectarines, sweet corn, and Romano beans.
What is your all-time best summer recipe using the farmers market bounty?

NEOINY: I'll go with this "Fried Green Eggplant with Peach Salsa" recipe from a few summers ago, it's so colorful, delicious, and unusual.

Chanie Apfelbaum, Busy In Brooklyn
BB Kids: What part of Brooklyn are you from?
BIB: I was born and raised in Crown Heights, Brooklyn. I live just a stones throw away from my childhood home. I wish there was a farmers market in my neighborhood!
What is your favorite Brooklyn Farmers Market?
The Carroll Gardens Greenmarket is great because it's open on Sundays so I can buy my produce for the week.
What are your favorite summer seasonal fruits and veggies?
Oh gosh where do I start?! Favorite fruits would have to be berries, all types. I also Love nectarines, and apricots grilled with a drizzle of honey. Favorite veggies are corn and beets. I love them roasted!.
What is your all-time best summer recipe using the farmers market bounty?
When you buy farmers market produce, it's so fresh and naturally sweet that you don't need much to bring out the flavors. I also love to eat a lot of my produce raw so that you can really get that freshness in every bite. My favorite summer salad right now is snap peas with corn and red currants. The tart currants are the perfect balance to the sweet corn and the raw peas add a brightness to the salad. It's so light and refreshing, perfect for a summer day!