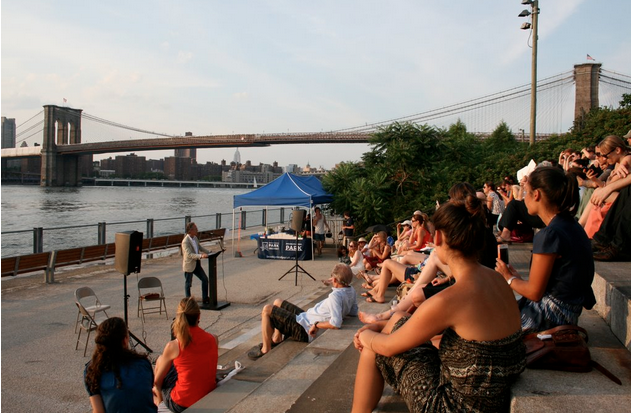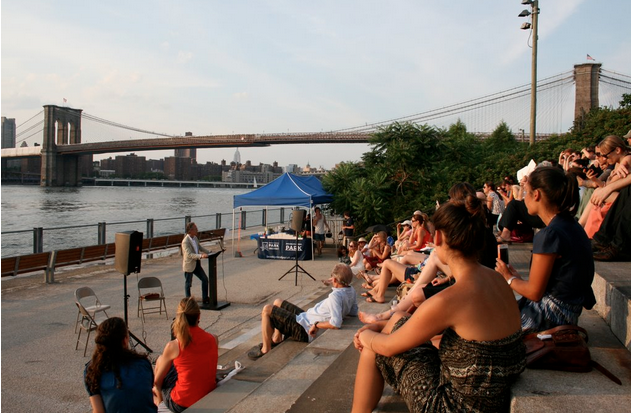 Last Monday, Amor Towles, a Manhattanite, crossed the river to give a reading at Brooklyn Bridge Park as part of Books Beneath the Bridge, an ongoing series sponsored by the borough's indie bookstores–this one by Fort Greene favorite Greenlight Bookstore. His debut novel The Rules of Civility turns a stylish eye to the lives of a set of mid-1930s Manhattanites. The glittering island at the center of the novel lay across the river as the perfect backdrop.
Before the reading a jazz band played 1930s standards, and it was lucky they did, as it was only the strain of a saxophone that led me to the set of steps where the reading was to be held. It was a hot, sunny evening and I was almost too excited to find lemonade and cookies being served, as if I too was at a summer party in the Hamptons. A large crowd had gathered, and lay artfully sprawled on the steps, basking in the evening sun.
Amor Towles took the floor and gave an introduction detailing why New York, despite being located on a river like London or Paris, was unique: the depth of the rivers (the East River lurked a few feet behind him). The deep Hudson, unlike the Thames and the Seine, allows ships right up into the belly of Manhattan, creating a heady mix of commerce and culture right at the heart of the world's greatest city.
Towles read two sections, providing a taste of the crisp, witty writing which has led to the book becoming such a success. Katey (née Katya) Kontent, the novel's hero and a Brighton Beach native, escapes Brooklyn and leaves her job in the secretarial pool at a law firm to take an underpaid position at Conde Nast, taking her into a world not unlike a 1930s version of HBO's "Girls". Lena Dunham would be proud as Katey navigates awkward romantic encounters, terrible job situations, and finds herself flung into the upper echelons of New York society. What Katey loses in financial capital, she gains in social capital: "That's how quickly New York City comes about–like a weather vane–or the head of a cobra. Time tells which."
Lining up to get my signed copy, I noticed that I was the lone male in a queue of a wistfully dressed young ladies, who looked as though they wanted to jump right into the pages of The Rules of Civility. I would bet a modern-day Katey Kontent would be crossing the Brooklyn Bridge, and finding her excitement in the borough on the right side of the East River.
The Books Beneath the Bridge reading series continues:
Tonight at 7pm – Powerhouse Arena: Lizz Winstead, Lizz Free or Die (Per the site: **Due to the weather, tonight's reading will take place in the white tent located on Pier 1.)
Monday, July 30 at 7pm – WORD: Short Stories with Robin Black, Tania James, Rajesh Parameswaran, Jim Shepard, and Charles Yu
Monday, August 6 at 7pm – Community Book Store Park Slope: Patti Smith
Monday, August 13th at 7pm – Bookcourt: Martin Amis, Lionel Asbo: State of England