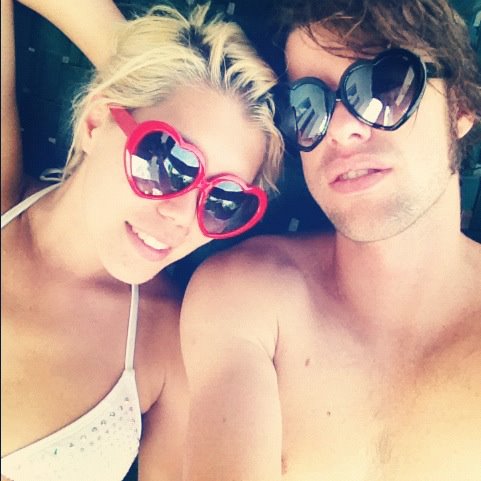 Names: Adam Sait and Youka Snell
Ages: 28 and 26
Occupations: Musicians
Neighborhood: Fort Greene
Relationship statuses: In a relationship
For their first trip to New York City, Australian, electronica-soul duo, Killbot Kindergarten decided to stay in Brooklyn, having gotten enough good tips from friends–and Google–to create a borough bucket list of things to do for the 10 days they're in town. After catching an impromptu gig on Sunday night, I asked band members Adam Sait and Youka Snell about their weekend to see what they were able to cross off their list.
FRIDAY: We'd been to Brooklyn Bowl the night before to watch Questlove spin (and eat our weight in fried chicken), and were therefore in dire need of a cheap local night, so we dined out in Fort Greene at a great place on DeKalb Avenue called Black Iris. This is the place to come for cheap Middle Eastern eats – we HIGHLY recommend the chickpea and spinach salad and the labana, which they make in-house. *Drool.
SATURDAY: We met up with our friends Rhiannon and Ryan at Smorgasburg. Much deliberating over the amazing variety of food stalls was done, illegal drinking of cider from paper bags seemed mandatory and ice creams in pretzel cones were the winners. We dropped in on Artists & Fleas on the way to Berry Park–the bar with the best rooftop view of Manhattan and killer frozen margaritas, guaranteed to get you shit faced. Subsequently shit faced, we parted ways with Rhiannon and Ryan only to meet up again a couple of hours later, looking much less like sweaty drunkards. We headed to another friend's party in the East Village, where we played a super secret show–so much fun! The cab ride home was a blur for all.
SUNDAY: Hangover Day. Spent most of the day lying around in the air conditioning until we decided that we were starving to death. We'd heard that Grimaldi's pizza under the Brooklyn Bridge was the balls, so we ventured off on foot. Little did we know that there would be a fuck-off line winding out the door and down the block, and that the other food options in the near vicinity left a lot to be desired. We ended up with an unexpectedly oily pizza from around the corner and immediately burnt the roofs of our mouths in famished impatience. As usual, ice cream saves the day–Brooklyn Ice Cream Factory serves up a mean strawberry scoop, and nothing much beats looking up at the Brooklyn Bridge while, across the water, Manhattan begins to twinkle.
We had been invited by some friends for a casual Sunday drink, which turned into another super secret last-minute gig amongst a lovely crew of Brooklynites. What an incredible last weekend in NYC. We wish like hell that we didn't have to leave so soon, but are already making plans for our return to this amazing and inspiring city.
RATING: 5!