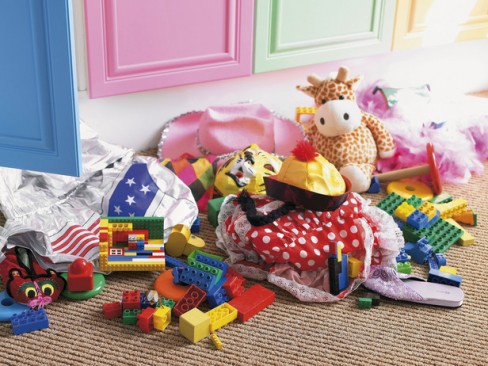 Let's be honest, Spring cleaning is for people who don't enjoy picture perfect weather and shopping for new spring wardrobes (losers!). Say you wrote the whole thing off. Instead you spent every free moment frolicking around the city making memories with your beloved family. Yeah, the Cherry Blossom Festival was great, but now it's time to face the music–it's August and your apartment is bursting at the seams.
The chest of drawers in the kid's room is maxed out. We know he'll always be your baby, but seriously, your three-year-old does not need a drawer full of onesies. What about the shoe pile in the hall closet? It's grazing the bottom of the winter coats you never got a chance to put away. And three strollers, really, isn't that a bit excessive? Well, we've got a summer clean up plan for you. Follow our guide to clearing the clutter, and you could earn a few bucks, make someone's day and finally get rid of that mini trampoline/magazine stand! Send the kids to camp, crank the AC and dive in.
GET ORGANIZED
It's time to stuff some garbage bags with unwanted clothes and toys, make a trip to the consignment shop or hold a stoop sale. But as we all know, thinking about it is far easier than actually doing it, so much so that the thinking tends go on for months as more stuff piles up. So we called on professional organizer Amanda Wiss, owner of Urban Clarity, for some pointers on how to get started.
Step One: Visualize your ideal, organized space, then tackle the low-hanging fruit
"It helps to start by outlining your goals," says Amanda. "Essentially you want to create a vision of what you want your space to feel and function like, so you know what you're striving for from the beginning. Ask yourself what you can never find, so you make sure to create a dedicated home for it." Then get at it. "Do a first pass and focus on the bulky stuff if that feels a bit easier to you." Then find the clutter in your closets, cupboards and storage areas, and get it out of there, so you make room for what you are still using. "Editing your possessions is like exercising," says Amanda. "You build up your de-cluttering muscle the more you do it. So start with the easy stuff that will free up space in your home (yes, that easel that NEVER gets used) and as you get 'stronger' you'll be able to do it faster and better." If you get really stuck, ask a friend for help, hire someone on TaskRabbit, or hire a professional organizer.
Step Two: Get the right tools for the job
"Pick your target spot and have on hand: large black garbage bags, recycling bags, cardboard boxes (good for donating books and kitchen breakables), a Sharpie to label things, paper and a pen or your phone to capture your 'to do' items as they come up, and a drink and snack so you can keep on trucking when the going gets rough without leaving the space that you're working on. Also, a decent night's sleep and a sense of humor during the process wouldn't hurt. Be light with yourself and remember that it didn't get this way overnight, so you likely won't fix it that way either."
Step Three: Save the sentimental stuff
If you're still hanging onto those little booties because they are so damn cute and you want to remind yourself of when your baby was a little nugget, or, pass them on to his kids someday, that's okay. Just save it the right way, says Amanda. "Find an archival quality container whose size you are fine with keeping for the long haul and only keep what will fit in it. One of my greatest joys is seeing my 6-year old wearing my vintage Strawberry Shortcake t-shirt with the name 'Amanda' emblazoned on it. But almost nothing else my mom saved was stored well enough to be usable. If you're going to dedicate the space for it, protect it."
Step Four: Be ruthless
"I'm usually firmly in the 'if in doubt throw it out' camp, especially if it's something that's easily replaceable or that you can easily borrow. Is that exersaucer still taking over half your living room and your kid is a toddler? Then send it out to the Brooklyn-baby universe for someone else to enjoy. You can definitely borrow one for the next kid! One of my favorite questions to ask yourself is 'Would I buy this item again?' For example, with gifts, just because someone gives you a gift doesn't mean it needs to clutter your home. If something is no longer serving its purpose and doesn't support you and your family, it's time to go."
Step Five: Recycle what you can
Of course, in going through the good stuff, you're going to come upon a ton of socks, underwear, towels and dirty white t-shirts that you wouldn't even donate—the things that accumulate but you feel bad throwing in the trash. Amanda's advice is to seek out places that do textile recycling, like your local farmer's market. "The woman who mans the booth at the Fort Greene market knows my four-year-old by name!" said Amanda.
SELL THAT CRAP!
When sorting through your items you should definitely be making a few "sell it" bags and boxes. There are several consignment shops throughout Brooklyn that buy second-hand kids and baby clothes, toys and gear. And Madison Rose, a maternity consignment shop on Court St. will gladly take designer maternity jeans and other high-end maternity brands off your hands. You can easily make a few extra bucks if you select the right items to bring in. One children's consignment shop in Park Slope, Lulu's Then & Now, tells us "The really funky and unique clothing always flies out the door. This includes anything from vintage leather jackets to Liberty-print dresses and anything Stella McCartney ever designed for Gap." Lulu's also tells us that they look for items like stroller blankets, Ergo brand carriers and vintage toys. Items like carriers, push wagons, wooden rockers and small furniture fetch the highest price tags.  At shops like Lulu's, Livie & Boo, Flying Squirrel, and Madison Rose you can earn between 35%-50% of the retail value of your items if you choose in store credit, or 25% of the retail value of your items in cash or check.
That said, if you can sell your old high chair or Pack 'n' Play on a local parent's listserv (like BrooklynBabyHui or FGKids), go for it. Not only will someone else come to pick it up, you'll get your asking price immediately. Clothes, on the other hand, are far easier to sell at a consignment shop if you know the general guidelines. Don't get offended if they don't take those adorable overalls you you once paid $75 bucks for and your daughter looked "soooo cute" in–they have a tiny hole in the knee, and that's a no-no. "We ask that all items to be considered for resale be freshly laundered, and that sellers pre-screen them for stains, holes and signs of excessive wear," says Claire, a buyer for Lulu's. Lulu's also has a list of brands they don't accept, as do many of the other consignment shops, so you should always edit the merchandise you bring in so it has a chance of being bought.
Another thing to consider while you're packing up items for resale is the season the shop is buying for. Lulu's, for example, is currently buying for fall and winter. "We're looking for cozy sweaters, flannels, classic denim, corduroy jumpers, coats, snow boots and winter accessories," says Claire. Lulu's also buys classic wooden toys and children's books year round. If necessary, you may want to make a separate bag for any spring and summer items that you can sell next year. It's a bit of a drag to assign the stuff a storage space, but if you think the items are worth the cash, then it might be worth the wait.
Every shop has its own set of rules when it comes to their sorting process. Some shops suggest drop off and others will sort while you wait. Lulu's generally takes forty-five minutes to sort and suggests checking out their nearby toy shop/salon on 5th Ave. (The little one can get a trim while you wait–now that's what we call efficiency!) Below are four resale shops around the borough–wherever you go, plan ahead and double check each store's guidelines.
Lulu's Then & Now (718-398-LULU) is located at 75A 5th Ave. (between Prospect Place and St. Marks) in Park Slope. Hours are Monday-Friday 10am-6:30pm, Saturday 10am-6pm and Sunday 11am-6pm. Sellers must call ahead to schedule an appointment.
Livie & Boo (718-857-0099) is located at 613 Vanderbilt Ave. (between St. Marks and Bergen) Fort Greene. Hours are Tuesday-Friday 11am-6pm, Saturday 10am-6pm, Sunday noon-5pm and Closed Mondays. No appointment is necessary.
Flying Squirrel (718-218-7775) is located at 96 N 6th St. (between Berry and Wythe) in Williamsburg. Hours are Monday-Thursday 11am-7pm, Friday-Saturday noon-8pm and Sunday noon-7pm. Call ahead to make an appointment, they do not accept drop-offs.
Madison Rose Maternity (347-689-3365) is located at 313 Court St. (between Sackett and Degraw) Carroll Gardens. Hours: Tuesday-Thursday noon-6pm, Friday noon-7pm, Saturday noon-6pm, Sunday noon-5pm and Closed Mondays. Call to schedule a drop-off.
GIVE IT AWAY!
If you've already offered every possible friend your hand-me-downs, and don't want to deal with consignment shops or listservs, you can always get the Salvation Army to pick up your children's furniture (excluding mattresses). If it's clothes or toys you want to donate, they require a minimum of three, 30-gallon trash bags filled with either. Just don't try to sneak in a baby swing, doll house or exersaucer–they won't accept any item of baby gear that cannot be bagged. To arrange pick-up, call 718-622-4705 at least two weeks in advance.
Another charity, Hour Children (718-433-4724 x5 for donations), which reunites incarcerated mothers with their children, will also pick up your gear anywhere in Brooklyn to sell in its Long Island City thrift store. The wait time is much longer–you need to call at least four to six weeks in advance–and the minimum donation is larger–they require three pieces of furniture, or eight large bags of clothes or toys. But they will accept baby gear like swings, strollers and the like. "We take anything in good condition," said Sandra Elmer, their donation coordinator.