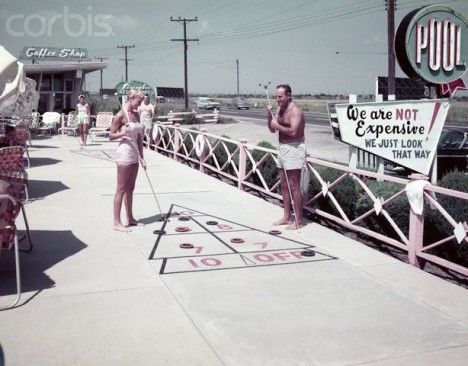 Jonathan Schnapp and Ashley Albert had an epiphany on a recent trip to Florida: they were destined to start Brooklyn's first, biggest and best shuffleboard bar. Jonathan, who self-identifies as a shuffleboard purist, insisted that they visit the St. Petersburg Shuffleboard Club–the largest in the world, while on vacation. At the club they found more than just snowbirds filling the courts. Ashley says she was surprised to see "people of all kinds: families and dates, seniors, and most surprisingly, a super cool, young, hip crowd."
The two looked at each other with mouths wide open (this is not an exaggeration, both of them actually do this to express wonder and delight), and in that moment they knew–they had bring this home to Brooklyn. The combinations of the shuffleboard club and their hotel, the Postcard Inn, a very cool, very beachy spot with a serious vacation vibe made them decide on the spot that a Florida-inspired shuffleboard social club–complete with a rockin' tropically-inspired bar–was exactly what Brooklyn needed.
Jonathan found a huge spot on Union Street, between Nevins and 3rd Avenue, and signed the lease without Ashley ever seeing the place. "I told him just do it! Just sign it!" she says. And thus The Royal Palms Shuffleboard Club was born.


They've only had the keys for a few weeks, but they can nearly hear the whisper of discs on the floor, almost smell the coconut cocktails and spiked shaved ice. Their imaginations are running wild with ideas for programming: live music on the stage and curated DJ sets, community leagues, tables for canasta play, burlesque nights and a constant generational interplay that will inevitably occur when the Brooklyn extends a warm welcome to their Palm Beachy, cruise liney, Michael McDonald loving club. Ashley wants it to "feel velvety, to have that Sunday morning jazz feel."
The sheer size of this bar and shuffleboard palace is enough to blow any Brooklynite's mind. The inside space, on ground level, is 15,000 square feet, enough space for twelve 6'x59' courts. The 12,000-square-foot Lido Deck (a la The Love Boat) on the rooftop will be home to up to six courts. They estimate that shuffleboard will cost about $7.50 an hour at prime time, cheaper during the day.
Sight unseen, the shuffleboard world has taken notice of Royal Palms, too. Jim Allen, president of Arco Shuffleboard Co., the biggest shuffleboard supplier in the nation, has been in touch, they've sought out advice from the president of the St. Petersburg Shuffleboard Club, and Jonathan is attending the national championships next week in Seattle. Royal Palms has signed on with SL Design, the design firm that made The Postcard Inn so easy, breezy and fun. The bar is in the running to host the World Shuffleboard Championships in 2014 and, just in time, the 100-year anniversary of shuffleboard in America (such serendipity!) is in 2013 and Jonathan and Ashley are already planning centennial celebrations.
They are still working on raising the funding to make the Royal Palms a reality. They have a Kickstarter campaign planned for fall, and are actively looking for investors. They are hoping that the Kickstarter campaign helps decorate the club–they want placards with neighbors' names on them, courts dedicated to locals. They want their soon-to-be friends to have ownership before the doors even open. And it'll be the cool stuff you're sponsoring: decor, courts, beachy bar accoutrements and loungey benches.
The space they found is big enough to drive a truck inside–a food truck, that is. They have plans for all sorts of special events, like combining a crepe truck with a Serge Gainsbourg soundtrack for a French-themed evening, Love Boat marathons (naturally), and magic shows. Jonathan is dying to get Murray Hill from the Bowery Poetry Lab to host a bingo night. Ashley has a killer idea for a speed dating night, too. Just picture meeting your cronies, dressed in your crispest linens and breeziest beachwear, playing long past sunset, your biscuits and tangs (that's shuffleboard talk for discs and paddle pushers) sliding to and fro. This is better than Gatsby-esque, it's better than the country club; this is Gowanus, you needn't be a member…Shuffleboard has a "communal and social feel to it," Ashley explains. "You play with your team members as much as you do the people on the next court."
Ashley is a multi-talented business starter. She is the leader of the kid's band The Jimmies, which has performed at Austin City Limits and Lollapalooza and has multiple albums. She also does voice work–you might recognize her from Trix commercials where she scolds that silly rabbit that, "Trix are for kids!", or as most of the cast of Daria, the MTV animated series. She's also the creator and owner of Survival of the Hippest, a twitter handle necklace company. Jonathan is a web developer who taught at NYU, a taco making wizard who won both the Brooklyn Taco Experiment and the national championship for his carñitas love taco, and a grand-scale, artsy piñata creator. Now, they're combining their years of experience doing crazy work to take on the most awesome twist of career fate yet.
Jonathan has high hopes that shuffleboard in general–and shuffleboard at the Royal Palms in particular–will become the new community leisure event. He wants to make you feel like you've just step onto a cruise, enveloped in a new community and activity. "I want this to be the place that people feel comfortable coming to alone and in groups; an inexpensive, analog-y, feel good place to spend your time," he explains. "Royal Palms will be the kind of place that people will frequent, not a once-a-month or once-a-year kind of place." Jonathan and Ashley envision a casual, friendly place where people come for an iced tea and free wi-fi, or for cocktails and hours of fun.
So, Brooklyn, start practicing now, you've got a little time. Keep an eye out for progress via Twitter (@RoyalPalmsClub) and Facebook. Heads up, they're looking for a general manager (one with LOTS of bar and restaurant experience) to overpay and give reins to. Know anyone who can handle such a cool job? Reach out if it's you, and email biscuits@royalpalmshuffle.com.