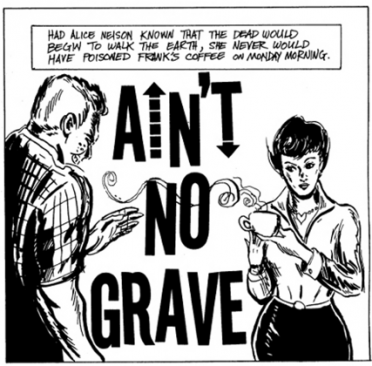 Literary magazines are key for a number of reasons.  They can serve as an excellent testing ground for your material, not quality testing, but testing to see how the fiction-reading public will respond to your work.  If you're looking for an agent for your first book, having a piece of writing accepted by a lit mag can act like a pair of morale-boosting water wings once your inevitably find yourself drowning in a pool of agency form rejections. Plus, I've heard plenty of stories of agents finding their next big writer after perusing their lit mag of choice. Finally, when sending out query letters to agents and publishers, having a few published story credits in your query letter can't hurt.
The trick is, an inexperienced writer your tendency might be to submit your work to The New Yorker and The Paris Review then get bummed when a form rejection hits your mailbox, two years later.  It's easy to feel like nobody is ever going to be willing to give you a chance, and you're never going to make it.  There are however, numerous publications that are willing give a new writer a wholly fair shake, judging their submissions entirely on quality of content.
Over and over you will hear in this process that publishing is "a taste matching game." This is often something agents will say when rejecting your work in attempt to lift your spirits, but it's quite true, and then once you do secure an agent, the game continues as they take your work to publishers.  Ultimately it's a taste matching game the difficulty of which far exceeds that blindfolded palate test they do on Top Chef.  Having somebody, whether it's an agent, publisher or editor of a literary magazine like your work enough to publish it, is often just the push a writer needs to continue on against the seemingly endless grain.  I speak from an angle of experience and shameless promotion having just had a short story called Cookie Dough published in Joyland Magazine. Follow me on Twitter @jonreiss for more about my freelance life.
Here are five literary magazines that you should absolutely submit your work to.  Before you submit, make sure to read at least a handful of stories to get an idea of their content, tone and style.
Joyland
Brian Joseph Davis runs Joyland with the kind of passion and fervor this type of outlet needs to thrive.  The site is divided up by region and casts a pretty wide net as far as the kind of stories it publishes, but I get a sense that the editors truly enjoy contemporary fiction as opposed to measuring everything that comes in on scale of how it measures against the work of Chaucer and Proust. Read my story, or perhaps this story Swanee by Sarah Lipman for a good sense of the range.  In my experience they're also quite good about response time.
Word Riot
Word Riot has Short Story, Flash Fiction, Creative Non-Fiction, Novel Excerpt and Poetry sections, among others. This journal has a sort of HTML Giant-y meets N+1 type feel to it, which might not make too much sense to anyone but me.  The submissions are handled by the Submishmishmash, an online submissions manager intended for exactly this sort of thing.
Glimmer Train
There are two categories of submission for Glimmer Train–standard and contests. Contests are held four times a year and those submissions cost $15 for a reading fee. In general it's a bad idea to pay someone to read your work, but the fee is low, pays the contest winners and 86 percent of work published in this journal comes directly from writers, and you've got to love that.  I can't say too much about Glimmer Train in terms of tone and content other than the fact that it seems a little more conservative than some of the other outlets I've mentioned, but I've been told on numerous occasions that agents read it.
The Fiction Circus
I highly recommend the Fiction Circus.  Why? Editor Miracle Jones is a charismatic master of ceremonies in the New York literary scene and a brutally effective storyteller in his own right. And his name is Miracle Jones. He's also got a major knack for getting people to pay attention to fiction on the internet which is a hell of a feat.  Thus, a story published at the Fiction Circus will get reads. The sensibility seems to be pretty out there in the best way possible.  For a sense of what I'm talking about you can read the most recent stories published like Load by Jeff Vande Zande or this comic. I also recommend this working-in-a-restaurant story wholeheartedly.
Granta
Granta is a pretty big deal.  They've got fantastic taste, agents read it, and there's a fair amount of prestige in getting a story published by them.  They also pay, which never hurts.  However, it will take time to hear back from them and it's not an easy road. I say keep plugging away, what's the harm? Also, Granta issues are thematic, I'm not sure how this can help you in as far as considering what to submit, but it's worth keeping in mind.