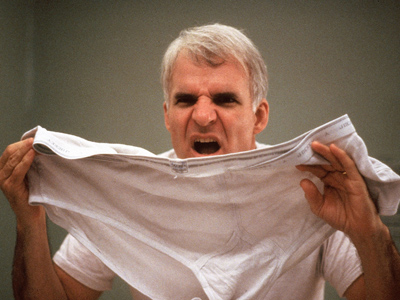 Today BAMcinématek launches a mammoth 50-film "everything-including-the-kitchen-sink sampler platter" (Time Out New York) series featuring the very best in American comedy, from the dawn of the talkies to the early 90s. Encompassing both naughty pre-Code Hollywood (Trouble in Paradise) and verbally pyrotechnic screwball rom-com (The Palm Beach Story), both the blush-inducing, taboo-exploding lampoonery of Mel Brooks (The Producers) and the poignant buffoonery of stand-up-based funnymen like Steve Martin (The Jerk), American Gagsters: Great Comedy Teams has a little something to set every funny bone aquiver.

This epic laugh-a-thon—one of the largest programs BAMcinématek has ever launched—navigates the developments of this beloved, amorphous genre by highlighting classic actor-director partnerships. The series comprises several mini-retrospectives of some of the most ingenious comic talents American cinema has ever produced. Classics and cult favorites abound, so audiences will get a chance to savor the manic rhythms of Cary Grant and Rosalind Russell's banter in His Girl Friday, the peevish mumblings of W.C. Fields in The Bank Dick, the brokenhearted corporate satire of Billy Wilder's The Apartment, and—of course—Leslie Nielsen's marathon-length urination in The Naked Gun.

But movie lovers will also have the opportunity to test out some comic pleasures they may not be acquainted with yet. Sharing the spotlight are a number of less-heralded directors and films: Arthur Lubin, for example, the director of Abbott and Costello's classic wartime comedies (saluted in a double feature of Buck Privates and In the Navy); Richard Quine, the helmsman behind films featuring the deliriously inventive cult TV star Ernie Kovacs (Operation Mad Ball); and Frank Tashlin, who gave a kick of cartoon-influenced absurdism to the work of comedians as diverse as Bob Hope (Son of Paleface) and Jerry Lewis (Artists and Models).

Forty-nine out of these 50 classics will screen in 35mm. As an added bonus, BAMcinématek has partnered with Posteritati to mount a wide-ranging poster exhibition at their SoHo gallery at 239 Centre Street. On display are some surprising treasures, including a French one-sheet for Woody Allen's Sleeper (under the title Woody et les robots) and a design for Ghostbusters that must be seen to be believed.

Check out the American Gagsters lineup and tell us the film you'd most like to see by Friday at noon. We'll give a pair of tickets to 5 random winners.