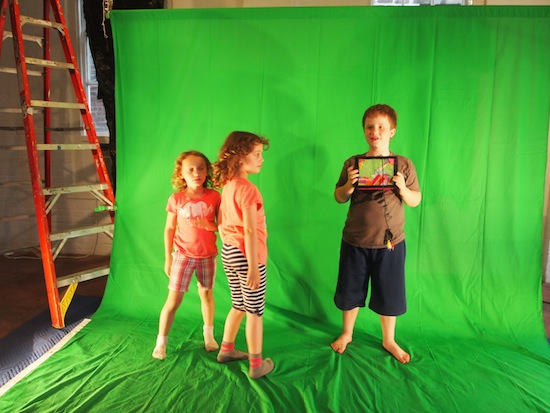 Looking for something to more entertaining and educational than after school "open play" or childcare for your kids? These four fall programs offer hands-on lessons that even you would find fun, if only you had the time to learn new tricks.
Williamsburg Art and Movement Center (WMAC)
If you want to keep your kids moving after-school and introduce them to a variety of different dance, performance and music classes, then WMAC is an excellent option for students in the Williamsburg/Greenpoint community. The program at the Williamsburg Art and Movement Center, designed for children in Pre-K to 6th grades, was created to "cultivate smart, imaginative artists in multiple disciplines." Owner Lakey Evans-Pena has created a warm and welcoming studio that is loved by both parents and children in the neighborhood. WMAC instructors that have trained at world renowned schools like Alvin Ailey and the Joffrey School. Professionally they've worked on Broadway, with chart topping musical acts and as choreographers. While the children in the program are learning from the best in the business, they are also being taught by instructors who have the patience and kindness to work with young beginners.
The studio recently expanded to two floors, converting their basement level into more studio space for tiny dancers. The extensive class options include: creative ballet, young hip-hoppers, voice, acting, capoeira, tap, acro hip-hop, and more. The session ends with a grand performance held on a local stage. When young children are attending from 3-6pm the instructors make sure to allow for rest or homework time. Parents have the option of signing students up for just one class with a 4:30pm pick-up, or two classes ending at 6pm, and for convenience WMAC also provides pick-up from local schools. The WMAC Fall/Winter session begins September 10th and runs through January 18th. Prices range from one day a week for $195 per month to four days a week for $778 a month. On September 5th the studio is holding a registration/meet and greet from 4-6pm and registration is currently open.
For more information on the WMAC After School Program visit wmaac.com or call 718.866.6811.
Carmelo the Science Fellow at the Cosmic Cove
Carmelo Piazza, otherwise known as "Carmelo the Marshmallow," has been wowing children at "Cosmic Cove" on 300 Atlantic Ave. in Boerum Hill since 2005. With a deep-seeded love for science (he's also a public school teacher) Carmelo has found a way to make science far-out fun for kids. Carmelo Piazza began his program when he was only 21 years old at the mercy of a student looking for more of Mr. Piazza's wacky take on science. Now his summer camp requires waking up at 5am on the day of registration to claim a coveted spot. Luckily for parents seeking after-school in the area, the Cosmic Cove is still registering students, although the program proves to be a little pricey if you're seeking multiple days.
The Cosmic Cove is offering three after school classes this Fall: Roar, Roar Dinosaur for Pre-K (where kids create an extinct dinosaur), Dino Dig for K-2 (where kids take part in a fossil dig) and Medieval Science for grades 3-5 (in which kids build contraptions like a catapult, a sundial and more). Carmelo is the teacher to all but one (Roar, Roar Dinosaur). But not to worry, all of the Cosmic Cove staff have worked alongside Carmelo for several years, including his wife, "Mrs. Marshmallow," who's also a parent and New York State certified teacher. Classes begin September 10th and run through December 3rd. One hour classes (one per week) are priced at $300-$400 a session and run Monday-Friday.
For more information on Carmelo the Science Fellow at the Cosmic Cove visit carmelothesciencefellow.com or call 718.722.0000.
Inventgenuity Workshops at Invisible Dog Art Center
During the summer, Brooklyn dad Brian Cohen helps run Beam Camp in New Hampshire, where kids build amazing projects dreamed up by artists, architects and big thinkers, such LED constellations, sci-fi films, and geodesic greenhouses. During the school year, he now heads up the new Inventgenuity Workshops in Cobble Hill, where kids in grades 2-5 and 5-9 enroll in projects that span the fields of design, technology, storytelling, and crafts.
Over the course of a 12-week "semester," your child will cycle through 3 four-week-long projects–going from, say, making microphones to building a guitar to filming and editing a TV show to making beeswax candles and lip-balm. You and your child get to handpick the projects, which will be listed on September 3, when registration begins (a semester is $540, with discounts for additional days/classes). Classes start September 24, and Inventgenuity offers pickup from most schools in Brooklyn Heights, Cobble Hill, Park Slope and Carroll Gardens.
For more information on Inventgenuity Workships visit inventgenuityworkshops.org or call 347.470.6747 and ask for Kathryn Wallem or Brian Cohen.
Construction Kids
Construction Kids, a summer camp and after school program led by local mom Deb Winsor, gives your kids the kind of woodworking skills that you wish you had. It recently relocated from Winsor's home in Prospect-Lefferts Gardens to a brand-new, gargantuan space in BLDG 92 in the Navy Yard. Once you drop them off, parents can head up to the new outpost of Ted & Honey cafe upstairs for a snack with city views, while your child learns to build everything from cars to playhouses by hand, using blueprints and a wide variety of materials. If the thought of your 4-year-old holding a hammer spooks you, rest assured that the hour and a half classes (for grades K-5) are tailored to the skills of each group, the tools are child-size, and your little ones are heavily supervised as they use them.
A 13- to 14-week session is $425-$450, and you can attend a $35 2-hour class/Open House on September 8 to see if the format is a fit for your family. Pick up from local schools currently isn't available, though if parents are organized and get at least 5 kids from the same school to attend a class, it's a definite possibility. Otherwise there is ample parking outside the Navy Yard under the BQE, or it's a 20-minute walk from the A/C to High Street or the F to York.
For more information on Construction Kids or to register for classes visit constructionkids.com or call 718-522-2902.