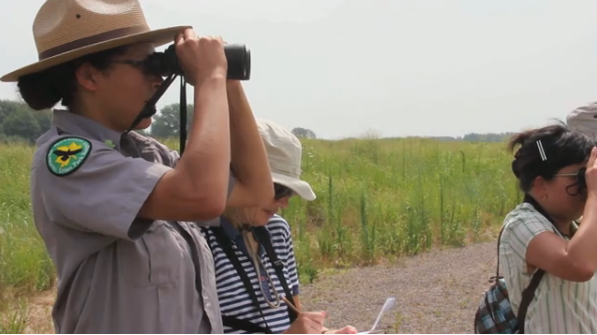 Marine Park from Julie Strickland on Vimeo.
Quick, what's the largest park in Brooklyn?  If you're thinking Prospect Park (526 acres), you're wrong.  Marine Park, a far-flung green space and salt marsh in southeast Brooklyn has the most acreage in the borough. It also makes a great day trip.
Lovingly tended by a group of urban park rangers, the 798-acre park is protected as a Forever Wild Reserve. Most of Marine Park consists of the salt marshes and uplands that flank Gerritsen Creek, the westernmost freshwater inlet of Jamaica Bay. This is a city park for nature lovers, where visitors have the opportunity to partake in activities that you wouldn't necessarily expect to see within the five boroughs–bird watching, hiking, canoeing and camping are among the most popular park programs.

"Canoeing is probably my favorite activity here," said Howard Kreft, associate urban park ranger at Marine Park. "You get to see the park from a different perspective. Surrounded by the beauty of that salt marsh environment, you kind of forget that you're in the middle of the largest city in the country."
The salt marsh hosts a rich sampling of wildlife–everything from fiddler crabs to raccoons, egrets, falcons and saltwater terrapins. The terrapin seems to be a particularly beloved creature at Marine Park: I never had a conversation with an urban park ranger there without at least one turtle mention. They're special, Kreft explained, because these plucky reptiles have adapted live in a mix of fresh and salt water.
This sort of affectionate attention defines Marine Park. The rangers make it clear how much they care about the environment they work in, and the critters they're surrounded by, and their enthusiasm is contagious.
When I first visited Marine Park back in July, I tagged along on a bird watching tour with urban park ranger Christina Knoll, a self-described "bird nerd," and a posse of birding regulars. The best sighting of the afternoon was, for me, a glimpse of two fuzzy falcon fledglings hiding out in their nest. Last week, Kreft told me that they had successfully flown away from their childhood home. I was thrilled, and he was clearly as proud as a father who had just dropped his 18-year-old off at college. "Fish in the creek need to beware," he joked.
My birding tour took place along Marine Park's 60-acre nature trail, which has undergone preservation and development in recent months to clear out invasive plants, expand the salt marsh area, and trap pollutants. Right now parts of it are only sporadically open for special excursions, but it will open back up to the public on Oct. 16.
For the more traditional parkgoer, there's no shortage of grassy green space for lounging and sporting, as well as baseball fields and courts for basketball, bocce and cricket. Picnicking is permitted and there are tables throughout the park, though no barbecues. For gatherings of 20 or more, the park asks that visitors file for a special event permit.
Marine Park is also home to the Brooklyn Golf Center (on the southeastern corner of the park, off Flatbush Avenue). There's mini-golf, a driving range and the 18-hole Riis Park Golf Course. And, if you're feeling especially ambitious, you can hit DiFara's Pizza at Avenue J and East 15th Street (Avenue J stop on the Q, about a mile from the park for drivers and bikers), on the way home. Be prepared to wait in line (though we hear from neighborhood sources that holiday weekends are actually great times to go, since so many pizza lovers are out of town). Park events, like bird watching and archery classes, are listed here; fall events will be added to the calendar in September.
Marine Park is not directly subway accessible but visitors can get there via the Q train and a quick bus connection. Get off on the Avenue U stop on the Q, then pick up the B3 bus and get off at Burnett St. The ride takes around 10 minutes, depending on traffic. The more car-inclined will find parking on the north side of Avenue U, where the area's largest parking lot is free and open to the public. Located in the center of Marine Park, it offers the best point of access. There is also a smaller lot near Avenue S. From Prospect Park, it's a six-mile bike ride down Ocean Parkway, then east on Avenue N, then south on East 37th Street.  Or chart your own route on Ride the City.