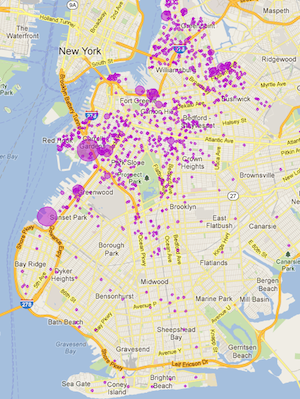 On the weekend of Sept. 8 and 9, nearly 2,000 artists are opening their doors for the largest open studio tour ever to take over Brooklyn. Not only is everyone invited to GO, but art goers are encouraged to visit at least 5 studios, so they can then nominate the artists they'd like to see in an upcoming exhibit at the Brooklyn Museum.
To be a curator, you need to register online. While you're on the site you can glean some valuable tips and plot out your visits. There's a tool to sort artists by neighborhood, media (painting? installation? photography?), and accessibility, which actually refers to whether it's wheelchair accessible or kid- or pet-friendly, not (as we first thought) how crowd pleasing or "accessible" the art is.
You can also use the map to see the concentration of participating artists throughout Brooklyn–surprisingly, they don't all live or work in Bushwick.
During the event, which takes place between 11 am and 7 pm on Sept. 8 and 9, you can check into each studio you visit by texting the artist's code to BKLYN, using the soon-to-be-released GO mobile app, or just writing down the code and entering it online later. (Codes will be posted on a sign in each studio.) After you visit at least 5 studios, you'll be able to vote for up to 3 of your favorites between Sept. 12 and Sept. 18. (They're taking impulse voting out of the equation here, so you have time to process what truly moved you.) The Museum's actual curators will then check out the work of the top 10 nominated artists to consider them for a group show at the Museum, opening December 1, 2012, during the monthly Target First Saturday.
If you've been to an open studio event, GO is a chance to check out art in an unfamiliar neighborhood, and if you've never been, it makes it easy to see the work of artists close to home. There are over 200 artists each in Greenpoint and Bushwick, 67 artists registered at one single building in Industry City in Sunset Park, 2 in Canarsie. Who will you see Sept. 8 and 9?