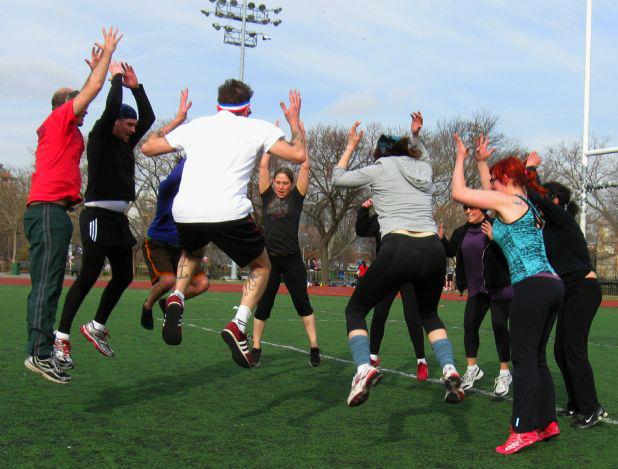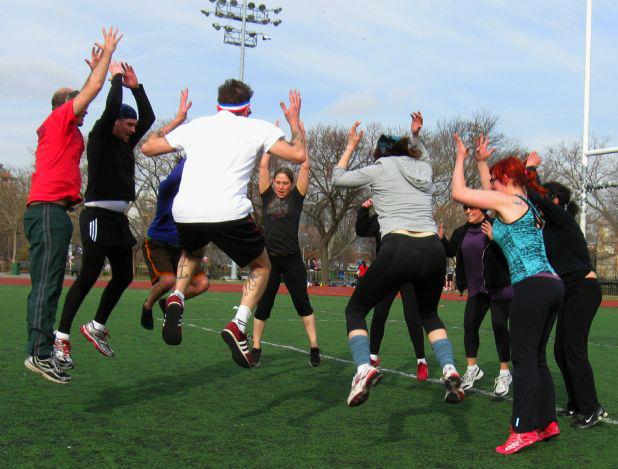 Ok, so you know that summer isn't actually over yet, right? Fall doesn't start in a position-of-the-earth-in-relationship-to-the-sun kind of way until September 22. Nonetheless, it seems that everyone has plans for boozing, beaching and barbecuing this weekend, followed by a general sense that with  the first week of September comes a return to more serious pursuits.  If you insist on getting back into a productive routine, you may want to give Beastanetics a try as an awesome fall workout.
Next week, on Tuesday, Wednesday and Thursday, Tim Haft will lead nine free Beastanetics classes at McCarren Park, on the soccer field by the track. Each day classes start at 6:45, 8am and 9:15am. Check out the Beastanetics website for the class schedule and program details, and to sign up.

I've written about how much I love Beastanetics on Brooklyn Based in the past, and how it's made me feel stronger, tougher and healthier. It's also a great place to meet cool people (sort of like going back to school, but with much more reasonable tuition). The scene is very friendly, but not in a weird, cloying way. There are lots of Beasts who are musicians, writers and artists, several bar and restaurant owners and servers, and even more who work as social workers, counselors and teachers.
So that you don't have to just take my word for how great this program is and how you'll never have to spend another hour on the elliptical machine again, I asked some Beasts to share their favorite things about the program. Here are their thoughts:
Sarah Sisco, Park Slope
Tim is really smart about building strength and pushing yourself physically in a smart way. He explains the reasons for doing certain exercises, researches them thoroughly, and believes in people keeping good form (the latter of which is surprisingly rare). In addition Tim is SO helpful and draws people to his workouts who are just as friendly and down to earth as he is. I've loved Beast for the creative, independent minded people I've met and for the relief I've felt getting out of the Park Slope mom setting (no offense, I just don't get out much). It's just good and inspiring to be in a different part of the City with a very different group purpose from my usual.
(Yes I'm a mom to two kids under the age of three! And I don't have to think about that when I'm doing BEAST!)
Alexandra Abruza, Clinton Hill
Here's why I like coming to beast.
When I work out by myself, I'm a bumble bee.
When I work out with Tim, I'm a beast.
 Bengey Asse, Greenpoint 
When I first started Beast three years ago, I wanted a challenge and do something different for my work out routine. When I started Beast it was so challenging and hard but I loved it. I was up for the challenge and working out with other people to push each other made me feel confident and helped the process. Beastanetics helped me lose 45 pounds, so I'm going to stick to this program for a while. I've been doing every session offered…Beastanetics is the hardest/challenging work out I've ever done and I conquered it. This class makes my whole body feel good.
Chelsea Deklotz, East Willaimaburg
– In just 8 week of doing Beastanetics, I cut my 400M lap time from 1:59 to 1:30–nearly a 30 second difference! I can see a huge difference in my speed and endurance.
– A huge reason Beastanetics is so fun is because of Tim and the other group members. Everyone is encouraging and happy to be there, no one tries to be a show off. We all push each other, but the competition is friendly, not discouraging. It's a great community to be a part of.
– After going to Beastanetics for one session, I can't imagine going back to the boring ellipticals and treadmills at the gym. I'm hooked!
– If you must work out (and we all must, right?), why not work out in the beautiful outdoors of Brooklyn with a fun instructor and awesome people (all gasping for air along with you).