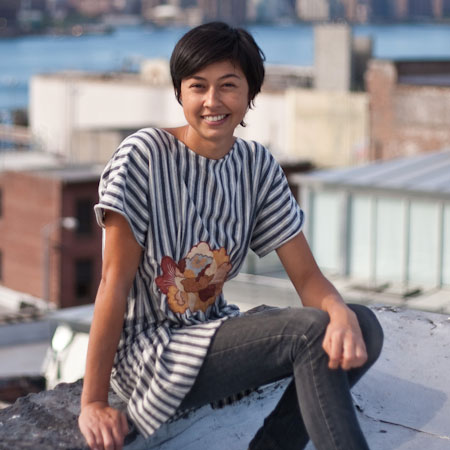 Since it opened in Williamsburg in 2008, Sprout Home has become one of the first places I think of when I need a gift for someone or I want to spruce things up at home. The shop–which supplies all manner of interesting plants, cool vases, and quirky tchotchkes–is the place where I developed a serious crush on air plants. (I got so hooked I wrote about them here). I also think they helped foster the current terrarium craze; they've always created cool ones in-house (one of which I bought for my husband), and offer classes for DIYers. And this summer I stopped in, looking for cool hostess gift. I found a geodesic pot that I planted with a funky succulent. Of course, it was a hit.
Co-owner Tassy de Give is the woman behind Sprout Home's stand-out selection, and for this first interview in BB's new series, Personal Shopper, she shared her favorite places to shop for gifts and necessities. If you feel inspired to check out Sprout Home, they're having a 25% off sale this weekend on selected outdoor plants including perennials, vines, ornamental trees, shrubs, summer annuals and veggies.
What are your favorite spots for clothes and what have you scored recently?
My favorite clothing stores are Jane's Closet and Antoinette. I always find amazing dresses and prints at Jane's Closet and am always surprised to find out how affordable they are too. Antoinette is like shopping in your Mother's closet (if you're Mom was a totally cool 60's fashion star).
Where do you buy gifts for friends or your significant other, and what are some past presents that were real hits?
Spoonbill & Sugartown is definitely one of my favorite gift stops. How Bluegrass Music Destroyed My Life by John Fahey was definitely a major hit for my husband. I like to browse Spoonbill to stay on top of the latest and coolest books and to learn about new authors too.
Where do you buy children's presents for birthdays and showers?
Sweet William is a really sweet place for kids clothes and toys. Caribou Baby also has everything you could possibly need for a new baby.
Where do you stock up on food and staples for your kitchen?
I grow my own as my much as possible. The tomatoes, cucumbers, peppers, and eggplant this year were out of control! I also try to shop at the farmer's market at least once a week.
Where do you go when you're getting fancy food or wine to bring to a party or when you're entertaining? 
Everyone that works at Sprout Home is constantly running off to Depanneur, which we refer to as the "fancy deli" to pick up gourmet treats. Mast Brothers chocolate is also a huge plus for dessert and Bedford Cheese Shop is AMAZING.
Do you have any favorite boutiques for furniture, housewares or plants?
For plants, I like to shop at SPROUT HOME. Furniture, Two Jakes. Housewares, MoonRiver Chattel and Brooklyn Kitchen.
Where do you get your pet supplies?
District Dog by McGolrick Park. They carry all the good healthy brands for cats and as we learned from our vet, wet food only for cats!
Are there any other stores you love to shop at?
Dalaga is definitely a fave for clothes. I love The One Well on Greenpoint Avenue. They have jewelry, home decor, and accessories and it's truly impossible to leave there without buying something and getting totally inspired by their displays.