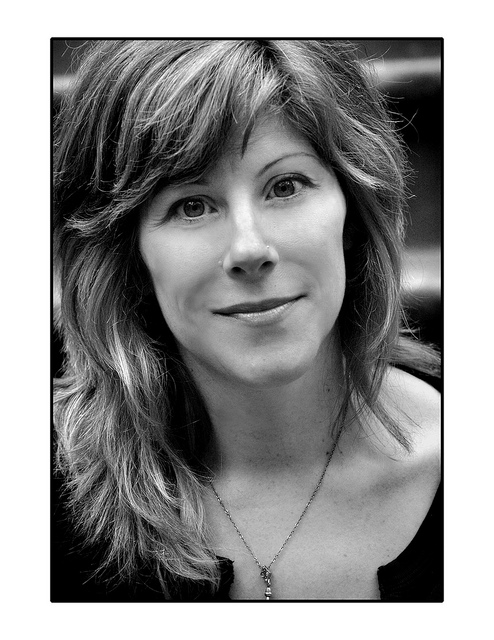 The Brooklyn Book Festival is a great reminder, if you needed one, of this borough's vibrant literary scene. Too vibrant, you might worry, with over 280 authors and 104 panels taking place over eight hectic hours around Brooklyn Borough Hall and Plaza (not to mention the Bookend events taking place this week in the lead-up to the festival). We asked some of the Brooklyn authors we're excited to see at this Sunday's Festival to name the readings they are looking forward to. Their choices (and ours) won't make your decision process any easier, but it will introduce you to panels you probably hadn't considered. You can view the full schedule here.
Tina Chang
Brooklyn Poet Laureate Tina Chang was raised in New York City and teaches poetry at Sarah Lawrence College. You can see Tina speak at 2 pm at the Brooklyn Borough Hall Courtroom in "Poets Laureate Past and Present" with Billy Collins, Philip Levine and Alice Quinn.
Her Panel Pick:
11:00 A.M.: New Works: Poetry Reading with Cathy Park Hong, Stephen Motika, Kwame Dawes, Idra Novey and Patrick Rosal.
"Patrick Rosal is one of my favorite young contemporary poets and I love Cathy Park Hong's new book (Engine Empire). With each collection, she is more and more innovative. I have Stephen Motika's book  (Western Practice) on my shelf and I'm excited to read it. This is an eclectic mix of poets and it'll make for a reading that the public shouldn't miss.
"As a parent, I'm also looking forward to anything in the Target Children's Area. In particular, Lulu Walks the Dog is such a beautifully written and gorgeously illustrated book. My children are just toddlers now but the act of sitting and listening to a story being read by the author herself is something I look forward to cultivating in my children. Children instinctively love storytellers and the writers featured at the festival do it so well."
Lev Grossman
Lev Grossman is the author of the New York Times bestselling novels The Magicians and The Magician King, and the book critic at Time magazine. He lives in Brooklyn with his wife and three children. You can see Lev speak at 4 pm at the Saint Francis Screening Room in "Reality Denied" with fellow sci-fi writers Carla Speed McNeil, Hillary Jordan, and Terry Bisson.
His Panel Picks:
1:00 P.M.: Make Believe: Genre Comics for the Next Generation with Derek Kirk Kim, Becky Cloonan, Mark Siegel and Ellen Kushner.
"I definitely want to get to the panel on the future of genre of comics — Mark Siegel is speaking, and he's got a new graphic novel called SAILOR TWAIN that is just incredibly dreamy and weird. Also Ellen Kushner will be moderating, and she is a genius."
2:00 P.M. Jeopardy: Live Literary Trivia with about Young Adult novels with Libba Bray, Natalie Standiford, and Daniel Nayeri.
"The great young adult novelist Libba Bray will be making a couple of appearances at the festival. I'm just going to follow her around like a puppy, because wherever she's at, that's where the party is."
3:00 P.M.  Location, Location, Location with Colin Channer, Mark Leyner, and Jessica Hagedorn.
"I've been a fan of Mark Leyner since the 1980's, and I've never seen him in person, so I'll be at his panel, which is on dark places in fiction."
Emma Straub
Straub lives with her husband in Brooklyn, where she also works as a bookseller at Bookcourt. A New York City native, she is the author of Other People We Married and the just-published Laura Lamont's Life in Pictures. You can see Emma speak at 1 pm at the Brooklyn Borough Hall Courtroom in "The Other Coast: Stories from L.A." with Seth Greenland and Karolina Waclawiak, discussing their books with David Ulin about Old Hollywood, private L.A. clubs, and campaigning in the California desert.
Her Panel Pick:
1:00 P.M. I'd Like To Apologize To Every Teacher I Ever Had. Tony Danza in Conversation with Brooklyn Borough President Marty Markowitz.
"I think the Brooklyn Book Festival purposefully scheduled me opposite Tony Danza because they are (rightfully) afraid that I might throw myself at him and embarrass both of us. Really—now that is a dreamboat."
Baratunde Thurston
Baratunde resides in Brooklyn and lives on Twitter (@baratunde). He is the author of How to Be Black, and will be speaking at 12 pm at St. Francis McArdle in "The Politics of Identity—Do They Still Matter?"– a discussion of race in America with Rebecca Walker and Wesley Yang, moderated by Amitava Kumar.
His Panel Picks:
4:00 P.M.: Good Times – Different Times with Jimmie Walker (Dyn-O-Mite: A Memoir) and Bern Nadette Stanis (Situations 101: Relationships, the Good, the Bad and the Ugly).
"The Jimmie Walker session because Dyn-O-Mite! is still something I yell out loud."
5:00 P.M.: The Fragility of Electability: Campaigns, Character and Messing with Texas with Gail Collins, Jodi Kantor, and John MacArthur, moderated by Ta-Nehisi Coates.
"This one because Ta-Nehisi Coates is the man."
Amy Sohn
Born in Manhattan, raised in Brooklyn Heights, Amy Sohn now lives with her family in Park Slope. She is the author of Prospect Park West and Motherland, both set in her hood. You can see her speak at 10 am at the Brooklyn Borough Hall Courtroom in "All in the Family," a panel about modern parenthood and marriage with Anakana Schofield and Joshua Henkin, moderated by Steph Opitz.
Her Panel Picks:
1:00 P.M. The Other Coast: Stories from L.A. with Emma Straub, Seth Greenland, and Karolina Waclawiak, moderated by David Ulin.
"I love L.A., though of course I have only gone for a week at a time.  I'm fascinated by old Hollywood, deal-making, dating in LA, and the visual landscape."
2:00 P.M. Let's Talk About Sex: Grappling with Gender in the 21st Century with Naomi Wolf, Carlos Andres Gomez, and Kate Bornstein, moderated by Hanna Rosin.
"I heard Naomi Wolf speak at Brown about The Beauty Myth when I was a student, and naturally I was blown away. She is always provocative and insightful. Kate Bornstein is a legend in the world of gender identity and also happens to be a fellow Brown grad, though she was Al Bornstein when she graduated. And Hanna Rosin is one of the most brilliant minds on women and men today."
5:00 P.M. Enduring Unlikable Women with Elissa Schappell, Gilbert Hernandez and Dana Spiotta, moderated by Meredith Walters.
"Elissa Schappell is one of my favorite authors and this is a very intriguing topic. I've noticed a weird trend lately in reader reviews and even some critical reviews, which is a focus on "likability" in fiction. What a useless, stupid, and reductive way to look at books and characters! The likability question is very often raised by women readers about women characters, and I'm glad Schappell, Gilbert Hernandez, and Dana Spiotta will be engaging this subject. I hope they get into the sexism and self-hatred behind the question of whether women characters should be likable."
5:00 P.M. Marriage and Monogamy with Dan Savage, Christopher Ryan, Ph.D., Kristin Davis, and Eric Klinenberg, moderated by Kate Bolick.
"Dan Savage and Christopher Ryan are two of our most insightful writers on sex and monogamy. I can't wait to hear them get into it. Then we've got the Manhattan madam, who shares a name with actress Kristin Davis, and Kate Bolick, whose forthcoming memoir (Among the Suitors: Single Women I Have Loved) will be hotly anticipated by single women everywhere, and Eric Klinenberg, who is transforming the way we think about singlehood. Slam dunk."
Karen Thompson Walker
A former editor at Simon & Schuster, Karen wrote The Age of Miracles in the mornings before work. Born and raised in San Diego, she now lives in Brooklyn with her husband. You can see Karen speak at 11 am at St. Francis Auditorium in "Another Fine Mess You've Gotten Me Into" about characters set in surreal situations with Marie-Helene Bertino, Earl Lovelace and Anderson Tepper and again at 5 pm discussing the experiences of youth in "Inventions of Adolescence" with Kurt Anderson, Danielle Evans and Kevin Holohan at the Brooklyn Law School Student Lounge.
Her Panel Pick:
2:00 P.M.: Secrets Secrets Are Some Fun with Elizabeth Crane, John Burnham Schwartz and Kurt Andersen, moderated by Ben Greenman.
"I'd love to see this panel about secrets. Deciding when to withhold and when to reveal is a huge part of storytelling, and I'd love to hear these writers discuss how they do it. Plus, the novel I'm working on now is partly about secrets, so this is something I've been thinking about a lot as I write."
Robin Shulman
Food historian Robin Shulman, author of Eat the City, grew up in a farming town in the heart of tobacco country in Ontario, Canada, and several moves later, arrived in New York City at age 16. You can see Robin speak at 5 pm on the North Stage in "Eats Empires" with Jamaican born Lowell Hawthorne (The Baker's Son), father of the Golden Krust empire, and Carlo Scissura, CEO, Brooklyn Chamber of Commerce in a discussion of the impact of food on economic development and urban revitalization. 
Her Panel Picks:
4:00 P.M.: Isabel Wilkerson in Conversation with Amy Goodman
Isabel Wilkerson's The Warmth of Other Suns on the Great Migration of African Americans was one of the most incredible works of narrative nonfiction I've read and I'd love to hear her talk about her approaches to it—and I always appreciate Amy Goodman's smart perspective—so I'm really excited about 'Isabel Wilkerson in Conversation With Amy Goodman.' "
5:00 P.M.: The PEN Translation Committee Presents North African Writing in the Wake of the Arab Spring with Pierre Joris, Deborah Kapchan, and Peter Thompson, moderated by Nathalie Handal.
"I've studied Arabic literature, and I'm fascinated by the weird, spooky, beautiful stories I've read out of North Africa, and by the ways that war impacts storytelling, so I would really love to go to "North African Writing in the Wake of the Arab Spring"—but it conflicts with the panel I'm on so I won't be able to make it, damnit."