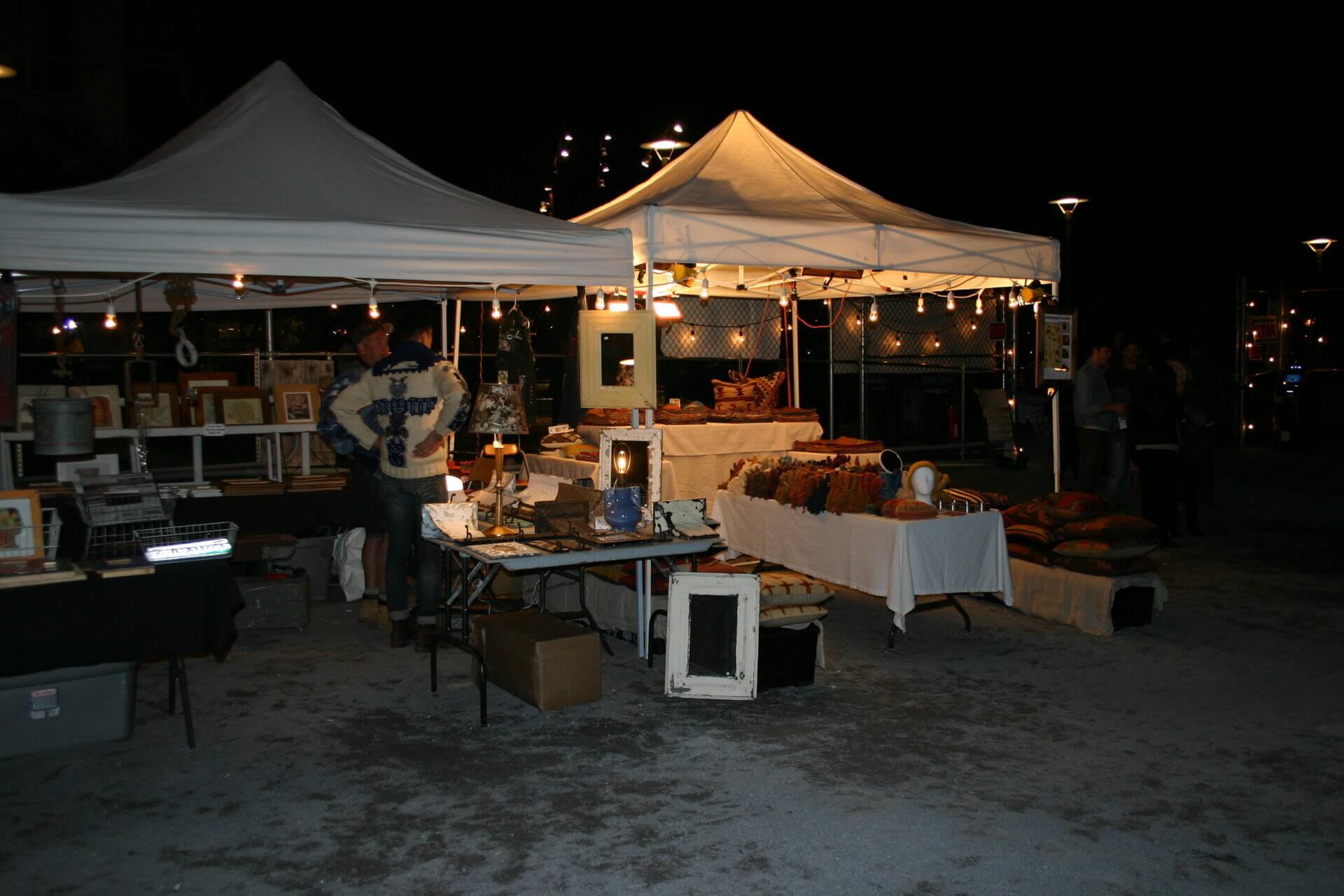 Upon returning from Le Grand Fooding Campfire Session held last night at the waterfront Williamsburg Flea Market space, I did indeed smell like a campfire, which I always associate with fall. The annual event wrapped up its first foray into Brooklyn with an Action Against Hunger benefit featuring collaborations between local restaurateurs and top chefs from around the world, as well as music from Mos Def, Frankie Rose and Andrew Wyatt of Miike Snow and DJ sets from Beastie Boy Mike D and Chromeo's Dave 1.
Le Fooding guide—an alternative to the Michelin—was born 12 years ago out of the ennui of French food journalist Alexandre Cammas, who started an annual event in Paris and brought Le Grand Fooding event in New York four years ago. This year's theme was "Le Fooding Brooklyn Fling," with events at Vinegar Hill House, Frankies 457, The Intercourse and other local eateries, starting Sept. 19.
For the finale, renowned chefs from Paris, London and Brooklyn favorites teamed up: Mile End Delicatessen with the Young Turks' London-based pop-up concept, Brooklyn Bangers with Daniel Rose of Spring of Paris, the Meat Hook with Inaki Aizpitarte of the Chateaubriand in Paris, Concho's Tacos with Frederick Berselius of Frej, and Danny Bowien of Mission Chinese with PizzaMoto. Dessert was a creation from Pierre Hermé, dubbed  the Picasso of pastry by French Vogue, while Maison Premiere's Maxwell Britten created special Jameson cocktails.
After a dauntingly long line, that thankfully moved pretty quickly, we were given tickets at the gate to present at each station to receive a plate or drink. As the outside line diminished and the lines for food inside grew, we tried to plot a good strategy—it was a little Hunger Games, but way more polite. I did see a few miffed tweets about the lines, but I wonder if that first day of the Great GoogaMooga this summer made everyone extra-sensitive to lines. (The solution, I guess, would be to pony up the $100 for VIP tickets, with access to a private bar, Fat Radish and beachy lounge chairs in front of the music stage.)
Line strategies varied—many people split up to different lines, and brought food to the person in the longer line. I was all for dessert first, since the line was short and people would clearly save that for later, but my photographer was feeling faint, so we opted for the Mile End collaboration with James Lowe and Isaac McHale (aka Young Turks): salmon belly with quince glaze and radish salad. That's also when I started smelling of campfire—a quick blast from smokiest food station.
We ate salmon while in line for the Brooklyn Bangers collaboration with Spring chef Daniel Rose, who hails from Illinois. My personal favorite, the dish was described as a duck and pork sausage, and it was served on a grilled roll with dried fruit and pecans.
Still obsessed with beating the dessert crowd, I stopped by the San Pellegrino tent for lemon cake—a mixture of meringue, lemon curd and shortbread crust—from Hermé, known for his macarons and chocolates, available at shops in Paris, London and Tokyo. To make the cake, he used every part of the lemon—the zest "for perfume," the juice for acids and the peel for bitterness, as well as orange, grapefruit and blood orange. The dessert was topped by a wafer of white chocolate imprinted with an orange.
Next up: Concho's Tacos and Frederick Berselius of Frej were serving tacos with potatoes, fried shrimp and dill. We were halfway through the drink line when we got the idea to use both drink tickets at the same time — that way we could relax and listen to the music while sitting at one of the picnic tables by the stage.
The bartenders were making the special drinks to order, though when we neared the front, they put out Jameson and ginger ales for those who wanted them. Nice try, but most opted for the specialty cocktails: the Jameson Black Star (Jameson Black Barrel, Demerara Syrup and Creole Bitters) and the Jameson Royal Buck (Jameson Irish Whiskey, Fresh Ginger Syrup, Fresh Lemon Juice, Orange Flower Water and Club Soda). The bartender recommended we drink the less sweet Black Star first, which we did by the fire barrels, which provided the campfire smell of autumn. Jameson and a campfire's always a nice fall combo. The Royal Buck was sweeter, but not too sweet—a nice balance that could put it in the dangerously delicious category.
If the Jameson and fires weren't enough to ward off the waterfront chill, there were vendors from the Williamsburg flea set up, selling woolwear and vintage coats, as well as sunglasses, antiques and rugs. Since people were busy fooding, I didn't see too much shopping.
After catching some of the set from Andrew Wyatt, who took the stage with Hisham Akira Bharoocha, it was on to the relatively short line for the Chateaubriand and Meat Hook dish: Berkshire pork sausage with red wine and rosemary topped with freshly grated horseradish.
While Dave 1 of Chromeo started his DJ set, I checked on the PizzaMoto line, and it was still the longest—though with the generous portions and beautiful slices, I can see why.
I almost walked right by the collection of tees bearing the names of Brooklyn neighborhoods, map coordinates and a small graphic of a hamburger. The vendor explained the tees were made by Kilometre Paris for the event but won't be available in Brooklyn. (They are, however, available at Colette in Paris.) Kilometre has shirts for a variety of destinations, from Tsuglagkhang in Dharamsala to Paradise Cove in Malibu. Added to that list: Williamsburg, Dumbo, Fort Greene, Boreum Hill, Carroll Gardens and Red Hook.
The shirts also come with a tag that can double as a luggage tag, as well as a fold out mini-guide for what to do at the destination. Suggested Brooklyn stops include the Invisible Dog, Dustin Yellin's The Intercourse, brunch at Egg, Franny's clam pie, Frankie's 457 meatballs, Brooklyn Flea, Nitehawk Cinema, Van Leeuwen ice cream, Glasslands and Music Hall of Williamsburg. There's even a list of what to watch before you go, including Bored to Death, Saturday Night Fever, Do the Right Thing and The Squid and the Whale and things to bring back, including Soapwalla deodorant and Mast Brothers chocolate.
Brooklyn is now trendy in Paris, say some—most notably The New York Times, determined to make "trés Brooklyn" a thing, according to the New York Magazine's Daily Intel. Le Grand Fooding's campfire session, someone noted last night, felt "bourgeois hipster" or "Bobo," to use the French term for "bourgeois Bohemian." While eating salmon belly in the shadow of Williamsburg condos offering "hardcore luxury," that seems about right.