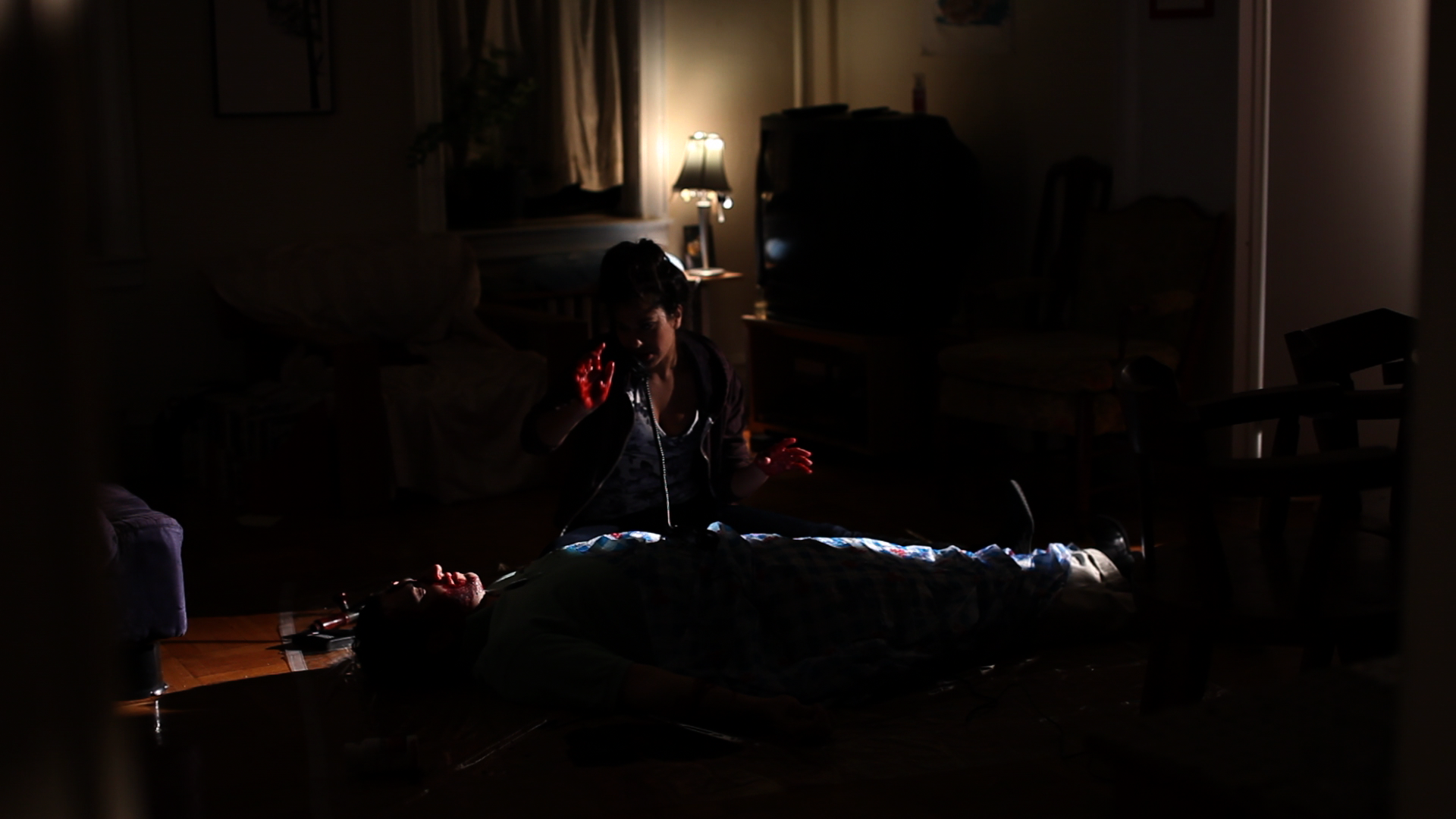 Nicole Solomon's trailer for the upcoming film Small Talk (a.k.a. 1-900-KILL YOU). WARNING: it contains imagery that may be disturbing and could be considered NSFW. For more information on Small Talk, visit her Kickstarter page.
In an scene from Nicole Witte Solomon's unfinished film, Small Talk (a.k.a. 1-900-KILL-YOU), the camera pans through a home, while in the background a young woman chats on the phone with a client, engaged in her job as a sex line operator. After a series of ooohs, ahhhs and oh babys, she hangs up, smearing blood all over the receiver. The woman  has been chopping up a dead body lying on her floor throughout the entire call. This scene is based on Solomon's real-life experience—no, not the dismembered corpse part–but her former life as a phone sex worker, the subject of her new horror film.

"I just started thinking, 'Well, what might lead a phone sex operator to be in that position?'" the Flatbush writer/director told me about the concept, "and fleshing out the story in my head partly as a procrastination device from the work I was trying to actually do of writing a memoir. It was very fun for me to apply my actual experiences to a genre that allows you to do all kinds of stuff with it that you couldn't do if you were writing a memoir. "
Recently, Solomon, who is a film student at the City College of New York, raised $15,373 through Kickstarter to shoot the full movie, which will serve as her graduate thesis to be shown at the college's film festival next year. As she describes in a video presentation from her Kickstarter page, Small Talk revolves around a phone sex worker who receives an offensive phone call that triggers a migraine headache, "and after that, things start getting weird."
"For me, the film is about all kinds of deeply personal stuff, power dynamics within the service industry," she said, "in the way it does specifically play out in the kind of more marginal, stigmatized and strange world of phone sex. I'm trying to make a film that also operates on the level of a fun horror movie that has funny moments and also some real-life jump out of your seats scares and some good gore effects."
And how did she end up becoming a phone sex worker in the first place? For Solomon, it was out of economic necessity–he was just out of college in 2001 and had a hard time finding long-term work. "I worked at a market research firm," she recalled, "cold calling people trying to give them surveys. It was a terrible experience…you call people up, and they yell at you and say abusive things to you, and you make very little money."
Meanwhile, she says she kept coming across a Village Voice classified ad for phone sex work. "Over time, the idea became more and more appealing," Solomon said. "It seems more fun, more interesting, less repetitive. I'd be talking to people who actually wanted to talk to me instead of being very angry about the fact that I had intruded into their life. It was intimidating to me, but I decided to try to get my courage up, and go for it and see what it was about."
Solomon went in for an interview where she heard a recording of a sample call, saw videos that describing different fetishes, and took calls while being monitored; she ended up getting the job. For the first four years, she worked in a cubicle with other women with headsets on, and then later worked from home. In retrospect, the job for her was both interesting and terrible.
"It was good for people to be able to have this space," she said, "where they were not being shamed, where they were accepted, where they were able to explore. It wasn't creepy and tawdry or whatever. And there were also calls that were just bizarre, creative and fun. So times like that, it's kind of a great job.
"But that's not most of the time. Most of the time, it's boring. A lot of guys are rude, some guys are abusive. Also, there were calls that were just really awful, soul crushing and emotionally damaging. It was only in the last couple of years I was working a job when I felt I really had that down, and that I was able to do it and have the protective mechanisms in place to not have my soul crushed. So I got a lot better at enforcing my own boundaries and that made the job a lot healthier for me."
While she admits the trailer for Small Talk is upsetting, Solomon says it serves as a metaphor for what it's like to be a phone sex worker when one is living in her own world and then suddenly that phone call comes in. "So it was funny to me to take these two different things to the extreme," she said, "of you're doing this horny-housewife fantasy call, and that's what the caller's hearing; and on the other end of the line is actually the woman has a corpse on her hands, which she is dismembering as she is talking about the hot UPS man or whatever."
During her tenure as a phone sex operator, there were times when Solomon couldn't tell people what she actually did for a living; she says that she hated lying to her family in particular. "I hated lying to random bureaucratic people, credit card companies, people at jury duty–where they say, 'What it is your occupation?' You can't say phone sex–if you did, you might be in for a world of trouble if you say phone sex operator. I wasn't ashamed of what I was doing, I didn't have a problem with it…but just dealing with people's reactions was a lot."
Solomon made her living making sexy conversation for bearly 10 years until the company she worked for went under–this was also around the time of the economic downturn. "When I was busy, it was alright," she said. "It's not huge money, but it's more than I would have made working at a coffee shop, and it was more flexible. I'm not proud of this, but some calls didn't require that much brain power. You kind of just know what you're gonna do, and you do that with one part of your brain while researching some article you're writing with the other part of your brain."
Now that she's got the funding for Small Talk, Solomon says shooting will take place next month, mostly in parts of Brooklyn. When completed, she hopes the film will give people a sense of empathy for not only phone sex workers, but for those who work in service jobs who experience pressure in dealing with customers. "I would hope people who maybe [think] phone sex is this exotic, odd thing to be able to connect it to kinds of work that they've done and see the similarities," she says, "and to be able to relate more. I would also hope that people would have a good time, that it will be effectively funny, scary and entertaining; and people would feel they had a good movie experience when the credits start rolling."