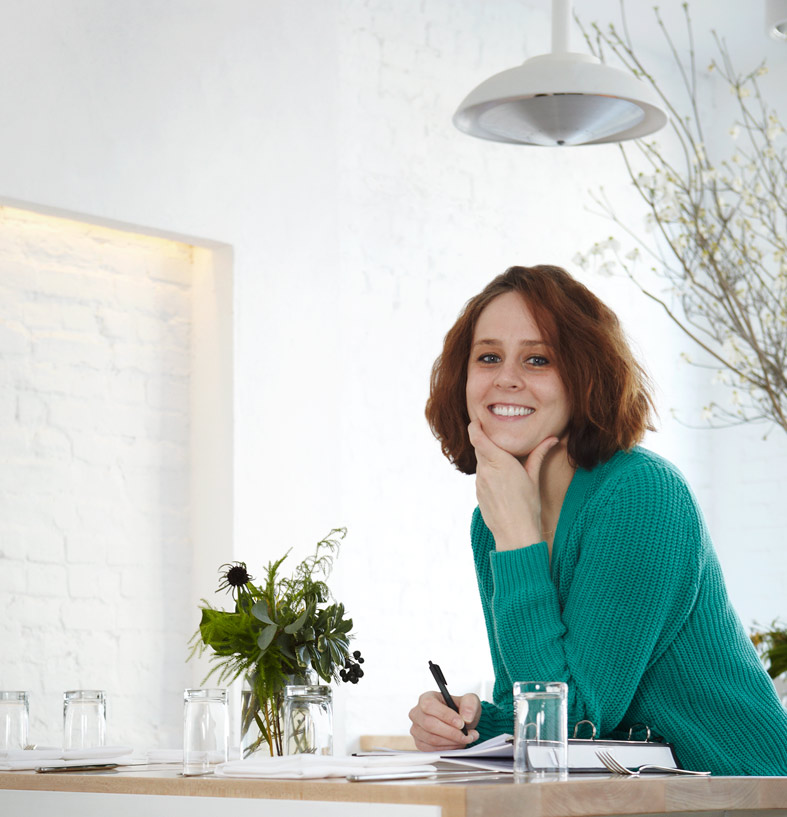 Holly Howard runs Ask Holly How, a small business consulting company based out of Williamsburg, Brooklyn that works with a wide variety of businesses from restaurants to retail to art studios and pretty much everything in between. Her clients report increased income and profit, decreased expenses and a significantly better quality of life. Holly also heads up the Small Business Book Club at McNally Jackson Books and teaches business classes at The Yard in Williamsburg. Her next class, How to Open a Restaurant, will be at The Yard is on Thursday, November 8th at 7pm.
Got a question for Holly about running your small business? Email her and she'll address it in her next column: hhoward@askhollyhow.com
Dear Holly,
I'm a small food producer.  One of my wholesale customers who lost power during hurricane Sandy is sitting on about $300 worth of product that's quickly going bad.  He won't be able to sell it, but neither will I.  He has not paid the invoice yet.  Do we split the difference simply to preserve the relationship? I don't have a set return and exchange policy. This is a very important customer. Any advice would be great!
Thank you,
High and Dry
Dear High,
This is a question that I'm sure other producers can relate to in such a trying time.  This storm presented a situation that is an exception to everyday business, and the best thing you can do is use it as a learning opportunity.
First, remember that the most important thing to do in business is preserve relationships.  That being said, approach this situation with a lot of compassion for your customer and for yourself.  Remember that you are also running a business here and need to consider not only what is best for your customer, but what is best for your business as well.  Acknowledge what a tragedy this has been for everyone.  You could consider splitting the difference with this customer if you feel as if that is ultimately the best way to preserve the relationship under such extreme circumstances.
Second, keep in mind that most stores should have insurance that covers the loss of goods damaged in a storm.  The first person the store owner should contact about this situation is the insurance company.  I would ask him if he has made an insurance claim and remind him of this option before taking back the product or splitting the difference.
Finally, and most importantly, I would take this opportunity to clarify your invoicing protocols and procedures.  When you start with a new customer, you always want to make your return and exchange policy clear. The customer should be made aware of your policies before you ship the items, and you should still include the information on the invoice that they sign when the product is delivered.
You always want to protect yourself and spelling things out and having them in writing makes it much less personal when dealing with incidents like this.  With this customer, if you had this policy in place and printed it on the invoice that he signed when he received your product, you could easily refer to it when he questioned whether or not you could take the product back.
Stick to the facts about how you operate as a business and always be as clear as you can.  If you don't have something like this in place, do it now moving forward and a situation like this will be less questionable in the future.
Here is a basic example, "We do not accept any returns or exchanges once merchandise has been signed for and received by the customer." You might want to add a clause that states that you will take back merchandise that was damaged in transit, or was expired at the time of delivery.  That's for those freak accidents that happen on your end, and you want to show the customer that you do take responsibility for that.  Be sure to give a cut off time.  For example, "In the event that the product is damaged in transit or expired upon arrival, we must be notified within 24 hours of receipt and will gladly exchange merchandise."
Good luck with this.  No matter if you decide to take the product back, split the difference, or make this customer pay in full; using this as an opportunity to improve your invoicing system is the silver lining on these storm clouds.
Best,
Holly