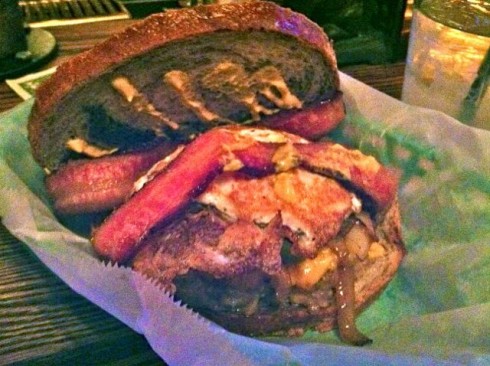 OK, so here's how it all happened…
At Dale Talde's Pork Slope you basically get to make your own sandwich. They've got their preset menu items (pulled pork, B.L.T., grilled cheese, brisket, etc…), which you can top with an array of gut-busting extras such as chili, cheese, pickled jalapenos, or of course—more pork.

Earlier this week, PS had some of their cohorts from over at sister restaurant Talde come by and design a few sandwiches to feature as specials. One of them took the standard "Porky Melt" menu item—gooey American cheese melted with a thick, juicy smoked pork sausage patty and sweet griddled onions—and redesigned it as "Melty Like a Sunday Morning," which adds crispy fried onion strings and an over-easy fried egg to this already outrageous/amazing heart attack in the making.
Clearly, I was all set to order the Melty Like a Sunday Morning special (available any day of the week), until the gal taking orders informed me she likes to put her own spin on the MLaSM by adding bacon and jalapenos on top. Tentative title for this non-yet-listed sandwich: The Motherporker. What was I going to do, say no to that? I am strong, but only so strong.
So, let's recap: The Porky Melt became Melty Like a Sunday Morning, which in turn gave birth to The Motherporker—pumpernickel-rye marble bread, smoked pork sausage, griddled onions, mustard, bacon, cheese, crispy onion strings, jalapenos and a runny fried egg. It's worth noting that both the smoked sausage patty and the thick, crispy bacon are top notch. And despite all the ingredients, this isn't a sandwich that's piled too high—it's insane in the membrane, but also possible to pick up and eat.
Moral of the story: the folks who work at Pork Slope are some crazy-ass mofos who know no bounds when it comes to out-porking each other. Also, you should probably drop whatever you're doing and go eat this sandwich.