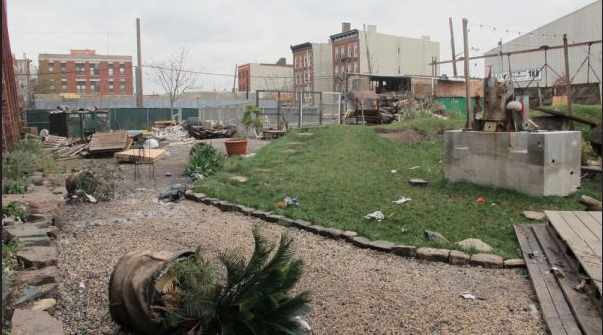 The biggest art world story of Hurricane Sandy may be the flooding of the big Chelsea galleries, but Sandy destroyed many studios and galleries in Red Hook as well–including Dustin Yellin's sprawling Intercourse, which recently ended their first exhibit, which Yellin invested millions in. The Intercourse was positioning itself to become not only a gallery, but also a community cultural center with artist residencies, classes, and events. The storm was a startling setback for The Intercourse and other galleries that along with restaurants, bars and other businesses formed the artistic, cultural, and economic background of a revitalized Red Hook.

According to The Intercourse's Education Director David Sheinkopf, the gallery took on nearly five feet of water. The gallery's location on Pioneer Street, right across from the cruise terminal certainly didn't help. Waves of gasoline-rich water drowned much of the work on the first floor, including paintings from the just closed exhibit "The Seeker An Trick" featuring work by Joey Frank. Much of Yellin's work was also destroyed, aside from his latest sculptures, whose heavy glass made them much more resistant to the wind and water. As Yellin told Gallerist NY, all of the art "was destroyed except my finished work, which seems built for these situations." Much of Yellin's own personal collection of work from other artists was also destroyed as a result of the flooding.
No one was in the space at the time, and the second and third floors suffered less damage than the first. Sheinkopf believes that these floors will be the key to keeping the gallery open, as they can still house classes, studio space, and other events. The winter was already supposed to be a slower time for The Intercourse, which will now leave more time for rebuilding. The civil-war era building is structurally sound, which is at least a small solace amid so much destruction. Many of the Red Hook artists didn't realize exactly how bad the storm would be. After all, Hurricane Irene, which ravaged upstate New York and Vermont, largely spared New York City, despite earlier fears. Many New Yorkers, not just Red Hook artists, assumed the same would be true of Sandy.
Both Sheinkopf, and John Strohbeen, president of the Brooklyn Waterfront Artist's Coalition, whose own exhibition space also took on over five feet of water, mentioned the importance of community help in getting both spaces back on their feet. Businesses across Red Hook, including bars and restaurants also had their first floors and basements flooded, but residents, restaurants owners, and gallerists alike banded together to repair the neighborhood.
Strohbeen noted that over 100 volunteers showed up to BWAC the morning after the storm, ready to begin repairs. Their last show had ended recently, which meant fewer works of art were destroyed, but unfortunately everything else on the ground floor of their waterfront space was.
On November 10th and 11th at 10am and 11am respectively, BWAC needs more volunteers to put up, paint, and spackle new sheetrock. Anyone who is interested can just show up to the office, located at 76 Degraw Street.
The Intercourse will host its own event this Saturday November 10th, called SPIRIT HAPPENING (combining performance and visual artwork, music and a Spiritualist ceremony), at 8pm. The event, which was scheduled pre-storm, hopes to now serve as a moment of healing and community building. SPIRIT HAPPENING is invitation-only, but those interested in attending should email medium.projects2012@gmail.com. The Intercourse will also begin hosting classes again on the weekend of November 16th. More information is available at theintercourse.org.