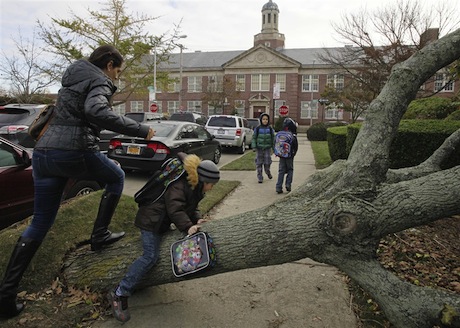 Of all the countless ways Sandy has screwed up our lives, one of the frustrations I didn't anticipate was the survivor's guilt that I have power, heat, an untouched home, and hot food when thousands of New Yorkers do not. The feeling is especially keen as a parent of young children, which makes it difficult to volunteer in the Rockaways or Red Hook (or anywhere else).
That's not the only way to help, of course. Donations are just as important, and far easier to do when you can't lend a physical hand.
It's why the Old Stone House and Park Slope Parents created a fund last Thursday to immediately help Sandy victims. "It started as the undie drive," said Kim Maier, Executive Director of the Old Stone House, who partnered with Susan Fox and her 5,000-strong network of Park Slope Parents once they learned that the shelter at John Jay H.S. needed 600 pairs of underwear a day. They've since raised over $16,000 for immediate needs like blankets and fully-stocked backpacks for Edward R. Murrow High School students. (You can donate more to it here.)
While other funds like the Brooklyn Recovery Fund will be assisting people over the long haul, it's been satisfying, said Maier, to be able to purchase urgently needed supplies on a dime. And for parents who've taken their kids on these shopping missions, it's a way to involve them in the effort.
"There's this very personal connection to giving, and people want to take the opportunity to teach their children about civic engagement."
You may not be able to take a preschooler to volunteer at a shelter, but you can take them shopping for juice boxes and explain why a child in Coney Island needs it. (Of course, there's no guarantee they'll get it–my four-year-old didn't–but it still makes for a more meaningful trip to the supermarket.)
Here are a few more ways you can help families affted by Sandy in the coming days:
Today: Art Resiliency Caravan Project
Starting this Saturday, the Children's Movement for Creative Education and Word Above the Street are beginning an art relief program for children dealing with the traumatic aftermath of Hurricane Sandy–something they've done for children after 9/11 and in post-war Bosnia as well. A team of artist volunteers are headed to the Gravesend Houses in Coney Island this afternoon to run an art program for children and teens, the first of many.
They're looking for artists and art therapists to join their team for future projects, art supplies and funds toward art supplies and transportation. To volunteer contact Elana Haviv at 347-846-0600 or elana@childrensmovement.org.
To drop off supplies in Brooklyn and Manhattan during work hours visit Children's Movement for Creative Education, 540 President St (between third and fourth avenues), Third Floor, Buzz #50, Brooklyn, NY 11215, and in Manhattan, Word Above the Street, 594 Broadway (between Prince and Houston), Suite 402.
To make a tax exempt donation online visit www.childrensmovement.org.

Sunday: Dance in Support of Red Hook
On Sunday, The Itty Bitties are playing a benefit kiddie concert at 2pm at Shapeshifter Lab, 18 Whitwell Place, between 1st and Carroll St. in Gowanus. It's part of the monthly Hip Tot Music Fest, and a portion of ticket sales will go to the Red Hook Initiative. Even if you can't make it you can buy tickets for a displaced family–just send an email to hiptotmusicfest@gmail.com with your name and number of tickets once you purchase them here.
Monday: Let your 10-year-olds (and up) Volunteer
On Monday, the folks behind Beam Camp are putting together trips for kids 10 and up to help with relief efforts at the OccupySandy distribution hubs in Brooklyn. Even if you have to work on Monday, it may be possible for your child to volunteer while Beam's staff supervises their efforts. Visit beamcenter.org for more info.
A Few Clicks of Support
There is a new online initiative that allows you to adopt a displaced family in the New York region who lost everything in the hurricane. Details at family-to-family.org.
You can also help restock the home and school libraries destroyed by Sandy via First Book. Every $2.50 donated will provide a new book to a child affected by the storm
We also have a crowdsourced list and map of volunteer opportunities and donation sites on our blog. Feel free to edit and update it.
Stay warm, and thanks for subscribing.