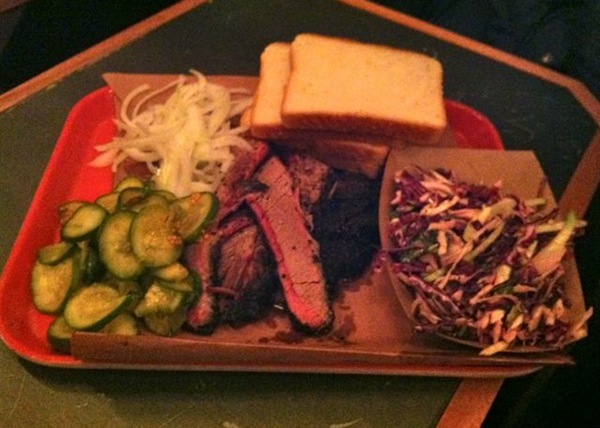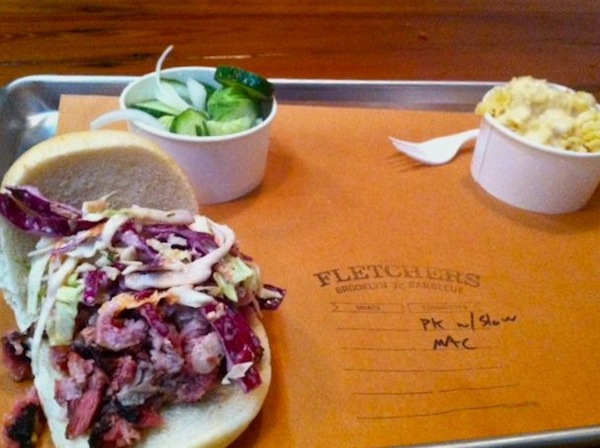 Barbecue in Brooklyn has been getting both fancier (see Char No. 4) and crazier (Fatty 'Cue, with their "Malaysian BBQ") in recent years. But the borough's two BBQ newcomers aren't buying into either of those trends. Fletcher's Brooklyn Barbecue, which debuted in Gowanus November 2, and BrisketTown, which soft opened in South Williamsburg this Wednesday, and opens for good tonight, both operate on the assumption that real barbecue doesn't need white tablecloths or fusion-y cooking elements.

That is not to say that they aren't serious BBQ joints. BrisketTown, as you may have read on Brooklyn Based previously, is the culmination of Chef Dan Delaney's attempts to bring a perfected version of Central Texas-style brisket to NYC. And Fletcher's owner Bill Fletcher offers a broad BBQ background of his own. Both chefs have trucked in specialty smokers from Texas, and both spaces are no-frills, clean-and-simple dining rooms where the BBQ is served on cafeteria-style trays, with minimal sides or accoutrements. The meat, these men believe, should speak for itself–no trendy, big-city frills here. (Just don't expect middle America-style pricing.)
First up is Fletcher's, which joins Littleneck and the Pines on Gowanus' Third Avenue–a neighborhood that is plenty ready for more hipster grub openings, judging by the crowd that was already there when I popped in Saturday night. It's a comfortable spot, with an open kitchen, unfinished floors, communal wood tables, and a counter-style ordering system where you can see all the meat before choosing.
I tried their pork shoulder sandwich–rubbed, smoked and finished with a tomato-vinegar glaze, then chopped in front of you–served on a bun with a simple red-and-white slaw. If you're a wet-style BBQ eater, their tangy sauce can be added at the table. I opted for sauce; the pork was smokey and flavorful, but could stand for a little moisture. All in all, it's solid, if not earth-shattering BBQ. Although at $10 for a quite small sandwich (or $19 for a one-pound plate), it's definitely on the pricier side of the BBQ spectrum. The tray you see above–including a nice, creamy two-cheese side of mac and an order of "fridge pickles" (crispy and still very cucumber-y Kirbies with notes of onion, clove and vinegar)–plus a draft beer, ran me $26. Not the priciest meal in Brooklyn, to be sure, but not cheap for a downscale dinner that didn't leave me stuffed.
On the way out, because I care about you guys, I also grabbed a brisket sandwich to go. Again, solid and tasty, although just a little on the dry side. Definitely needs the sauce. The St. Louis-style smoked pork ribs also looked enticing (sorry guys, I can't eat it all) and the kitchen had already run out of the intriguing "char siu" pork, cooked with a ginger-hoison-honey marinade. For sides they're doing pit-smoked baked beans and butternut squash soup, while desserts include whoopie pies and sweet-and-salty brownies from Baked.
Moving up to Williamsburg, the BrisketTown space does a nice job of fulfilling Delaney's vision of an old-school, Texas-style barbecue/grocery transplanted to Brooklyn. Crates of Mexican coke are stacked up behind the bar, dishware and baskets line a wall fixture and a neon cow backs the meat counter. The small, 40-seat space is comfy, but not kitschy.
Delaney's barbecue is ambitious in its process, but not in its scope. He's spent a couple of years perfecting his smoked brisket technique but serves brisket and brisket only (at least for now). At $25 a pound  (you can still walk in even if you haven't pre-purchased via the online ordering system), it's even pricier than Fletcher's, but I have to say that Delaney backs up his talk. The brisket comes fully charred, with a slightly sweet caramelized crust, but inside it's about as moist and tender as you can get.  The plastic forks are barely needed to cut bites out of these slices and the fatty ends of the meat–which I often find to be throwaways–are particularly juicy, flavorful nuggets of joy.
Delaney was serving the brisket Wednesday night with a red cabbage slaw accented by basil and raisins, plus spicy, heavy-on-the-clove pickles. The frills stop there: you can scoop extra pickles and onions out of candy jars on the counter, or throw on a few drops of Cholula, but Delaney doesn't believe good BBQ needs sauce. In this case, he's right, although the one improvement I would like to see is the fresh-baked bread that BrisketTown has promised to have in the future. The few slices of unexciting white sandwich bread, while authentically Texan, don't do much for me. However, a sandwich of this stuff, with the crispy slaw and spicy pickles on a Brooklyn-worthy roll, would be about as good as BBQ gets.
Verdict: Fletcher's is not quite destination BBQ, but a welcome addition to Gowanus' growing restaurant scene. I'll be back to try those ribs. BrisketTown is one grade-A slice of bread away from being the best BBQ in BK.