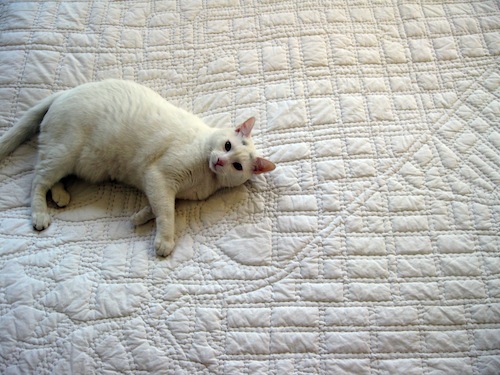 Haptic Lab's quilted maps are heirlooms in the making. (We've been loving them since we discovered them in 2009.) These unforgettable gifts are entirely hand-stitched maps of cities and neighborhoods, representing places from Brooklyn to San Francisco. And if you happen to be crafty, their new DIY kits allow anyone to sew their own quilted map. It's one of many sweet gifts from Haptic that will make someone super happy this holiday season.

1. Looking for a gift that will last a lifetime? Haptic Lab's City Quilts are traditional white-work quilts with a modern, sentimental spin. These projects are tough enough to withstand everyday use and are machine-washable; each 100% cotton quilt fits a full- to a king-sized bed. And if you ask the folks at Haptic Lab, they'll personalize your project with custom embroidery details locating the places most special to you. $450.

2. For displaced Midwesterners, Haptic Lab's Great Lakes quilt is the perfect holiday gift. This throw-sized quilt represents the Third Coast from Duluth to Buffalo. Relive summer camping trips in the Upper Peninsula, cherry-picking in Door County or Scout Camp on Mackinaw Island. $219.

3. Try your hand at quilting your own map with one of Haptic lab's new DIY kits. Make a quilt for the cartophile in your life (you'll need about 60 hours to complete a project) or gift a DIY kit to that crafty special someone. Available designs include locations like Central Park, New York City, and college towns like Ann Arbor and Austin. Starting at $38.

4. RISD grad and local artist Natalie Stopka is an active member of Haptic Lab's creative team, completing all the embroidery work on custom baby quilts. Besides embroidery, Natalie crafts exquisite handmade books made with natural dyes sourced from the Catskills. Her work is currently displayed at the Center for Book Arts in Manhattan, now through December 13th. Small journals staring at $42.

Haptic Lab, 10 Jay Street #210A, Brooklyn, NY 11201 (studio visits by appointment only), 718-577-1056.