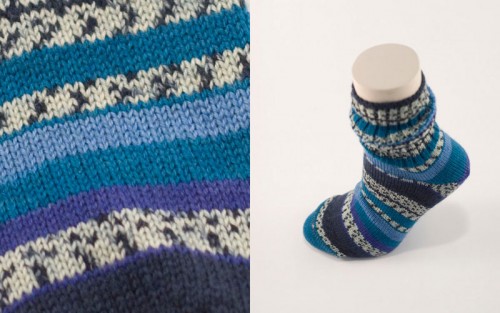 Campers and Scandinavians have known about the virtues of virgin wool for centuries. It wicks away moisture and dries quickly, ensuring that even if the rest of your body is freezing or wet, the part wrapped in wool will stay comfortable and toasty. In winter, there's no better place to apply this logic than to your feet, and a pair of virgin wool socks from Brooklyn-based stockist FurtherOn are as warm and bright as they come.
The multi-hued striped socks come in a dizzying number of colorful combinations, with feel-good names like Pomegranate, Candy Sprite and Moonbright to match. In the midst of a dark winter or a muted wardrobe, they add a perfect dash of brightness. And because knit wool provides far more padding than plain cotton, and is way more durable, you can pound the pavement for winters to come without wearing them out. (Hence the name, FurtherOn Heavies.)
This season, they'll make a perfect stocking stuffer, since each pair comes with a classic soul, psych, R&B, or rock 'n' roll 45 rpm vinyl record–soul for your soles. Plus the more you buy, the greater the discount–10% off 2-3 pairs, 15% off 4-5 and 20% off 6 or more. The hard part is picking out the best named one.
FurtherOn.com: Knit wool socks that just plain rock.