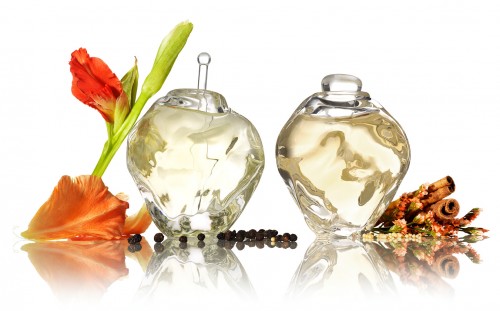 MCMC Fragrances are hand made in Anne McClain's Greenpoint studio, and if you've ever felt overwhelmed, turned off or overpowered by commercial perfumes, she could change the way you smell forever. McClain, who studied at the Grasse Institute of Perfumery in southern France, crafts perfumes, perfume oils and scented candles that evoke memories and experiences, and her subtle, complex scents are as unusual as they are beautiful. Purchases through the MCMC online shop are made to order, and she's offering free shipping through December 21.
Jasmine, Vetiver, Incense and Chai
MCMC fragrances are crafted around stories–McClain takes narratives and turns them into scents, an unusual gift to be sure. Her first story-based fragrance was NOBLE, which combines Indian jasmine, vetiver oil and notes of burning incense and chai to evoke a trip she took to Nepal. It's a warm, ethereal scent available as a 40ml eau de parfum ($95) and 9ml perfume oil ($45).
A Better Beard
If your fella is rocking a beard, MCMC's Dude No. 1 Beard Oil ($65) will change his life (and maybe yours, too). The woodsy, spicy, masculine scent will make you want to get even closer, and the rich cocunut oil-based formula will transform even the scratchiest winter beard into something nuzzleworthy.
A Sexy Hug in Candle Form
The beardless can still enjoy the spicy blend of Virginia cedarwood, green coriander and pink peppercorn that combine to form Dude No. 1 fragrance, with MCMC's new Dude No. 1 Candle ($48). Masculine yet mellow, outdoorsy but refined, lighting one may be the second best thing to getting a bear hug from a dude who's just come in from a frosty fall hike.
Warmth and Light
If a room could be illuminated by a scent, the Japanese yuzu, French sweet basil and magnolia notes of the LOVE Candle ($48) would create a warm, beautiful incandescent glow–aromatic mood lighting. Add the actual glow of the handcrafted soy candle and you have the perfect anecdote to those cold, dark January days ahead.
Smell Good, Do Good
The Humanity Fragrance Project starts with a volunteer trip and ends with a fragrance inspired by the work, the places and the people McClain meets along the way. Last winter she and six friends traveled to Cambodia to Working for Children Rainbow Orphanage. When she returned, she made two HUMANITY scents. SAVANN, named after one of the children she met, combines mango, with notes of pink lotus, water lily, and soft sandalwood. AMARA, an ancient Hindi wood meaning roots and eternal, is darker and contains regional Kampot black pepper, jasmine sambac, incense, and Kambodi Oud. Either is available in a Special Edition Glass Heart ($250), made here in Brooklyn. A portion of the proceeds will go to Rainbow to build a new boys' dormitory.
You can purchase MCMC Fragrances online, with free shipping on orders over $40 through Dec. 21. Or, find them at these local stores.