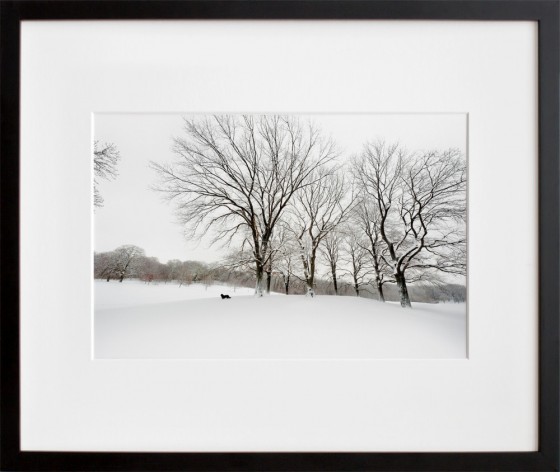 Amazing art site 20×200.com offers a gift that is truly unique: limited edition prints from 300+ emerging, established and legendary artists, at prices you can afford. Their 900+ works of art on paper or photos start at $24 for an 8×10, and all prints are available with custom frames. Whether you've got an impossible-to-shop-for someone on your list, or you're just tired of giving your dad a new book for Christmas, a 20×200 print will bring your friends and family joy for years to come. (And for inspiring art year-round, sign up for the 20×200 newsletter to get first dibs on prints.) Check out the work of these great 20×200 artists below, and find art for everyone on your list with 20×200's handy gift guide. And if you buy $100+ of gift certificates, you'll get a free $24 gift cert for yourself with the code FORYOU, good through 12/23 at midnight.
The White Oaks by Joseph O. Holmes (pictured with frame)
Prospect Park in winter is a favorite subject of Brooklyn photographer Joseph O. Holmes. He sets out with a camera after a heavy snowfall in search of an approximation of the snowy Pennsylvania hills he trudged through as a child. Starting at $60
Ideal Bookshelf 364: NYC by Jane Mount
Artist and illustrator Jane Mount has been drawing the real-life and imaginary bookshelves of friends, family, and commissions for years. (Her new book My Ideal Bookshelf, a very hot gift this year, is a compilation of the bookshelves of 100 leading cultural figures.) She recently relocated to Los Angeles, but this print is an homage to her former home, New York City. Starting at $60.
Animal Locomotion: Plate 44 (Man Taking Off Hat) by Eadweard Muybridge (pictured with frame)
British-born Eadweard Muybridge, who emigrated to the United States in the 1850s, is one of the most influential photographers of all time. Works as diverse as Marcel Duchamp's painting Nude Descending a Staircase to The Matrix all bear traces of world-famous images of animals and humans in motion, like this one. Starting at $60.
Balloons (Midtown, Manhattan) by Youngna Park
Brooklyn photographer Youngna Park has an eye for the intersection of everyday objects and the natural world, and Balloons (Midtown, Manhattan) is part of a series of these inadvertently beautiful meetings. Starting at $60.
Like so many of us, Canadian-turned-Brooklynite Kevin Cyr is attracted to the urban industrial landscape. In this series, he commemorates graffitied, rusted commercial vans and trucks by removing them from their everyday context, and giving them portrait-like importance. Starting at $60.
Discover more wonderful works of art at 20×200.com.