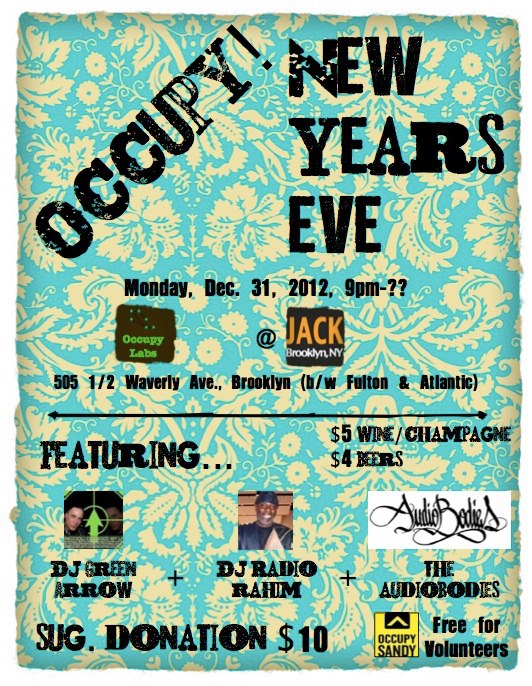 Here's the final installment of fabulous underground NYE soirees, brought to you by Brooklyn Spaces. (Missed the earlier posts? Here's Part 1 and Part 2.)
An End of the World Affair at ACME Studio
10pm, $100
ACME has put out two awesome teaser videos (here and here) for their shindig, which will include plenty of music—Dynasty Electric, Pictureplane, Body Language, Nutritious, and Tony Grund—cocktail hour with hors d'oeuvres, all night open bar, and breakfast in the morning. And we have it on good authority that they've got some other surprises planned as well…
New Year's Eve Built by MeanRed at Villain, 9pm
$35–$100
MeanRed suggests coming to their party for "heavy boozing, suggestive dancing, and making out with strangers." Featuring DJ sets by Onra, Nick Catchdubs, and Samo Sound Boy.
House of Bushwig's NYE at Secret Project Robot
9:30pm, $10
This all-ages drag extravaganza features a dozen queens, five bands, six DJs, a champagne fountain (free until it runs out), a balloon drop, burlesque, special secret guests, live visuals, and on and on, all for a crazily low price.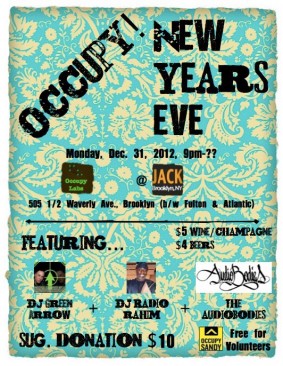 Occupy NYE at Jack
9pm, $10
Here's another terrifically inexpensive new year's ticket: join the OccupySandy crew at Jack. DJs, music, dancing, cheap drinks, and Sandy volunteers get in for free. What more do you need?
LaunchPad NYE
9pm, $10
Also only $10! Oh Brooklyn, we love you when you're affordable, even on the most extravagant night of the year. Community space LaunchPad has just gotten their 501(c)3 nonprofit status, and to celebrate they're throwing a chill little bash, with crafting, karaoke, board games, dancing, BYO snacks, and horror movies after midnight. Want to do something else? They're taking suggestions.
So go forth and have a seriously kick-ass new year's! In case all these rec's haven't been enough, more will be added as we hear of them on the Brooklyn Spaces calendar. Happy 2013!