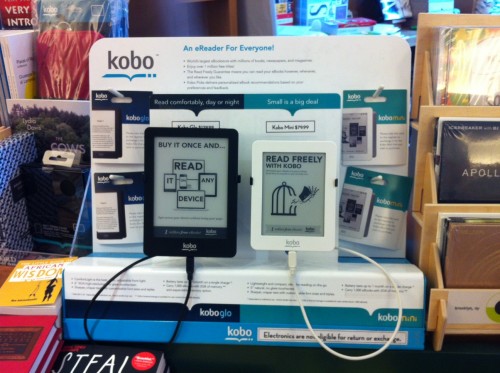 Now that the holidays have come and gone, leaving some of us a little richer in the electronics department, you may be feeling a little Kindle regret, especially if you love your local bookstore.
Kindle is the main device we equate with e-readers, and it's no secret that its manufacturer is notoriously competitive. Not only does Amazon sell books at below-market rates, it just has it out for the corner bookshop. You cannot purchase an e-book at a local store, only via Amazon, for a Kindle device or app. And, in 2011, Amazon encouraged customers to go into brick-and-mortar bookstores and price-check its books for Amazon credit.
But the American Booksellers Association, the organization that looks out for indie bookstores, recently found a device with more titles than Amazon and a design even the editors at WIRED admire. It's called Kobo, and it recently struck a partnership deal with the ABA that allows participating booksellers to earn money on Kobo e-books offered on their sites, and on any Kobo device purchased in their shop.
Currently, Greenlight Bookstore in Fort Greene and Word in Greenpoint are the only Brooklyn shops who've partnered with Kobo, and so far both stores are happy with their new digital arm. "Their catalog of e-books is enormous (over three million, including lots of free/public domain works), giving our customers lots of choices," said Greenlight co-owner Jessica Stockton Bagnulo via email. "And the e-readers themselves are delicious–sleek, intuitive to use, and affordable."
Both stores sell two versions of the Kobo, the Mini ($79.99), which Stockton Bagnulo uses, and the Kobo Glo ($139.99), which has a backlight for bedtime reading. Greenlight is also about to start offering a multi-function Kobo tablet called the Arc ($199-$299).
You can also use the free Kobo app for your iPhone, iPad, Android, Sony, or Nook (essentially any device except a Kindle). The bookstores keep a small percentage of each Kobo title you purchase for the life of your device, and on any Kobo e-book sold on their site or directly through Kobo; you just need to register your Kobo account with either Word or Greenlight first, for the store to get credit for your e-books.
The deal offers a new, solid choice for readers who like e-books, but feel a pang of guilt each time they hit that 1-Click button. "We want our customers to know that we can support them no matter what or how they are reading," said Word owner Christine Onorati. "People think e-reader and automatically think Kindle. We're happy to help dispel the myth that Kindles and Amazon are the only option out there."
To find more bookstores participating in the Kobo program, visit indiebound.org.