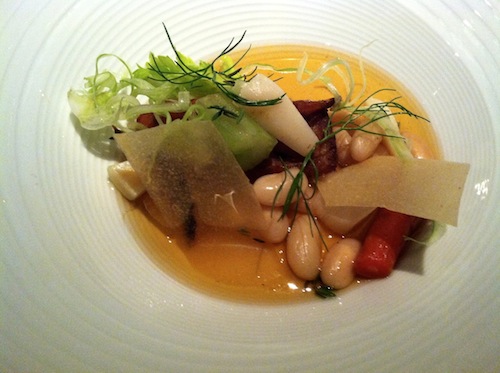 Smoked cannellini bean tofu in a caramelized onion broth alongside fennel, celery root crisps and veggies.


In my recent 2012 food and drink wrap-up I named triple-digit tasting menus the worst new trend in Brooklyn. While I just can't get behind $200/person meals, I also can't claim to be immune from the appeal of these gourmand gorge-fests, so I did try out a more affordable version.

Now, I feel like a supremely spoiled first-world-problem-having brat for even calling something that is $85/person "affordable," but with the way things are going, the seven-course tasting menu at Gwynnett St. really is somewhat of a deal, considering that the trendy East Williamsburg spot nabbed two stars from The Times and was designated one of the best new restaurants in America by Esquire. It's also fun, because the chef mixes it up for every table, meaning you'll get seven inventive dishes, plus you get to see even more coming out of the kitchen as you peer at what waiters are carrying across the room. So…on with the gorgefest.

The chef set the mood with this amuse bouche of lichen chips topped with beef tartare, capers and cremini mushrooms. The small bites appeared to be floating on air above the bowl when they were set down on our table. We eventually realized they were resting on clear saran wrap draped over the clean white bowl to create the illusion of floating. A cheap trick, but still, fun. The lichen itself–a moss harvested from wood that's been showing up on lots of Scandanavian-influenced menus–is crispy in its "chip" form but has a deep, woodsy flavor that taste like….well, moss.

Also included (like the amuse, not one of the seven courses) was whiskey bread–a thick, soda bread-esque loaf amped up with booze that has become one of Gwynnett's signature items. Can't argue with that.

Course one, like the amuse, was an earthy, woodsy dish: beets served over a celery root emulsion with lettuce and just the right amount of frisee, plus sprinklings of coconut dust, salt-baked celery root and chicory dust, which looked (and tasted a bit) like coffee grounds…in a good way, if you can imagine that.

Moving away from veggies (far away), we sampled a smooth and creamy foie gras topped with pickled onions, crispy onions and smoked tea. This is what I call a "need a minute" dish–when you get every component encompassed in one bite, you close your eyes and stop eating for a minute, because it's that good.

One of my favorite dishes was another one that's not for meat-phobes: blood dumplings. Actually, no meat is used in the making of this dish, just blood! The dumplings are light, gnocchi-esque little balls filled with pig's blood, so they have all of the deep flavor of a blood sausage, without any of the sketchy texture. They're served over thinly sliced parsnips, apple and treviso, which I later learned is a mild type of radicchio. Yes, Brooklynites, you're supposed to be selective about what type of radicchio you eat now.


If you're still with me, we're about to get even more adventurous than pig's blood. The next dish was a farro risotto topped with snails. But unlike the escargot you may have had at French restaurants, these snails weren't doused in garlic and butter. They tasted well, like snails: earthy, maybe even a bit grimy. They were paired with crosne (pronounced "crones")—the crunchy, knobby roots of an Asian mint plant, which are available for only a few weeks each winter and lend a nutty, slightly sweet flavor, reminiscent of sunchokes.

Taking a break from meat, the smoked cannellini bean tofu in a caramelized onion broth alongside fennel, celery root crisps and veggies, was completely vegan. It was the only miss for me. The tofu itself had a lovely, unique flavor from the cannellini, but I found the veggies unpleasantly mushy and the broth a bit too strong and onion-y. It was however, perfect for tipping that whiskey bread into.

Back on track: Nori-marinated trout with thin strands of golden beets, pickled salsify, horseradish yogurt, roe, crispy wakame, and parsnips marinated in horseradish. Phew. This was one dish that did not shy away from flavor. It almost had too much going on, but somehow pulled it off.

Gotta love when the palate-cleansing dish is more complex than most dessert menus. Fennel sorbet with white grapefruit puree, dehydrated cream cheese, candied grapefruit and cream cheese curd.

And the closer: dark chocolate ganache, rose hip sorbet, bull's blood beets, rose hip gelee and a nasturtium flower.

Hmm….now that I'm counting, I think that's eight dishes, plus the amuse bouche and bread. So trust me, you won't leave Gwynnett St. hungry. A week later, I'm actually feeling full again just looking at this. All in all, an over-the-top opulence for sure, but one that delivers. The menu strikes the right balance between intriguing and satisfying, introducing the unusual flavors and textures of everything from moss to snails, but incorporating them into ambitious dishes that, nine times out of ten, work out wonderfully.