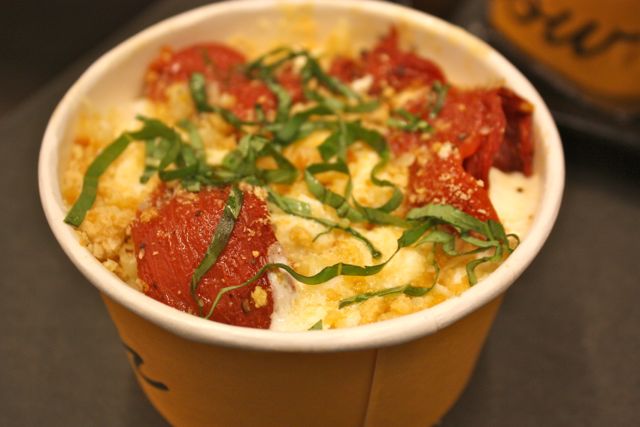 The idea of a mac-and-cheese-only restaurant is no longer a novelty (we've got Mac Shack and Brooklyn Mac already), but one new Kings County spot is taking the trend to perfection. Elbow Room, a burgeoning chainlet that started a few months back with a restaurant near the Rutgers Newark campus, is now open in the Barclays Center. Facing Atlantic Avenue, the restaurant is currently open to the public, so you don't have to go to a Nets game to sample their menu. Later this month, an alteration to the space will add windows opening onto the arena concourse. During events, the front entrance will close and they'll only serve inside; at other times the public entrance will remain open.
Despite the brand's downscale locations, this is a gourmand's macaroni. Chef Luis Ulloa's creamy mac-and-cheese base, incorporating bechamel sauce, pecorino and cheddar, is just right, but what really sets it apart are the ambitiously oddball toppings. Take for example, the Jamaican jerk mac, which includes 48-hour marinaded chicken, pineapple, coconut and breadcrumbs. There's also tinga mac (chipotle chicken, monterey jack, avocado and pickled red onion) and brats and beer mac (Esposito's sausage, caramelized onion and Bronx Brewery Ale).
There's even poutine mac. I assumed that this play on the French-Canadian classic (french fries topped in cheese curds and gravy) would sub pasta in for fries, but no—in a clutch move it includes both the macaroni and Yukon Gold french fries, slathered in short ribs and gravy for one gooey, carb attack bowl of deliciousness.
Ulloa also serves up daily specials, like a puff pastry-topped turkey and mushroom pot pie mac, and a Kobe beef chili version complete with corn bread and a hunk of corn-on-the-cob. While I immensely enjoy all of that craziness, the best item I've tasted at Elbow Room is actually one of the simplest: the margherita mac, which bursts with the fresh flavors of San Marzano tomatoes, fresh mozzarella and basil.
Ulloa and owner Joel Bolden have big plans to expand the concept to arenas and campus areas around the country (they're also at work on Plum Creek, a "general store" serving breakfast, lunch and dinner, as well as a Mexican eatery, both slated to open this spring, nearby on Flatbush Avenue.) Considering all that corporate ambition, Elbow Room is a surprisingly unique spot, with supremely tasty comfort fare. It's also affordable, with the single-size portions above ranging from $6 for the classic version to $12 for the lobster mac.