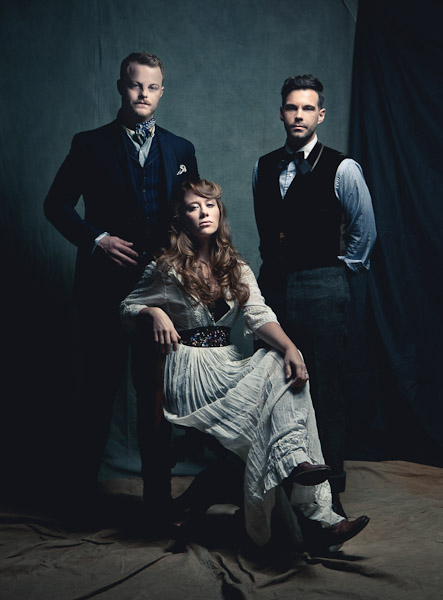 Brooklyn country band The Lone Bellow  has recently stirred up some noteworthy media attention–already this new group has been mentioned in The New York Times, National Public Radio, WNYC, Entertainment Weekly, Billboard and Paste Magazine. And after getting a sneak peek of their eponymous first record–which came out on Tuesday–I can see why people are talking about them. From top to bottom, The Lone Bellow is a stellar album with terrific performances and  songs that have tremendous appeal beyond the country music genre. It is a frontrunner to be one of 2013's best releases, and the month isn't even over yet.
The Lone Bellow consists of lead singer/songwriter Zach Williams, guitarist Brian Elmquist, and singer Kanene Pipkin. Zach–who hails from Georgia and has lived in Park Slope for about seven years–admits that it feels so good to finally to have this new album coming out. "We've been working on this for a couple of years," he told me, "just trying to be a good steward of the songs. I think now is the time to kind of hand them over [and] let them be somebody else's songs."


Based on the sound of the new record, which was partially financed through Kickstarter, you could swear that the band's pristine-sounding country music was recorded in Nashville. In actuality, the songs were originally recorded at the Lower East Side venue Rockwood Music Hall and produced by Charlie Peacock, whose credits include the Civil Wars (additional work on the record continued at Peacock's studio in Nashville). Lyrically, the songs run the gamut of personal experience–from perseverance to the trials and tribulations of relationships.
"I think that this record ebbs and flows from tragedy, hope, betrayal, redemption," Zach said. "The majority of these songs were written very quickly on a trip out to Mexico, just kind of a soul searching thing. I was going through a hard time, so the songs were there. There are very dark moments where it makes me relive some stuff, and I'm grateful for that. And then there are hopeful moments that raise hope to me. I'm always hoping that it will be the same with whoever's in the room listening."
As for personal songwriting inspiration, Zach's wife was seriously hurt in a horseback riding accident; she later recuperated. As the story goes, Zach started journal writing during that time. I asked him whether writing about the experience was cathartic. "Absolutely," he said. "With me and my buddies that write together and try to help each other curate whatever art we're making–whether it's songs or literature or painting, or graphic design–we always try to pull it back to like, 'Is this something we're just making up or is it just actually pulling on the heart string?'"
The opening track, "Green Eyes and a Heart of Gold," sets a tone of hope and determination on the record, and it even makes a reference to the F train. "The first few years in the city are daunting over and over again," said Zach. "That song is kind of what that was for my wife and I–just like going through the really hard times and trying to be hopeful. We've been in the city for about seven years and we love our neighborhood and been in the same neighborhood the whole time. I feel like I can sing that song and be okay with the hard times that it came from."
The ballad "You Never Need Nobody," feels bittersweet. Zach's soulful singing is accompanied by gospel-like backing vocals. "That was one of the songs that was written on the airplane on the way out to Mexico," Zach recalled. "You know when you first start journaling…you're gonna write for a little while until you're actually aware your heart is. That song kind of came from one of those moments where I'd been free-writing for a while. So I just wrote this sarcastic song. It's a sad song–I wanted to stick with the sarcastic nature of it."
The roots of The Lone Bellow can be traced to Park Slope's Dizzy Diner. According to the band's press release, it was at Dizzy's where Brian, the band's guitar player, worked and it served as a space for Zach to work out some material. "It is so special," said Zach. "It's right there in the neighborhood I live in. We did an interview last week–it was with The New York Times and Bryan couldn't get off work at Dizzy's, so we did the interview there. The restaurant that Kanene works at–the Brooklyn Farmacy in Carroll Gardens–they've been really kind to us, too. We used to play shows and she would come up and sing her line and then go and serve ice cream."
Already The Lone Bellow have one important notch in their belts, which is having toured with the Civil Wars. During the tour, there was some good-natured rivalry between both bands. "When we were out on tour with them down in Florida," Zach said, "we would walk off the stage, and [the Civil Wars'] John Paul White would put his forehead on Brian's forehead and be like, 'I'm gonna bury you!' And Brian was like, 'Do it! I don't care!' That's Southern bull crap–they both know that they're kidding. So I loved that stuff–I felt like we had helped each other be as good as we could every night."
As evidenced by the music and their performances, there's an undeniable chemistry among the band members. In the way that Zach explains it, the answer has something to do with where they reside. "We all live really close together," he said. "Brian lives in the same brownstone as me; Kanene lives like two blocks away. We all live right there, so we're all tied up in each other's lives anyway. I think that sense of proximity mixed in with a true love for live music has helped quite a bit. I think we all share the same hope of being part of moments that matter as much as we can. So that's a strong desire every time we play."
The Lone Bellow's new self-titled album is out now. The band will  perform a sold-out show on Feb. 5 at the Bowery Ballroom, 6 Delancey St.; 8pm