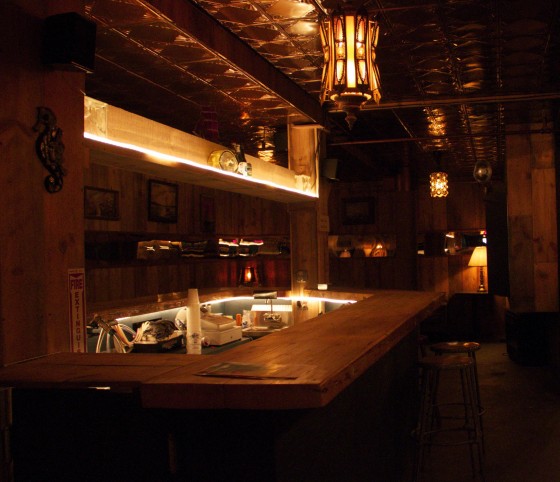 Since the Loving Cup Café opened at 93 North 6th St. in 2009, a hidden hangout in back called Cameo Gallery has steadily drawn a stream of people who filter through the restaurant to hear bands, DJs, and every Wednesday night, Max Silvestri's long running stand-up show. There's never been a sign outside signaling the venue within and the restaurant gives no clues as to what goes on when you walk past the bathroom and down the dark hall. But that's all about to change.
"Cameo was always the speakeasy in the back," said Cameo's co-founder, booker, and promoter, Jify Shah, who has taken full ownership of the whole establishment, hired a new crew, and is giving the place a makeover. "It was really always people who were in the know or bands promoting it, and it still kind of is."

As fun as it's been to stumble upon this art gallery-turned-secret venue, Shah plans to make it much more visible. "We'll bring the sign outside," he says. First though, he's working on a new, temporary menu at the Lovin' Cup, where he is asking diners to fill out a survey at the end of their meal so he can see which of his new ideas work and which don't. "I want to create a menu that's sociable and shareable," Shah says. He also plans to rechristen Lovin' Cup, though he won't divulge the name just yet. Still to come are new cocktails named after popular local bands of the past decade, late night food served until 2am on weekdays and later on weekends and a weekly disco brunch, says Shah.
A new room is also opening up in the basement sometime in March or April, with a separate entrance in the front. The intimate lounge will host curated events with a focus on music, and will open to Cameo Gallery in the back for two-room events.
"One of the things I like doing is parties–a couple bands and a DJ," says Shah, who prior to Cameo was a booker in Manhattan for clubs like Belmont Lounge. On weekends at Cameo there are typically three to four bands from 8pm until midnight, followed by DJs. Those late night parties tend to feature disco house–house music with a heavy disco influence. Already the space is attracting big names like Juan Atkins (a techno legend), Frankie Knuckles, aka "The Godfather of House Music," who's appearing this Friday night, and Joe Goddard of Hot Chip, who's spinning this Saturday night, while weekly events like The Big Terrific Comedy Show on Wednesdays will continue to be a part of the club's programing.
Shah, who hails from the island of Curaçao, is introspective about the evolution of Cameo.
"I've learned that by being open-minded and traveling and really trying to pay attention to your environment and connect with it, you'll naturally discover and find things and learn things about yourself and evolve," he says. "And that's kind of to me what this place is going to be or already is."
Later, by email, he summed up his plans in short: "The entire place is a hub and community for music makers and lovers and creative people. People can count on discovering new good music all the time."
Cameo Gallery and Lovin' Cup Cafe, 93 North 6th St., (718) 302-1180. Check out Cameo's calendar of events, or enter their ticket giveaway for every show in March.