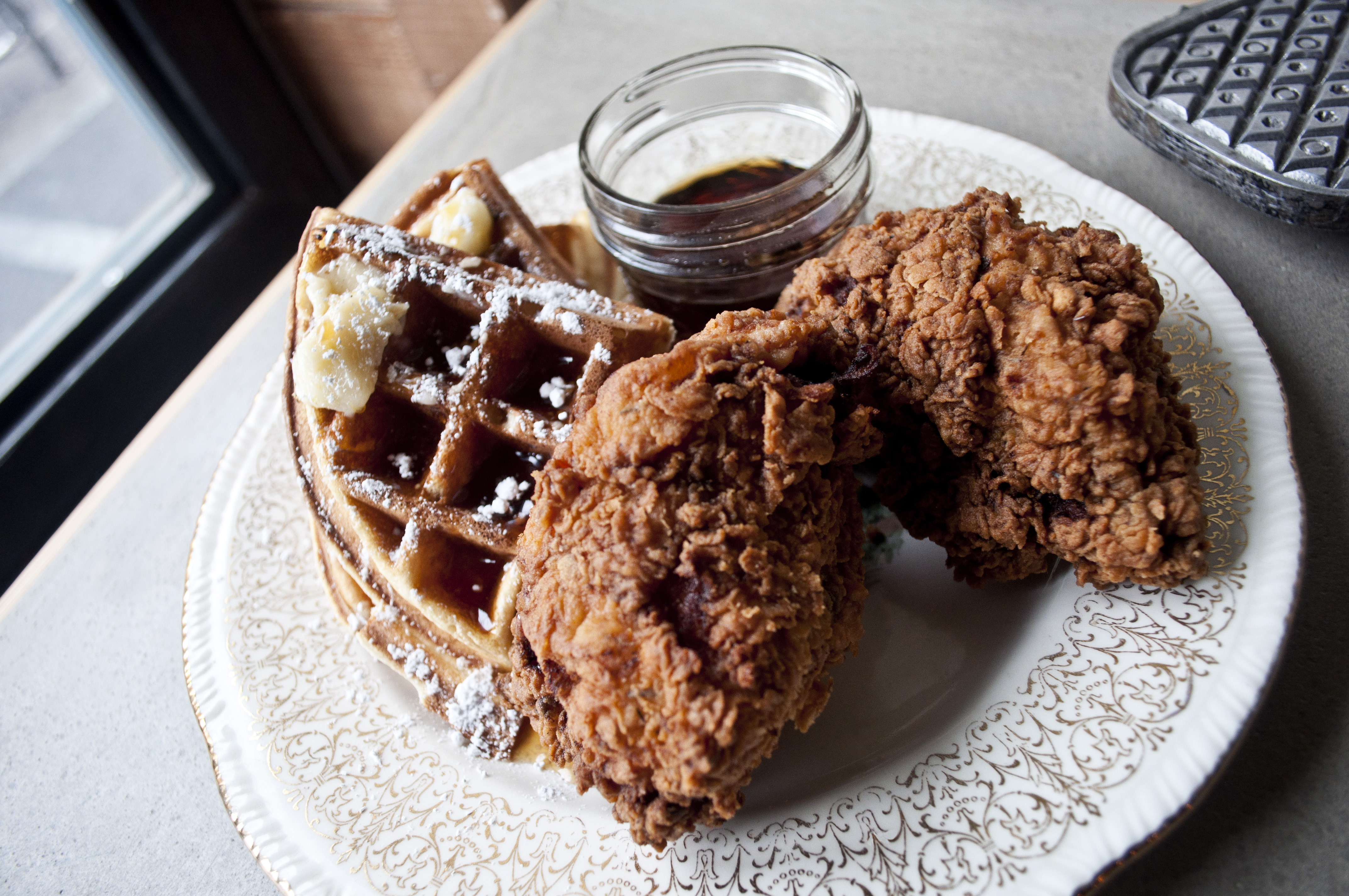 As fried chicken evolved from Southern soul food standard to omnipresent high-end menu item, it was only a matter of time before Williamsburg debuted its very own artisan-hipster chicken-and-waffles joint. Opening on Bedford Avenue this Tuesday, Sweet Chick comes complete with rosemary-mushroom-accented waffles, pretty craft cocktails, twee desserts in jars, and antique wainscoting sourced from Bed-Stuy brownstones. Ridiculous? A little. Are you gonna go? Well, yeah.
We got an early taste of the restaurant's menu last week, which is dinner-only for now. The namesake dish is top-notch (more on that later) although the rest of the menu feels, like the reclaimed-wood setting itself, a little Brooklyn-by-design. Starting with the drink list: an Arnold Palmer iced tea-lemonade soda is made exclusively for the restaurant by Brooklyn Soda Works (okay, we're intrigued) and then ruined by mixing it with super-syrupy Jack Daniels Honey (why?????). The signature Sweet Chick cocktail ticks off all the right boxes–locally-made Bootlegger vodka, watermelon infused, spicy brown sugar rim–yet tastes like it was mixed by a freshman Kappa pledge.

On the food side, a kale BLT salad is a standout–savory greens amped up with house-smoked lardons and preserved lemon vinaigrette, the perfect balance of veggies and meat. A creamy gruyere-fontina-cheddar mac is solid, but a few other items feel like they're trying too hard to be of-the-moment Brooklyn-y. Gooey collard greens in a carrot slaw don't quite work; Appalachian cider beans are inexplicably topped with a runny poached egg (put an egg on it!), awarded a $14 price tag and called a main dish.
However, none of this really matters, because the marquee draw here–the fried chicken–delivers. Crisp, golden skin is achieved uniformly on both legs and breasts, which are moist and juicy all the way through to the center, not a dry piece of white meat to be found–a rare find, even with fried chicken on dozens of Brooklyn menus nowadays. I'd go so far as to say that the bird here competes with the best of the borough, on par with Buttermilk Channel and Pies and Thighs. There's also a quite tasty vegetarian version–crispy nuggets of breaded seitan, which you can also get served over waffles and doused in butter and syrup.
The verdict: the sprawling menu may do a little too much, but it's hard to argue with a perfectly fried bird.