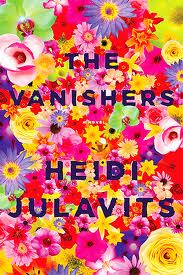 The internet is a big mush. Curating all that exists on it, be it books, music or video is endless task.  Nobody really understands how to advertise art anymore.  For instance, if you've got a new book out and small budget to spend on publicity, where should it go?  Are subway ads effective?  Should you keep that money and just advertise through social networks? To publicize her most recent novel, author Jennifer Belle actually hired actors to station themselves in crowded areas throughout the city and laugh boisterously while reading her book.  But with Kindles and iPads, how can you know what the person sitting across from you is laughing at so boisterously?
Yet, one there is one thing that remains effective at getting folks to buy books: lists.
If I had it my way, I'd make a best of list, for every quarter of the year. As is, even mid-year lists are considered a bit much.  Nonetheless, some of my favorite writers have new books coming out in the next few months, which I will be writing about for BB, so keep an eye out. Before I unveil these new favorites, though, I'd like to look back at the best books of 2012, and give you, and me, a chance to catch up on any required reading you may have missed.

In past Freelance Life posts I've hammered away at the many reasons why any aspiring, writer, editor or agent should attend the many literary events that go on in New York City:  you're likely to meet people, you'll be inspired to perfect your craft, etc.  You're also likely to catch some of the authors who are soon to pen your favorite books of the year. I caught up with two of the most notable hosts/founders of two of the best reading series in town, Dana Rossi, host of the Soundtracks Series, and Penina Roth, Franklin Park Reading Series founder, to find out about their favorite books from 2012.
The Soundtracks Series marks its three-year anniversary on Feb. 28 with a specially themed "Duets" show. You can also check out my newly released story from last month's installment about the song "Knowledge" by Operation Ivy and my experience with credit card fraud, on their site.
Franklin Park's next event takes place on March 11 with a reading from Freelance Life favorite, Joshua Mohr.
Dana Rossi's Favorite Books of 2012
1. Agorafabulous by Sara Benincasa
Comic Sara Benincasa's dispatches on mental illness.
2. Burn Down the Ground by Kambri Crews
A memoir about growing up with deaf parents in Texas.
3. Making Rumours by Ken Caillat
The inside scoop on the making of Fleetwood Mac's Rumors.
4. Tasteful Nudes by Dave Hill
Every comic has a book. This is hipster comic Dave Hill's book.
5. Everybody Loves Our Town by Mark Yarm
The story of Seattle, Washington's rise as America's most notorious city for music and angst.
Penina Roth's Five Best Books of 2012
1. The Vanishers by Heidi Julavits
A dark tale of academia and suicide.
2. The Devil in Silver by Victor LaValle
Phantasmagoria or delusion inside a mental hospital.
3. Big Ray by Michael Kimball
In this meticulously composed, compressed novel, the surviving son of an obese, abusive father sifts through memories and photos to process their complex relationship.
4. Prosperous Friends by Christine Shutt
A cross country tale of marriage, art and sexuality.
5. The Collected Works of Scott McClanahan
The collected works of a writer Vol.1 Brooklyn calls "One of the great southern storytellers of our time."
For more on my Freelance Life follow me on Twitter or Check out many more book related articles at my blog.  Before I go, my favorite novels from 2012.
1. Seven Days in Rio By Francis Levy
An accountant spends one week in Rio in pursuit of just one thing: sex with prostitutes. As the book goes on and the narrator involves us in his complex ideas about the parallels between paid sex and psychoanalysis, we realize that the reason for his journey is far more complex than originally stated.
2. Nine Months By Paula Bomer
Pregnancy and what comes after from a unique perspective.  One of the most transgressive and interesting voices to come from the literary fiction world in quite awhile, dealing with a subject that badly needs a transgressive voice.
3. Accelerated by Bronwen Hruska
Medicated children, celebrity tabloids, and the Illuminati-esuqe world of Manhattan private schools.  Check out my interview with Hruska at Vol.1 Brooklyn.
4. Too Bright to Hear Too Loud to See by Julliann Garey
A bipolar Hollywood exec snaps, turning his old bourgeois stomping grounds into a dark den of iniquity and self-flagellation.
5. Gone Girl by Gillian Flynn
Yes, I, like so many others, fell hard for this book about a writer's search for his lost wife.