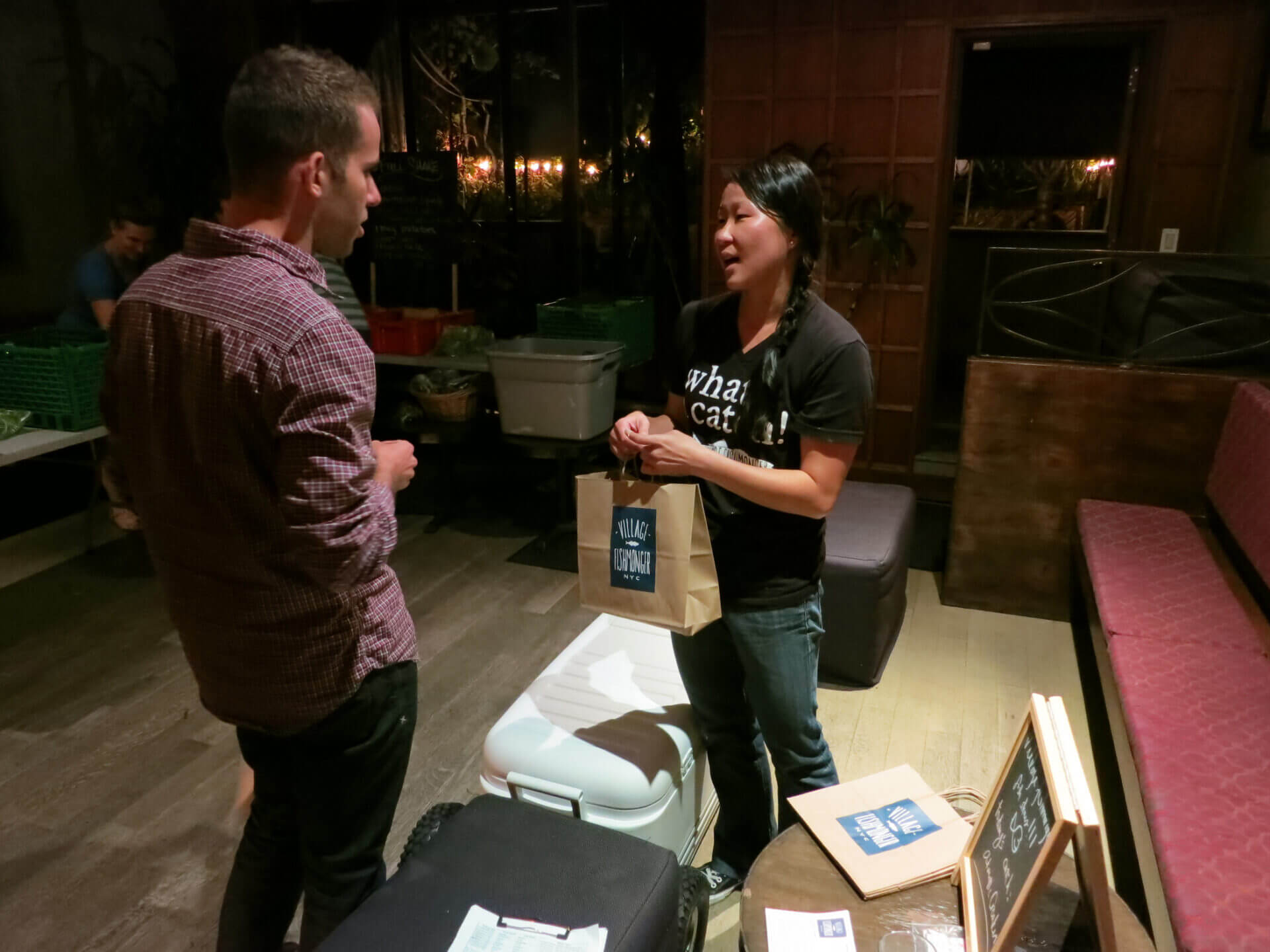 Something about the limited amount of fresh, sustainable seafood in Brooklyn smelled fishy to Samantha Lee, Dennis O'Connor and Sean Dixon. The trio decided to put their own spin on that old proverb about giving a man a fish, by starting Village Fishmonger, a community supported fishery that functions like a CSA for seafood–a CSF.
"Seafood's been this black hole where there's only very few spots in the city that average consumers have access to," says Lee, who lives in Brooklyn Heights. "It's not a high-margin business, so I think it gets really hard for mom-and-pop stores to supply it, and people want the ability to choose something that's not packaged in styrofoam and plastic at a national chain. It kind of just seemed like a problem that we could try and help solve."
A variety of businesses based in and serving Brooklyn are dedicated to filling that sustainable seafood void. Sea to Table helps restaurants source good fish, and there are a variety of CSFs delivering fresh, sustainably-caught fish to our borough.
Village Fishmonger sources mainly finfish, but sometimes shellfish, from small fisherman co-ops off the coasts of Connecticut, Rhode Island, New York and New Jersey, and membership ranges from $90 to $360 for a 12-week commitment. Of its current 150 members, Lee says half pick up their fish at one of three Brooklyn sites–Huckleberry Bar, Choice Greene or Brooklyn Commune. A fourth pick-up spot opens tomorrow, April 2, at Four & Twenty Blackbirds. There are also six pick-up spots in Manhattan, and future CSF locations in Queens and the Bronx are a possibility.

Gabe the Fish Babe, a small-scale, local fishing company in Rhode Island, is trying to shorten Brooklyn's supply chain to responsibly sourced seafood through its Fish Club. Membership in the Brooklyn chapter costs $180 for four weeks or $360 for eight weeks and comes with weekly shares of one bag of shellfish (think oysters, crabs, scallops, mussels, steamers and squid) and 1.5 pounds of finfish. There are eight pick-up spots in Brooklyn, and GTFB also does home delivery.
Mermaid's Garden runs a CSF with seven Brooklyn pick-up sites and no membership commitment. People pay per pick-up for either a half share (1-1.25 pounds for $16.50) or a full share (2-2.25 pounds for $33) of filleted fish, as well as shellfish and whole fish when in season.
There are 20 to 30 different species of seafood living in our local waters in any given season and very few of those ever make it onto restaurant menues, Lee explains. Variety, she says, is another reason aside from wanting to be responsible seafood consumers people join CSFs.
"People really want to do good, but a lot of the motivation to join this kind of program is also just to be adventurous with your palate and really explore what's available out there," she says. "People look to us to introduce them to new species–how to handle them, how to cook them–and I think we've seen really good reactions."