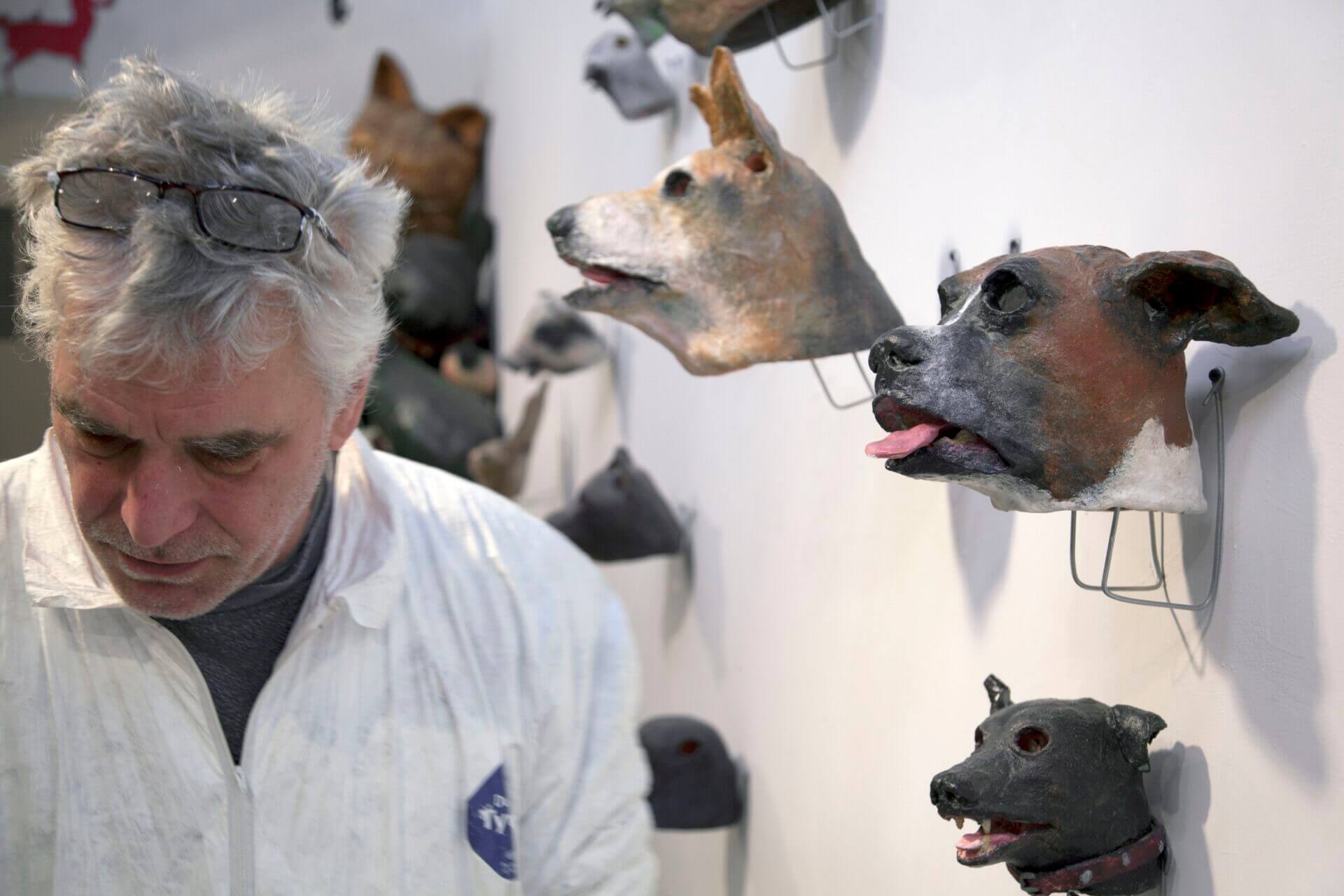 Raw/Cooked, an ongoing exhibition series at the Brooklyn Museum that showcases the works of unsung Brooklyn artists, returns tomorrow, April 12. This latest installment features works by Williamsburg artist Michael Ballou, who plans to cover parts of the museum with dozens of paper mache dog heads.

Ballou is a multi-media artist whose work encompasses sculpture, live performance and installations, including the commission he did for fellow artists Marilyn Minter and Bill Miller's backyard, which featured a polychrome, waist-to-ankles sculpture of a skirted woman emerging from a 40-foot-tall sugar maple tree.

Based in Williamsburg since 1983, Ballou founded the now defunct Four Walls Slide and Film Club, which was a hub for exhibitions and collaborations between time-based artists, who create artwork that's sensitive to linear timelines or ephemeral by design. He's also done a variety of Super-8 videos (he edits directly on the camera), projections and light shows. For New Year's Eve 2009, he hung paper mache animal heads all over a tree in Union Pool's backyard.

Later that year, he made a sculpture of a cow that was displayed on top of Diner in Williamsburg, modeled after the cows at the farm where the restaurant sources its meat. It was an adorable, temporary mascot. He's also been know to attend parties at Diner clad in a fuzzy bear suit.


All Raw/Cooked artists choose where in the museum to display their work; the point is have the art interact both with the physical space and with the works in the permanent collection. It's almost as if museum visitors are crashing a party, where the art, as well as the museum's spaces, have their own relationships and conversations with one other–perhaps they share secrets once museum-goers have cleared out. Ballou's work will be displayed in three sections, the fourth-floor decorative arts gallery, the fifth-floor elevator lobby and the Luce Visible Storage.

Dog Years, a sculpture series of animal heads, will fill a floor to ceiling vitrine. Visitors can also look for Go-Go, a light and sound installation, which aims to transform the fifth-floor elevator lobby into a relaxing, if slightly trippy, lounge. Pencil Holders, located in the Luce Center's visible storage and study center, which gives museumgoers access to some 2,000 American art objects the museum doesn't have room to display in its galleries, most overtly deals with the theme of conversation and interaction between different disciplines. It's a nice mix of Ballou's more abstract sculptural creations and accompanying texts from various writers whom Ballou asked to respond to the Luce Center's permanent collection.

The task of selecting artists to participate in Raw/Cooked falls to an advisory committee of celebrated Brooklyn artists Mickalene Thomas, Amy Sillman, Michael Joo, Paul Ramirez Jonas and Ron Gorchov, as well as the exhibition's curator Eugenie Tsai. "I thought he was a perfect example of an under-the-radar artist," says Tsai of the decision to feature Ballou. "He represents the initial wave of artists who moved to Williamsburg (like Fred Tomaselli and Amy Sillman) and began what has become a vibrant Brooklyn art scene."

Raw/Cooked: Michael Ballou opens April 12 and runs through July 7 at the Brooklyn Museum.