Though he is best known for classics with young protagonists, Mark Twain doesn't spring to mind as an author filled with wisdom for girls.
In fact there is little you would want your daughter to take literally in Twain's short piece "Advice to Little Girls," originally written in 1865, and recently published by Brooklyn-based Enchanted Lion Books.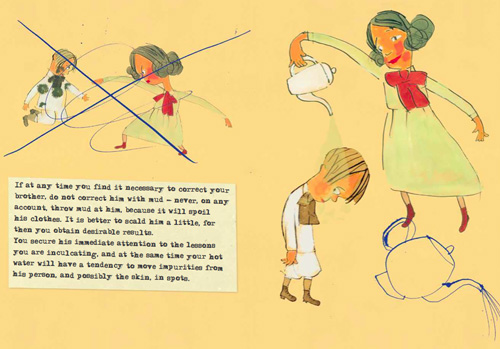 In this slim volume, Twain offers devilish recommendations on everything from how to behave toward playmates, parents, elders, teachers, and pesky brothers. There is a better method for "correcting your brother" than slinging mud at him, for instance. It's more effective, and far less messy to "scald him a little, for then you obtain desirable results. You secure his immediate attention to the lessons you are inculcating, and at the same time your hot water will have a tendency to move impurities from his person, and possibly the skin, in spots."
A sweet bedtime story for your toddler this is not, and that's precisely what makes the book, illustrated by Vladimir Radunsky, such a perversely fun read.
"I think he was really picking up on didactic, pedagogical Victorian books at the time," said Claudia Zoe Bedrick, the founder of Enchanted Lion, by phone. "A lot of books intended for children were meant to teach them manners and lessons; I think he was modeling it on those books in an ironic way."
Our language has loosened up since the 19th century, but children's authors and parents still use books to teach kids how to behave. (As the author of the best-selling Llama Llama series, Anna Dewdney, writes in Nobunny's Perfect, "Good bunnies try to do what's right. They use their words. They NEVER bite.")
Twain, at least, is more honest about the limits and inconsistencies of human nature. "If your mother tells you to do one thing, it is wrong to reply that you won't," begins one of his tongue-in-cheek instructions. "It is better and more becoming to intimate that you will do as she bids you, and then afterward act quietly in the manner according to the dictates of your best judgement."
These kind of wink-wink concepts may be difficult to explain to small children, but Bedrick resists calling it a children's book for adults, à la Go the F*#k to Sleep. "I think for the right child it is the right book," she said.
Enchanted Lion has been publishing children's books since 2003, mostly international in scope.
"Part of our mission is to publish wonderfully illustrated books and good stories from as many countries as we can," said Bedrick.  Advice to Little Girls, while obviously an American story, actually began its life in Italy as a standalone children's book in 2010, illustrated by the award-winning children's book author/ illustrator Vladimir Radunsky, who lives in Rome. Both Bedrick and Maria Popova of Brain Pickings recognized the beauty of this book, and together they raised the money necessary for Radunsky's advance for the American edition. Its publication could be the start of future collaborations between Enchanted Lion and Brain Pickings.
In the meantime, Advice to Little Girls seems poised to be a breakout hit. The book is reminiscent of Maira Kalman's The Elements of Style Illustrated, the kind of precious, collectible classic that is beautiful to pore over, although Radusky's drawings are bolder, and more whimsical.
"I think it has a wide audience," said Bedrick. "There are lots of graphic designers and illustrators, lovers of Twain, people who simply love books who will want to collect it. And then parents of young kids who think it will be a fun book for their children."
Advice to Little Girls is available at Greenlight Bookstore and WORD.