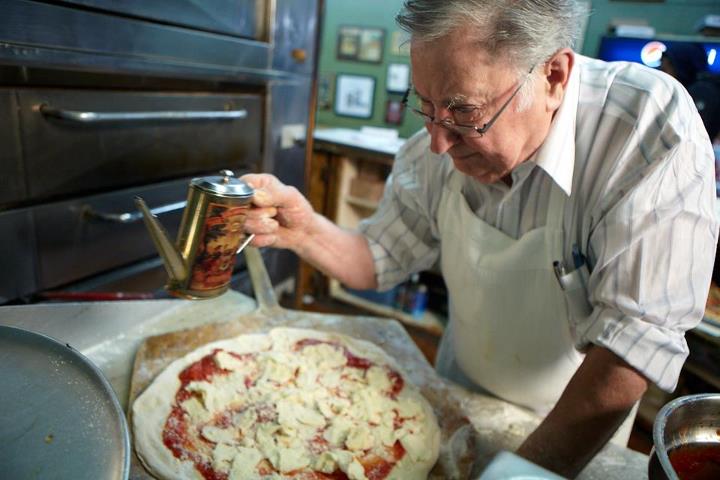 With new pizzerias like Williamsburg Pizza, Juliana's and Krescendo constantly upping Brooklyn's slice game, it's getting harder and harder for any mozz-and-red-sauce slinger to make a splash. Most of the media attention tends to focus on the first bites from these newbies, but a trio of old-school pizza champions each have some very good news to report this month.
Franny's, one of the first spots to usher in the city's Neapolitan wave, has moved its char-crusted, locally sourced, Park Slope pies a few doors down to a larger restaurant at 348 Flatbush Ave. The menu is the same, but the new, larger dining room is centered around an open kitchen with two brick pizza ovens, which by our early and exhaustive research has cut the formerly complaint-worthy wait times down by quite a bit. And, most excitingly, Franny's has introduced lunch service on Fridays, with a full-week lunch expansion coming soon–a very welcome addition to a well-traveled stretch of Park Slope with too few sit-down lunch options.

For those of you who wouldn't dream of getting your slices from a new-Brooklyn-y place like Franny's, with its cheeseless options and oddly uncut pies, not to fret–there is traditional Brooklyn pizza news to celebrate as well. Di Fara, Domenico DeMarco's iconic half-century-old Midwood pizzeria, debuted a new expansion this week. MD Kitchen officially opened this week just three doors down from the original spot. The new space is bringing back the Italian staples that DeMarco hasn't made since 2005, including meatball subs and an array of house-made pastas. DeMarco making pasta again is BIG news in the city's food-blog circles, and the second location is also sure to quell the oft-crazy lines down the block for slices at Di Fara.
And in a heartwarming devleopment, Totonno, the longstanding Coney Island pizzeria that was devastated in Hurricane Sandy, is now back open for business, just in time for warm weather. There's a sleek new tiled floor and the kitchen has been rebuilt, but other than that, the coal-oven temple is, thankfully, exactly the same.
Finally, speaking of coal, the folks at PizzaMoto, the Brooklyn Flea and Smorgasburg vendors who dish out shockingly good flea market pies, are in the midst of a Kickstarter campaign to rehab a rare coal-fired oven discovered in Red Hook and open a brick-and-mortar location there. They're now in the last day of their fundraising drive but well short of their $50,000 goal–they could use some pizza-lovin help!