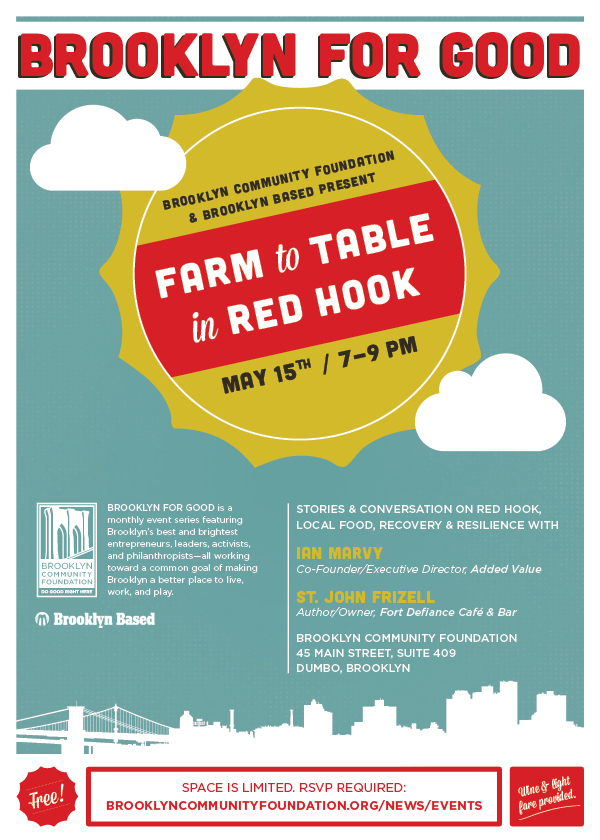 On Wednesday May 15, Ian Marvy of Added Value/Red Hook Community Farm and St. John Frizell of Fort Defiance Cafe and Bar in Red Hook will share their uniquely Brooklyn ideas about local food, entrepreneurship, empowerment, and recovery after Superstorm Sandy.
The free event is the first in a new series from the Brooklyn Community Foundation, presented in partnership with Brooklyn Based, called Brooklyn for Good. Each of our monthly salons recognize Brooklynites who are committed to improving lives and strengthening communities, and gives attendees a glimpse into how the public and private sector are working to make Brooklyn a better place to live, work, and play.
Join us for stories and conversation, with complimentary wine and light fare, generously provided by Fort Defiance. Space is limited so we recommend you register here.

About the Speakers:
Ian Marvy is the co-founder and Executive Director of Added Value, non-profit organization dedicated to teaching young people about urban agriculture in order to promote sustainable development of Red Hook and nurture a new generation of young leaders. Since its inception in 2001, Added Value has transformed five acres of unused land into vibrant urban farms that provide fresh, local produce for an 80-family Community Supported Agriculture (CSA) Program, the Red Hook Farmer's Market, and four local restaurants. Prior to founding Added Value with his partner, Michael Hurwitz, Marvey spent 15 years organizing youth to become a positive force for social change in post-industrial cities and towns like Holyoke, Massachusetts, Camden, New Jersey, and Philadelphia, Pennsylvania. He also spent two years in New York designing service-learning programs for youth caught up in the juvenile justice system. He is a past Petra Foundation Social Justice Fellow, an Echoing Green Fellow, and a member of the Social Entrepreneurs Alliance and the Community Food Security Coalition.
St. John Frizell is an award-winning writer, bartender, and owner of Fort Defiance, a critically-acclaimed cafe-bar in Red Hook, Brooklyn. A longtime New Orleans resident, Frizell spent six years as the copy director of Bon Appétit magazine and trained in the art of bartending under Audrey Saunders during an eighteen-month stint at her world-renowned cocktail bar Pegu Club. Frizell opened Fort Defiance in 2009 in part to provide Red Hook with another "third place," which is defined by sociologist Ray Oldenburg as a place outside of home or work where neighbors can informally gather—an anchor of community life and a necessary part of a civil society. Frizell's writing on food, travel, and cocktails has appeared in many publications, including Bon Appétit, Saveur, Gourmet.com, Fine Cooking, Time Out New York, epicurious.com, Oxford American, Edible Brooklyn, and Edible Manhattan.
Brooklyn for Good is a monthly speaker series produced by the Brooklyn Community Foundation in partnership with Brooklyn Based, featuring Brooklyn's best and brightest entrepreneurs, leaders, activists, and philanthropists-all working toward a common goal of making this borough a better place to live, work, and play.